What do you tow your boat with?
04-19-2012, 10:09 AM
Registered
Join Date: May 2006
Location: Huntsville, AL
Posts: 1,628
Likes: 0
Received 0 Likes on 0 Posts
---
found a pic of my new set up.
I weigh in at the CAT scales on the way home from picking up the new boat.
2004 GMC 2500 HD, 6 inch lift, and 35's, pulling baja 342.
19,600 lbs. 10,300 was on the trailer axcels. rest was truck/tung
04-19-2012, 10:16 AM
Registered
Join Date: Jul 2007
Location: Oneida Lake NY
Posts: 3,628
Likes: 0
---
Toyota Tundra Crew Max 5.7L limited, air bags on leafs. I have owned a 1998 Chevy 3500 7.4l crew, 2001 Dodge 2500 cummins, 2002 2500HD crew dmax, 2005 Ford f350 SRW 6.0l diesel, 2009 Ford F250 5.4l (for 2 days pos!) and this. All 4WD. This is the best ALL AROUND truck I have ever owned, hands down. Tows the fountain like nothing, however the myco trailer has a lot to do with that. Getting 17 mpg unloaded and the truck is a rocket ship. I am sure people on here will flame me, but do some research first. The brakes and diffs on this truck exceed all 2500 series trucks, just amazing.
04-19-2012, 08:06 PM
Registered
04-19-2012, 08:44 PM
Still Chillin
VIP Member
Join Date: Nov 2001
Location: Alexandria Bay, NY 1000 Islands
Posts: 2,514
Likes: 0
---
Thanks guys. Here's what I used to tow it with! It was a real classic, but no room for anything else, now...no problem!
Dave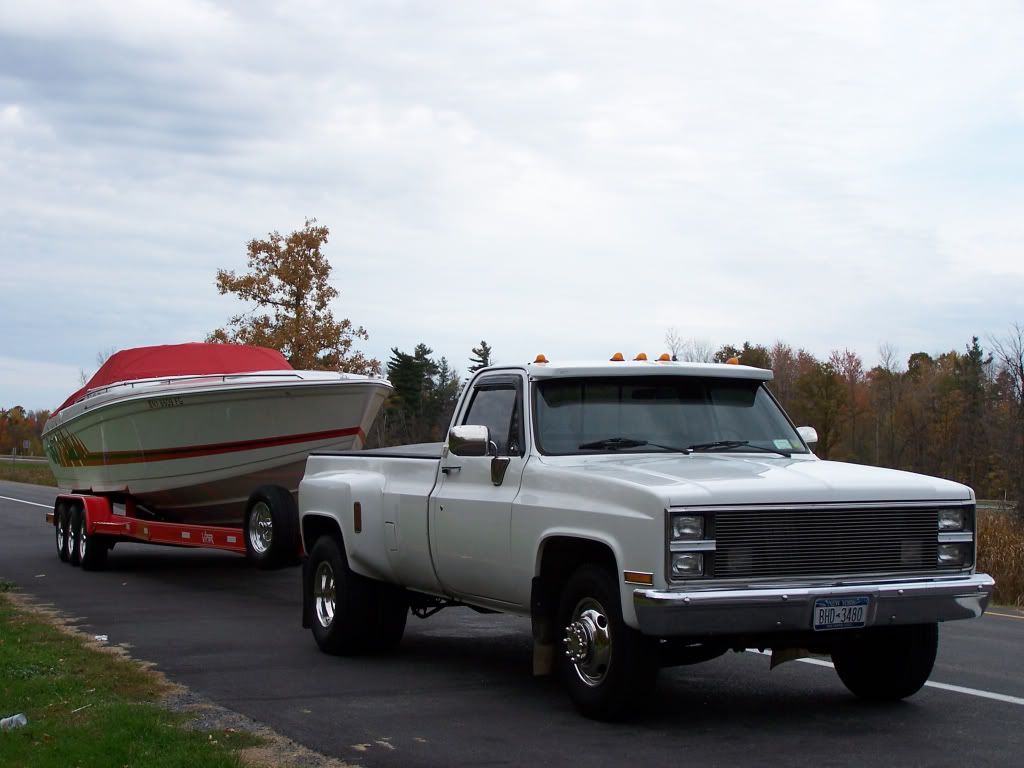 __________________
Air, Sea, and Land...Exploring the planet in 3-D!
04-19-2012, 09:35 PM
---
2002 f550 crew cab 4x4 pickup conversion with 7.3L 270k miles rear air ride suspension, 3" Reese super Titan receiver, tows my 400ss.......was 31,000 lbs. GCW on the aluminum Myco tag trailer, then 32,500 lbs GCW on the Manning steel gooseneck, and now 34,000 lbs GCW on the 53 ft Broward gooseneck.
04-19-2012, 09:48 PM
Registered
Join Date: Aug 2005
Location: Between A Womans Leggs in IL
Posts: 6,321
Likes: 0
fixx
---
well it depends,,1992 2500 BBC suburban with the c6p pkg(1 ton) and other goodies..and my future project will be a 6500 series topkick with a mint 94 suburban body instead of a single cab,then the wheel wells will be molded in along with the tailgate..then it will have a standard 8' chevt dually box behind the suburban body..i have a cummins 6bt with some work done to it and dont know if im going to install a allison,or a 6 speed but i kinda had a idea for a 10 speed but think it may be over kill..im also thinking 6x6 but we will see..