How to tell if there was reversion/or leak with headers?
12-02-2009, 09:12 PM
Registered
Join Date: May 2007
Location: Italy
My Boats: Fountain 27 Fever
Posts: 259
---
JRZ , thanks for pointing out the discoloration, but I think what you're talking about is just the reflection of the shelter roof where the boat is stored. I'm attaching another pic below: as you can see there's also a reflection, but different from the first one, due to the different angle.
By memory, the steel as such has no discoloration, or at least I never noticed any. The water pressure ranges from 5+ at idle, to 15 or so around 3000 rpm, up to 25+ at WOT.
Ray, I see what you mean. I will definitely consider, as also JRZ says, a non switchable tail, if I will upgrade the engine.
But time being, the engine still seems to run nice and strong, after 60 hours or so with the CMI headers (the last 20 on freshwater, and previously saltwater). Shouldn't any cylinder damage be reflected also on the performance by now, to some extent?
Besides, is there anything I can do in the meantime to reduce the risk of major damages? For instance:
1) if as you say water and exhaust gas bounce back after hitting the switchable blade, I guess that keeping the straight exhausts always open should cure at least that part of the problem, or am I missing something?
2) since the effect we're discussing is only relevant when idling, would it help keeping the engine slightly accelerated (say 900-1000 rpm), rather than idle, whenever possible?
Any other suggestion is also welcome, of course. Many thanks in advance!
PS: Ray, I'm still missing how exactly the rings you mentioned should be shaped, and where they should be welded.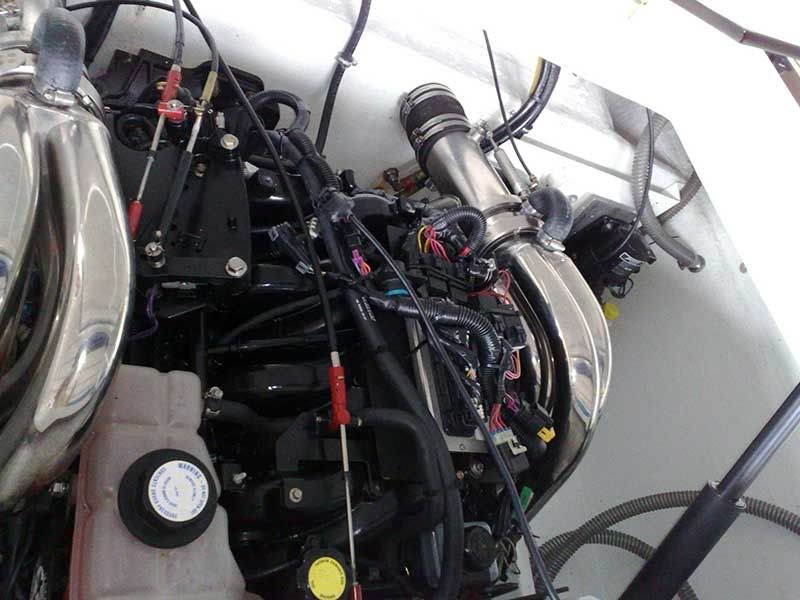 12-03-2009, 01:09 AM
Registered
Join Date: Jan 2004
Location: San Diego, California
Posts: 2,777
---
Mapism:

My suggestion is the following:

1. Take a compression test of the rear two cylinders on both sides of the engine and compare them to the front cylinders as a cross check and a leak down test comparison would also point out any water (rust) damage to the valves, valve seats, cylinder bores or rings. If all is ok, you're still good!

2. You can slo use a bore-scope to look into the spark plug hole to view any valve rusting or bore rust or damage, if one is available for your use.

3. With your system, Eliminate long or low rpm idle periods with the Captain's Call system switched closed and do not run the engine above 1200-1500 rpms with the system closed also!

If you are water damage free now, you would appear to be in good shape and maybe just lucky. Hope you are damage free and you can enjoy your boat without the problem showing up.

Best Regards.
Ray @ Raylar
12-04-2009, 02:02 PM
Registered
Join Date: May 2007
Location: Italy
My Boats: Fountain 27 Fever
Posts: 259
---
That's fine Ray, I'll try to arrange that before hitting the water again next season.
You may not post new threads
You may not post replies
You may not post attachments
You may not edit your posts
---
HTML code is Off
---