Good, fast family boat????
08-16-2016, 07:30 AM
Registered
Join Date: Aug 2007
Posts: 87
Good, fast family boat????
---
Ok, so here is question about what would make a good but fast, roomy family boat. As some of you will know I had a post earlier about that Baja 280 project boat and I was thick headed and dint want to listen to anyone on here about just to leave it where it sits, and I finally gave in and listened. Now I have a question about what kind of boat should I look for if I want to go out for a weekend with the family but with some room in the cabin where we wouldnt have to craw our way through to get inside? I was only looking at the baja before because it seemed to have some good room but after searching around on the web, and some great advice from you fine and knowledgeable people on here, what would you recommend for a good size boat to be able to do this? Im open to any and all suggestions and PLEASE be serious. If you have had this kind of experience please help me out. I will be looking for a project boat and would like at least a 30ft. THANKS FOR ANY HELP ON THIS AND YES, I WILL LISTEN THIS TIME, LOL. Also, opinions on either single or dual motors, whats better and why.
08-16-2016, 07:43 AM
Registered
Join Date: Aug 2010
Location: rochester, ny
My Boat: '95 283 Convincor HP500 (sold) '97 Hydrostream AE 2.5 260(sold) 32 Hustler
Posts: 137
---
283 checkmate. Can see high 60s with a single blue motor. Lots of cockpit room better than alot of bigger boats. A nice cabin and the boat can handel pretty big water and you can tow it with a half ton.

My opinion is under 30ft go single bigger go twins. Some engine compartments can get pretty tight with twins if you plan on wrenching
08-16-2016, 07:46 AM
Registered
Join Date: Jan 2008
Location: Jersey Shore
Posts: 3,808
---
Twins will get your family home case one engine fails.
beautiful alum trailer
. . . . . . . . . . . . . . . . . . . $12K
you'll find this beauty in Miami Craigslist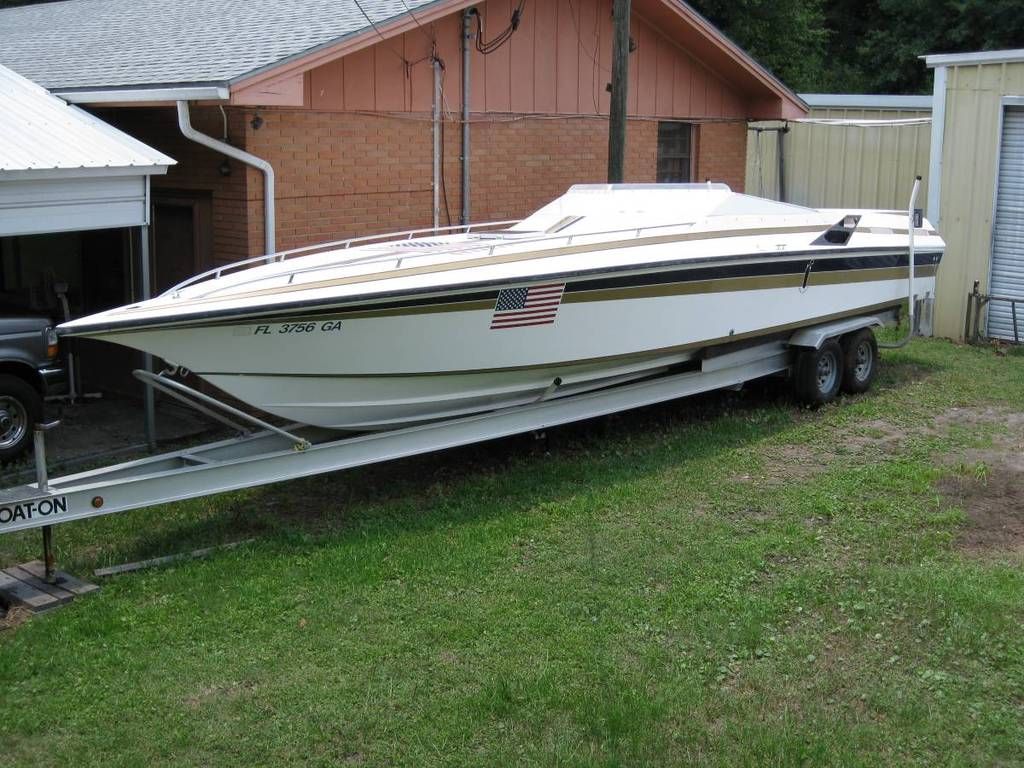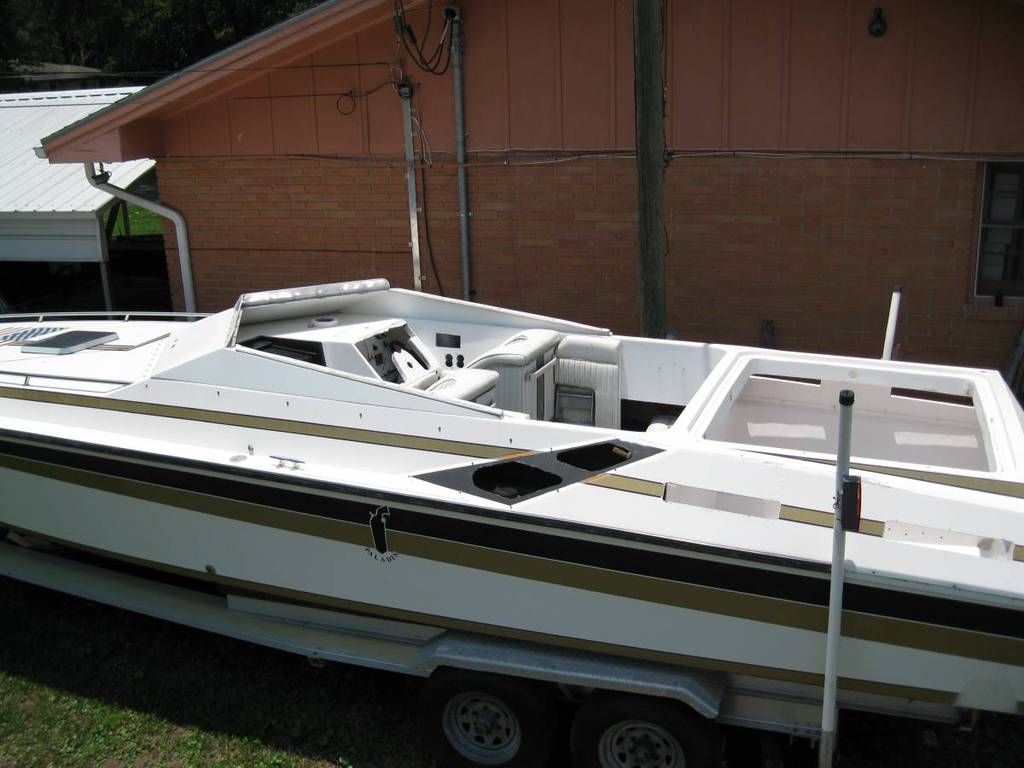 Flat transom, possible twin 400R outboard conversion?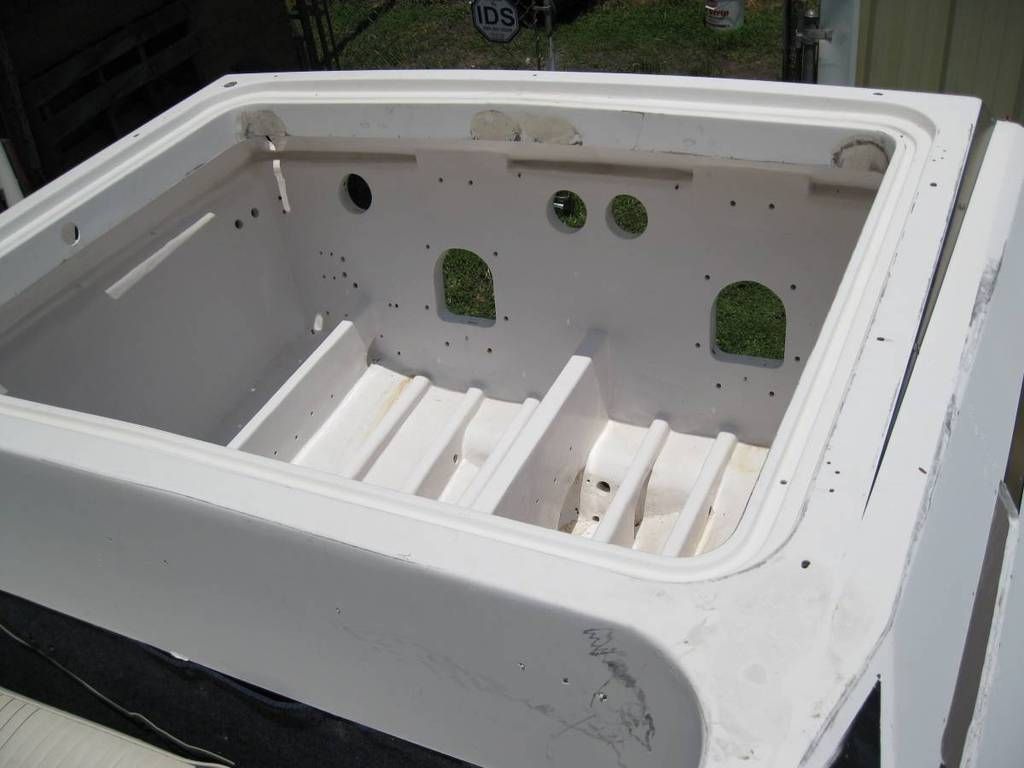 ---
Last edited by noli; 08-16-2016 at

08:05 AM

.
08-16-2016, 08:04 AM
Gold Member
Gold Member
Join Date: Oct 2000
Location: LaPlata, MD, USA
My Boat: 2017 30 Concept, 300 Verados
Posts: 5,394
---
Do you REALLY plan on using the cabin? If so, what for? overnighting? You mention wanting a "roomy" boat. Well most perf boats, no matter how big do not have "roomy" cockpits. 1/2 of the boat is cabin, 1/4 engine bay, 1/4 cockpit.

2nd, what do you consider FAST?
08-16-2016, 08:31 AM
---
Have to ask, what sort of budget?
Good questions from Dave M also.

The Baja was free so obviously you're doing a lot of rethinking. The more you spend up front should mean less to spend down the track. The Fountain pictured above looks like a nice 'blank canvas' assuming the work to date has been done properly and you want that style of boat.

Going to be hard to get fast, roomy, cabin, cockpit all in one boat. Personally, I would be trying to stay simple which means single engine, stock standard and a brand name boat.

Good luck in the search!

RR
08-16-2016, 08:36 AM
Registered
Join Date: Oct 2000
Location: Lakewood, NY, USA
My Boat: Velocity 290 VR- 1
Posts: 2,938
---
Also, how big a family and what ages?

Padraig
08-16-2016, 08:59 AM
Registered
Join Date: Aug 2007
Posts: 87
---
Roomy as far as a cabin for over nighters or out for the weekend. Cockpit area dont really matter I guess because we will be able to spread out for the day and swim and soak up some sun. Fast, maybe around 60 to 65 with 4 people, 2 being teens and 2 adults. Would also prefer a wide beam as well. Hope this answers these questions.
08-16-2016, 09:03 AM
Registered
Join Date: Aug 2007
Posts: 87
---
My first boat was a 26ft convinsor and I kick myself for getting rid of it but thats because nobody would ever want to go out for the day, it was docked at a marina so I spent many nights there myself, was a great size cabin so your your right their but the only thing I DIDNT like about it was the 6.4 beam, it was way to narrow of a boat and a ***** for me to steer out of the marina and ESPECIALLY docking it myself, that really sucked.
08-16-2016, 09:12 AM
Registered
Join Date: Aug 2007
Posts: 87
---
Im just looking for something to build within the next few years to keep busy. I MIGHT be coming into a settlement in the next 3 to 4 years so free would be great, thats why I was looking at the baja but I do have an old sold project car I would trade for something if it could be delivered, I would even get a different motor and trans for it if someone was interested. I was going to build an old gasser with it but thinking now, it would just get me in trouble, haha.
08-16-2016, 09:14 AM
Registered
Join Date: Dec 2001
Location: Indianapolis, Lake Cumberland
My Boat: 38 Donzi ZRC, 29 Advantage XFlight
Posts: 3,616
---