Center Councils Only pt2? Marlago Repower Edition
07-03-2020, 09:17 AM
Center Councils Only pt2? Marlago Repower Edition
---
Just upgraded from 2007 Suzuki DF250s with 1100hrs to white 2016 DF300s with 200hrs.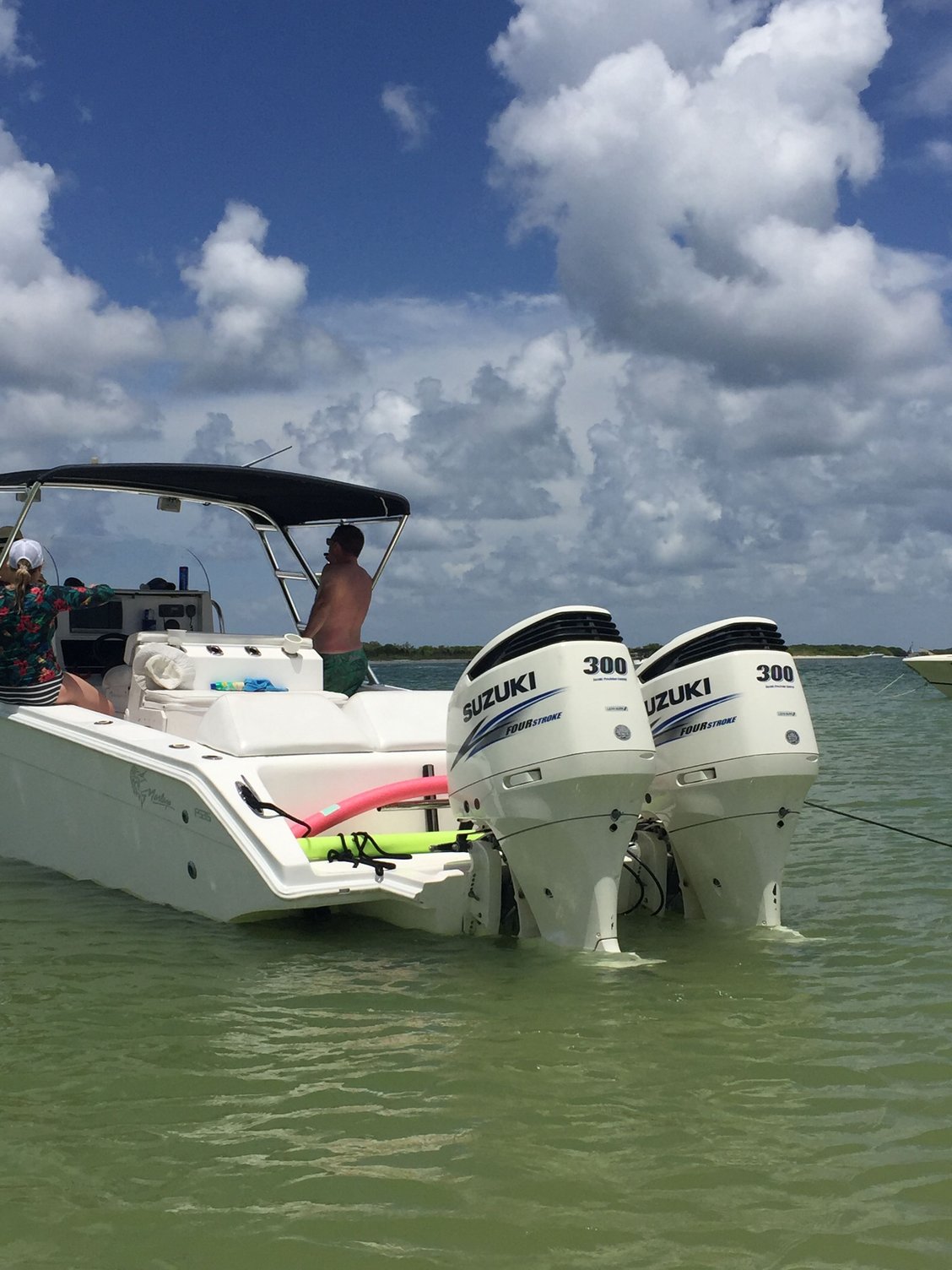 I just blew one of the 2007s. These engines have fragile head gaskets so my recommendation would be that if you ever over temp them, just get the head gaskets replaced. The telltale for this engine was that it ran rough and ate IACs before it milkshaked the oil, so it possibly could have been saved at this point.
These arenít like small block Chevys, they arenít particularly rebuildable, at a reasonable cost.
On to the new stuff. Suzuki just ran a special deal on new engines so Outboard Specialtites in pompano beach was covered up with repowers. I got a pair of take off 2016 DF300s with 216hrs at about 70% of new.
Iím not happy with the color match, but thatís pretty typical in FL now. And it will help combat vapor lock.
These 4.0L V6 as opposed to the old 3.6 DF250s. Same basic block and engine and weight.
The DF300s have a speedy lower with a low water pick up on the nose cone. They have a wide band O2 sensor integrated into the fuel system controls so that they can lean burn. They have NMEA2000 network so I was able to tie in my newer Garmin GPS and display real time NM/gallon. Best observed so far is 1.8NM/g at around 30mph.
Old top speed was about 52, but it more typically ran 50. New best so far is 55 with out much testing. These have less gear ratio than the old motors and higher redline of 6600, vs 6300. Iím only pulling 5800rpm. I used the same props, turning in. I should try less pitch but these work great otherwise. And one problem with these engines is that the noise over 5000rpms is quite unpleasant, so these are letting me have a higher cruise speed with out getting into that area.
I have my 45 gallon aux tank full right now so I need to empty it and run another speed test light load to see how it runs. Iíve had some cup and pitch added to my props in the past, but he may have went a bit overboard.
The other new feature, digital throttle and shift. This feature is amazing, super smooth and the displays indicate the shift has occurred. Between this and my serviced steering system, has transformed the boat. Makes it feel extremely responsive like a sports car, very fun.
Other stuff, had all gelcoat cracks fixed. This was surprisingly reasonable. Had the bottom of the V repaired where I had been running into the cross beam on the lift. Installed 4x12 16í bunk boards to get the boat up higher and not hanging off the ends of the bunks.
Ive been wanting to get the bottom paint off but that was quoted at $7500. Iíll try to figure out how to do that myself in the future. So the bottom paint got refreshed too.
---
Last edited by hogie roll; 07-03-2020 at

09:27 AM

. Reason: Photos
The following 5 users liked this post by hogie roll:
07-03-2020, 04:07 PM
Registered
Join Date: Jul 2007
Posts: 2,144
---
Good write-up of your project and Nice re power for reliability - ENJOY....

.BTW "console"
The following 2 users liked this post by speicher lane:
07-03-2020, 06:57 PM
---
FYI, I have been informed the Suzuki's are good motors as long as you keep up with changing the zincs on them for corrosion protection. They are getting very popular here in the Keys.
The following 3 users liked this post by sonicss42:
07-03-2020, 08:50 PM
Registered
Join Date: Jul 2007
Posts: 2,144
---
lol... I thought it was an overactive auto- correct... Enjoy your 4th!
07-11-2020, 09:48 AM
---
56.8 mph light load. In hot crappy air. Only pulling 6000rpm

Next up is to try turning in, which is as simple as swapping the props and finding a switch under the cowl to flip.

Im also interested in trying some bravos. Any guess what pitch I should try to pull 60 at 6300? 20, 21, 22?

But first Iím off to LOTO for the week to play with the formula and maybe buy a place.

---
Last edited by hogie roll; 07-11-2020 at

09:54 AM

.
Posting Rules
You may not post new threads
You may not post replies
You may not post attachments
You may not edit your posts
---
HTML code is Off
---