Fastboats Marine Group Makes Big Moves in Miami
07-19-2012, 06:06 PM
Fastboats Marine Group Makes Big Moves in Miami
---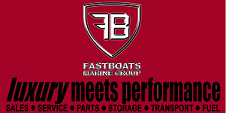 Miami, Florida - July 19, 2012
Fastboats Marine Group really stirred up some big waves in Miami this past weekend as owner/throttleman Randy Sweers and driver Tony Fiorillo took their 40 foot MTI race boat to victory lane at the Miami Super Boat Grand Prix! After going neck-neck with the Stihl Offshore Racing team, the Fastboats Team pulled out a win, earning them 1026 points.
"What a race today and what an exciting win", said Sweers. The STIHL team put on a great show and it was hard to keep up with them. At times as we had them on one leg of the course and they would take us on the other. We just hung in there all day, then heading to the north turn, they blew an engine and we came around and took the checkered flag. You couldn't ask for anything better. We had our friends and family all there watching and our business is right up the road in Pompano... so we are really happy. Tony did a great job driving out there and we hit a couple ones (waves) that really launched us."
After the show they put on in Miami, we cannot wait to see what Team Fastboats has in store for us next!
You may not post new threads
You may not post replies
You may not post attachments
You may not edit your posts
---
HTML code is On
---