36 cockpit redo
02-24-2022, 08:33 AM
36 cockpit redo
---
I bought the 36 from Ducky with only 7 test hours on it but I couldn't stand the beyond basic cockpit. For a custom boat it had mass production written all over it. I decided to upgrade the dash with a 12" Garmin, modern Garmin stereo, intercom headset system, and all new layout upholstery with real carbon fiber and alcantara. So far the upholstery will be a grey with orange stitching and blue and grey real carbon fiber inserts. Also doing a custom Marine Mat flooring. The layout is being changed with repositioning of the bolsters and redesign of the back seat, bolsters, and side gunnels. Also figuring out what to do with the windscreen vinyl that goes around the top. May do a blue and grey carbon fiber considering the blue trim and grey upholstery we are using. We are also doing modern cockpit lighting, Livorsi monster speedos for the back passenger's and some other custom touches. I will keep you updated but here is the starting point.
02-26-2022, 12:45 AM
---
Performance Marine Fabrication in Middle River. I actually just went there to get a Marine Mat floor. But Brian the owner has such a talent and vision I couldn't leave it at just the floor. We started talking and his ideas just got my imagination going. I had to let him do it all. 😆. I can't wait to see it completed. He is literally changing everything from the shapes, materials, colors, layout, electronics, etc….. iIf your in the area look him up or I can give you his info. He just finished a Skater that turned out amazing!
03-02-2022, 07:49 AM
---
That's exciting to hear. I am looking forward to seeing the results and your thoughts about how it turns out. I am in the area and need to get my interior done in the next year or so.
03-02-2022, 04:42 PM
---
That makes 2 of us lol. The guy is amazing. I truly went in just for a floor. But he sold me on the whole thing which it needed. I never liked the interior. Pantera didn't do it originally. What Pantera do you have?
03-02-2022, 06:11 PM
---
I have a 28. The interior padding is still really good but there is brown that is showing up. I cannot get rid of it. I tried a lot of cleaners, magic eraser and even bleach. So I think it's just time.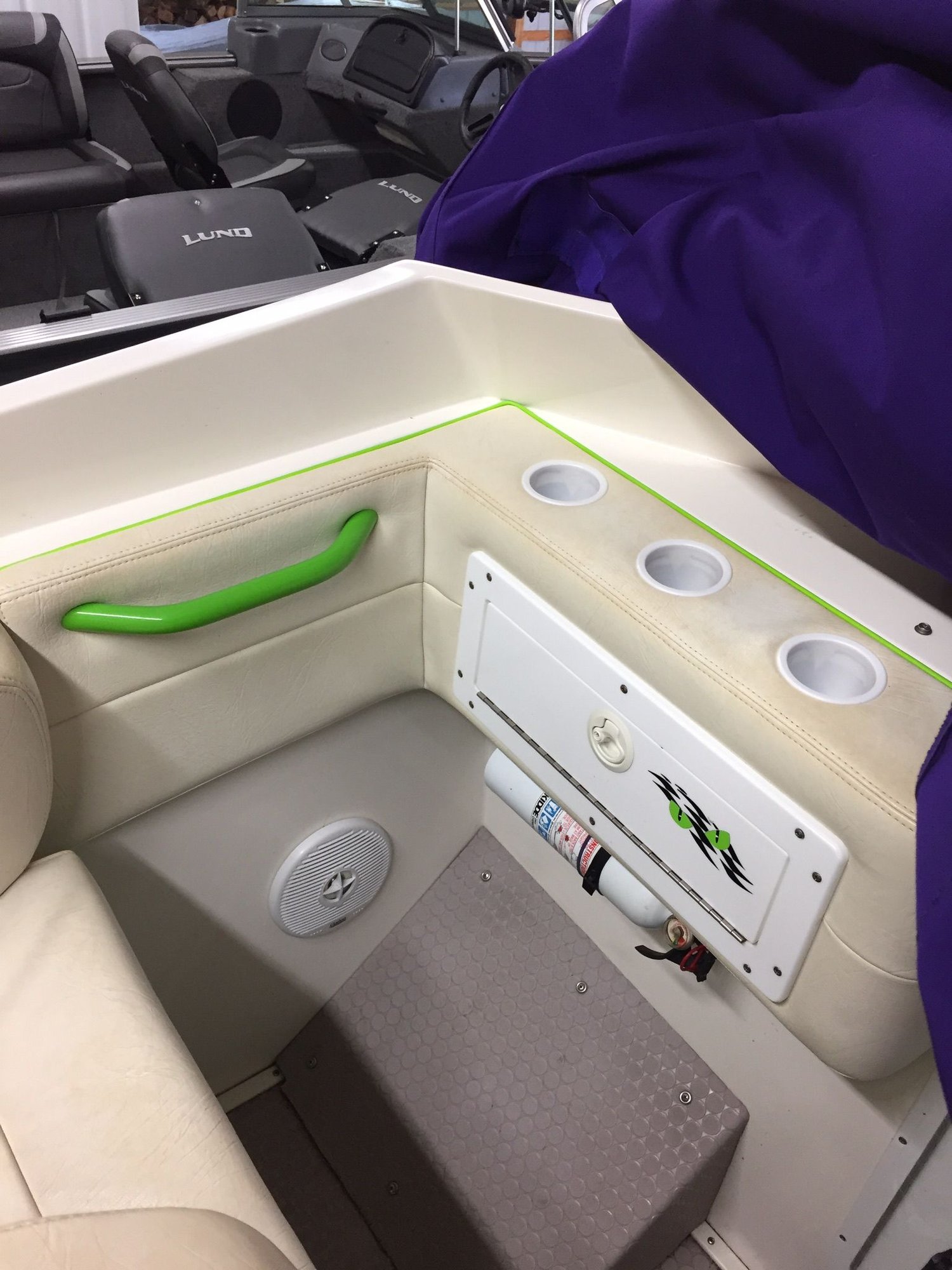 03-02-2022, 09:35 PM
Registered
Join Date: Oct 2004
Location: Clayton NJ
Posts: 2,230
---
Looks great
03-03-2022, 07:02 AM
---
Thank you for taking great care of it. She has a new motor (500 EFI with a 532 dart block), new bunks on the trailer. I am amazed the wood lasted 21 years. I think interior and re-gel in the future? Maybe a whipple if the bank account allows one day. She's still very solid and running very well.