my "Winston Cup" 69 chevelle project
11-01-2010, 11:13 PM
---
Had to post this pic.....this is the inspiration for the car......grew up watching these things rail around the bullrings up here every Saturday night, pushing and shoving with their open pipes, nasty smallblocks and the smell of race gas, rubber and beer....yeah BB!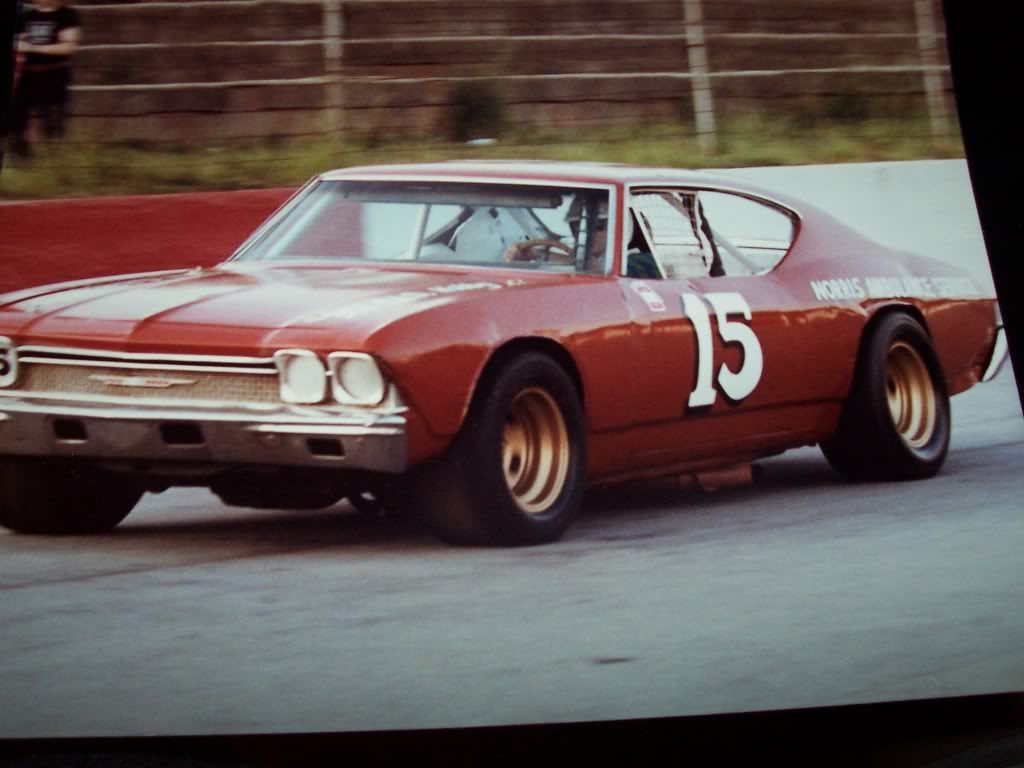 ---
Last edited by pullmytrigger; 11-01-2010 at

11:40 PM

.
11-25-2010, 08:27 PM
---
Well....back at it in the last few weeks.
Next order of business is to take it up to the race shop and take the oval set up out of it and have a roadrace set up put in before any more body fitment can be done....the last pic is the current oval set up when it still had the Monte Carlo body on it
BUT.... the underside/rearend looked like h ell and theres no way Im taking it to that shop looking like that.....So I got to work on the re bop....these things are just wiped down and painted, no primer, no undercoat so paint just flies off....put a wire wheel on my 10,000rpm mini grinder and had at it, used my mini sandblaster too.
---
Last edited by pullmytrigger; 11-25-2010 at

08:49 PM

.
11-25-2010, 08:29 PM
---
paint....
the rectangle thing is the rear end oil cooler....air is taken in through a Naca duct in the rear quarter window, ducted down and out through the cooler.
---
Last edited by pullmytrigger; 11-25-2010 at

08:32 PM

.
11-25-2010, 08:37 PM
---
there it is......that famous Nascar truck arm rear suspension...Bilstien gas shocks, 31 spline 9 inch, 23 US gal (87 Litre) fuel cell, adjustable panhard (track) bar, those truck arms are 4.5 feet long.....my Nascar driver friend says the longer the (trailing)arms are the more "feel' the car has.....he should know he's driven them all
---
Last edited by pullmytrigger; 11-25-2010 at

08:43 PM

.
12-18-2010, 06:11 PM
---
Been working on the hot rod.....had a guy who had a Late Model for years come over and give me a hand with the set up on the left front....he made a bunch of measurements from the truck arm cross member to each each ball joint and suspension pick up and compared the left side with the right....in order to match the two sides we ended up needing a shorter upper on the left which also would stand the spindle up straighter....we picked it from this collection of my parts...theres maybe $400 in parts here with most of it in the two lowers....notice the black insert "slugs" that allow you to move the arm backwards and forward without having to buy a new arm and the screw in reusable ball joint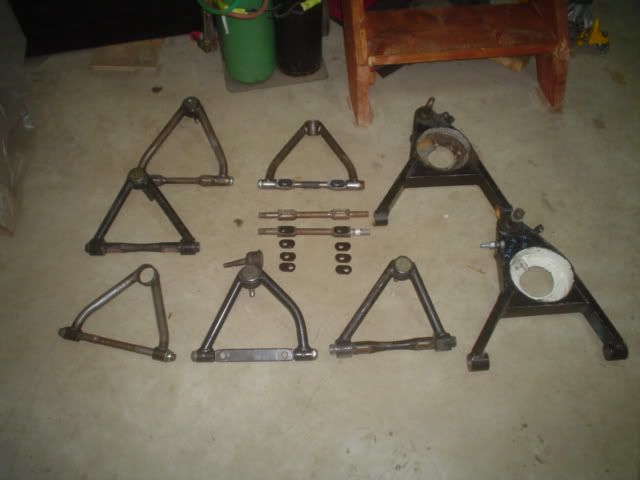 12-18-2010, 06:23 PM
---
Its not ready to win Watkins Glen but we got the left side vs the right side wheelbases within .5" and that allowed me to install the front fender and rad cradle and roll it out for some pics....
It now has the new 2 inch offset wheels on it from the 3 inchers it had on in the previous pics.....gives the car more attitude and old school look...I love it