Twin OB Brave?
08-31-2015, 11:28 AM
Registered
Join Date: Aug 2006
Location: Lapeer, MI
My Boat: 1980 Pantera 28ft, 2002 Pantera F1 Race boat-Sold
Posts: 1,313
Twin OB Brave?
---
Stumbled upon this twin ob brave in the OSO classifieds...
http://www.offshoreonly.com/classifi...le-o62935.html
Anyone know if its a factory setup? or any performing numbers?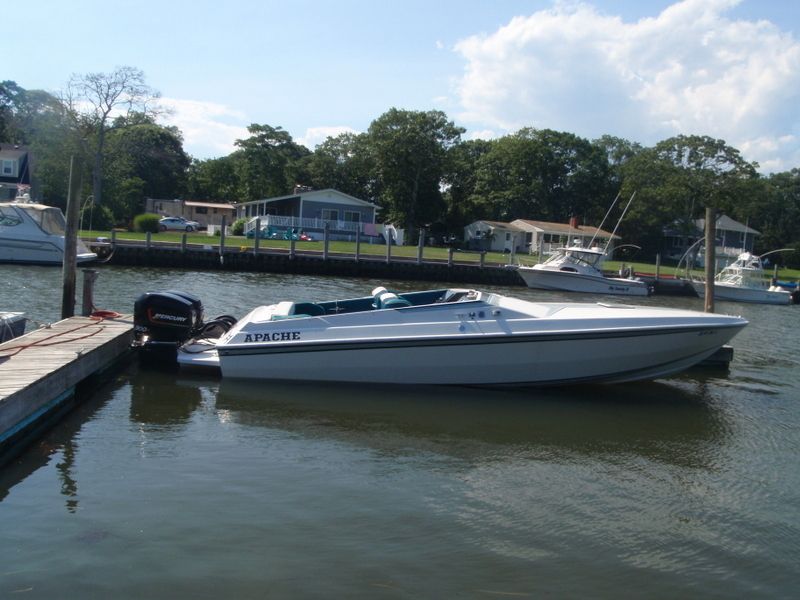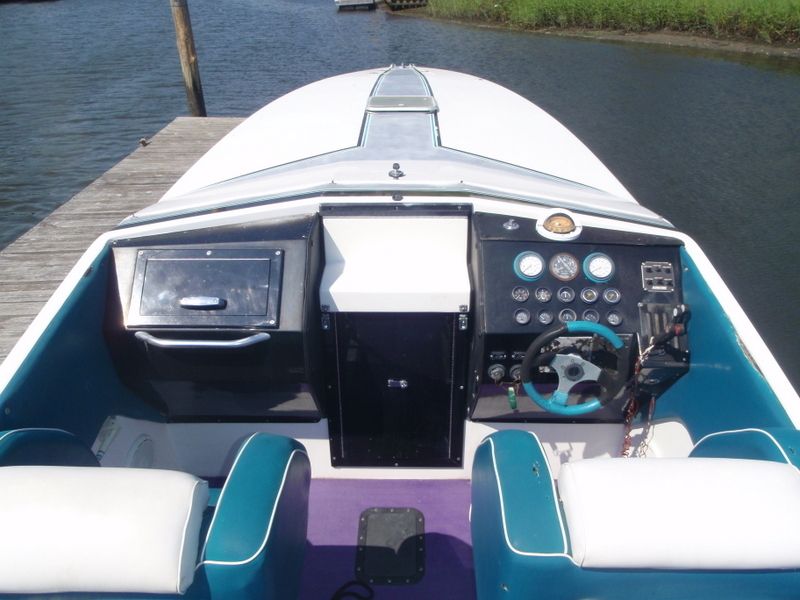 09-10-2015, 02:24 AM
Registered
Join Date: May 2003
Location: 1000 Islands, NY
My Boat: 2014 Renegade 31CC w/ twin Verado 300s, 2003 Pantera 24 Sport SOLD, 1998 Talon 22 w/300ProMax SOLD
Posts: 614
---
Based on some research I did a while back on the 28 Braves including talking to Bobby Saccenti, Eric Froberg (Cherokee) and Mark McManus id say it was a conversion. Looking at the pictures the dash looks like a panel was laid over the top of the original helm. The rigging of the dash panel is a mess compared to OEM Apache rigging. Those Mercs are defientely later model years based on the engine cowls and were not available in 1991 when this hull was built. In 1991 I think the 2.5 280hp Merc ROS were the top HP outboards available and I doubt Apache would have rigged a boat with them. I bet the layout of the bildge and transom would give it away as to it being originally a twin IO boat. Neat idea and I bet with some real TLC this rig could be really cool.
---
Last edited by Ing; 09-10-2015 at

11:28 AM

.
09-10-2015, 08:14 AM
Charter Member#93
Charter Member
Join Date: Oct 2000
Location: The Burbs
My Boat: 1989 41ft Apache Indian Outlaw
Posts: 1,128
---
I looked at this boat years ago and it was rigged with a pair of 300 Johnsons.
__________________
Gellner Engineering 1025"s
09-10-2015, 06:10 PM
---
Bobby made a few like this in the past. Bet she moved pretty good with them old 300's back in the day.
12-19-2015, 09:19 PM
Registered
Join Date: Jun 2004
Location: Palm City, Florida
My Boat: Previous: 1978 Cigarette 35' Mistress, 1973 20' Cigarette, 1968 16' Magnum Missile, 1992 22' System Powerboats Tunnel Hull. Currently: 1982 26' Corsa Martini, 1959 40' Whiticar SF.
Posts: 763
---
In the early 2000s it had a pair of 2.5L Mercs, a buddy of mine owned it at the time. I actually had the entire Gaffrig gauge setup, minus the two tachometers - note the photo of the helm all other gauges are black...he was I the process of updating it back then, and I'm not sure what happened thereafter.
04-26-2016, 05:40 PM
Registered
Join Date: Jun 2015
Location: NYC
My Boat: 1988 Sutphen 31' Spirit 300X
Posts: 59
---
I was interested in boat, Its conversion to OB, seller didnt want to budge under 20k, boat needs some attention, its been beat up a bit...
Posting Rules
You may not post new threads
You may not post replies
You may not post attachments
You may not edit your posts
---
HTML code is Off
---