Betty Cook, 1977 SI Profile
09-24-2007, 09:45 AM
Registered User
Join Date: Oct 2003
Posts: 9,495
Likes: 0
Received 0 Likes on 0 Posts
Betty Cook, 1977 SI Profile
---
This was my first exposure to Offshore. 1977, looking through Sports Illustrated in a doctor's waiting room. I was obsessed from the instant I read the article. I had grown up with boats but never had been exposed to anything like this. It's been downhill ever since
I finally found this old copy of SI from a magazine collector/broker.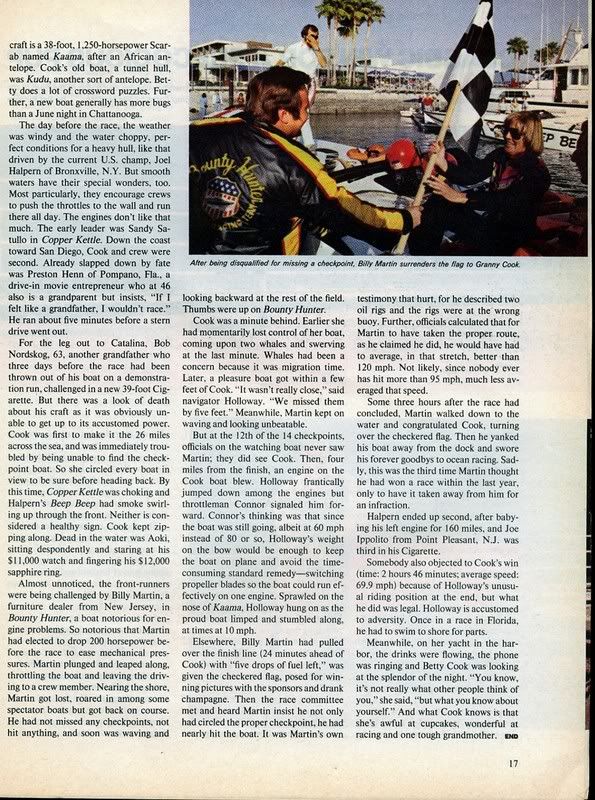 ---
Last edited by Chris Sunkin; 09-24-2007 at

09:49 AM

.
09-24-2007, 02:21 PM
Registered
Join Date: May 2004
Location: Okanagan Falls BC. Canada
Posts: 596
Likes: 0
---
Betty Cook & John Connor+ a Formula boat = good company .
Here's another shot of # 89 Excalibur boat . Looks like John walking on the deck of the Scarab in Chris' post , covering his mustache , hehe.
---
Last edited by spectras only; 09-24-2007 at

02:26 PM

.
09-24-2007, 06:09 PM
Platinum Member
Platinum Member
Join Date: Oct 2000
Location: Western Michigan
Posts: 4,354
Likes: 0
---
That brings back some memories. I remember hearing and reading some article in a magazine at my next door neighbor's house about Betty Cook and her boat "KAAMA" back in the 1970's when I was a kid in highschool. Perhaps that was the article...can't really remember. Used to see Betty Cook race her boat during the offshore boat races in Saugatuck, Michigan in the early 80's.

It's hard to imagine....the article mentions offshore racing engines were priced at about $6000 during the 70's. Not sure again, but I think it was during that time I also remember seeing pictures and reading about Merc's offshore racing engine back then---482cid with the old Kinsler (or Hilborn) fuel injection with uneven velocity stacks that made something like 680hp.
---
Last edited by KAAMA; 09-25-2007 at

08:19 AM

.
09-24-2007, 07:46 PM
Registered
Join Date: May 2006
Location: Melbourne Victoria
Posts: 472
Likes: 0
Received 0 Likes on 0 Posts
I thought KAAMA was a Scarab not an Excalibur?
---
Absolutely awesome.
I went to Costa Mesa the other day when I was in America for a few days and checked out her old factory which is now Anchor Marine.
When I was a kid my dad built boats and there was this engineering factory with a big poster of KAAMA coming off a wave like a rocket launching.
Its always made me want an offshore race boat...infact a scarab, until I found out about cigarettes
I thought her boat was a Scarab, however the add says Excalibur?
09-27-2007, 07:28 PM
Registered User
Join Date: Oct 2003
Posts: 9,495
Likes: 0
Received 0 Likes on 0 Posts
---