Flipping/Turning over a boat/hull
03-03-2011, 09:42 AM
Platinum Member
Platinum Member
Flipping/Turning over a boat/hull
---
I would like to flip my boat/hull over in order to straighten out the bottom, fix gouges, and paint it. Can anyone post pics of what they used to turn over their boat? I can make something to hold it, just wanted to see what others have used. Everything will be stripped out, almost to the bare hull. Hell, even turning just 90 degrees would make this job much easier (thinking similar to a car rotisserie for frame off restos)....

Can you thru bolt a pinion to the outdrive mounting holes and make something to support the front section of the hull???
03-03-2011, 06:58 PM
Registered
Join Date: Aug 2006
Location: Ontario, OH
Posts: 2,465
Likes: 0
Received 0 Likes on 0 Posts
---
Here is how somebody did it:
http://www.offshoreonly.com/forums/f...g-my-hull.html
You shouldn't need to flip it completely over, but being able to rotate it to do one side of the botttom at a time would definitely make things easier. Some big foam blocks would work good.
03-03-2011, 10:32 PM
Ginger or Mary Ann?
Charter Member
Join Date: Oct 2000
Location: L
Posts: 11,030
Likes: 0
---
My brother and myself did it on his 23' Glastron. Not the heaviest by any means. Used a long steel pipe going into the bilge, fastened inside to the engine mounts and at the transom with plates bolted to the holes. With a larger pipe that slid over that pipe acting as a bearing, used a chain and chain hoist wrapped around the larger pipe section and connected to an over head beam. At front, used an engine hoist connected to a strap looped thru the bow eye to keep it from sliding forward. We ended up having to run a couple of ropes from the strap to a point rearward, to keep the strap from slipping forward over the nose as we rolled it over. Very surprised at the amount of force required to get it just vertically. A lot of weight in the bottom keeping it bottom heavy.We ended up using a come-along on one of the rear u-bolts to help pull that side up to flip it. Just go slow and watch whats going on. The size/weight of your boat may require more HD equipment than the engine hoist we were able to use.
__________________
Some people are like Slinkies - Not really good for anything, but they
bring a smile to your face when pushed down the stairs.
03-03-2011, 11:11 PM
Registered
Join Date: Jul 2009
Location: Owensboro, KY
Posts: 1,592
Likes: 0
---
We painted a guys here locally by raising the front. He had 12ft ceilings I believe. We took the boat off the trailer and set the back on tires then lifted the bow way up in the air so it was at an angle
03-04-2011, 07:47 AM
Platinum Member
Platinum Member
---
Thanks for all the info guys. I agree, I'm not going to turn it completely over, even 45-70 degrees makes it more accessible. I just have to figure out how to support and turn the front, the back is easy. What about some heavy timbers cut to the profile of the hull made as a half cradle?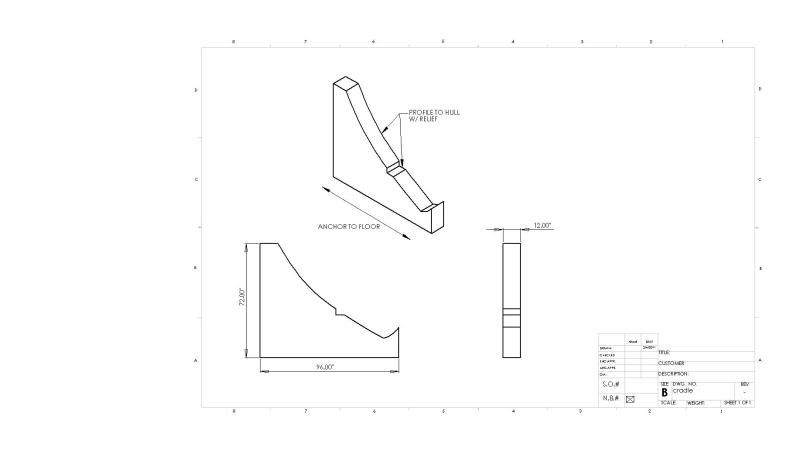 The hard part is getting it to "roll" in a controlled manner.
Posting Rules
You may not post new threads
You may not post replies
You may not post attachments
You may not edit your posts
---
HTML code is Off
---