coupler runout ??
03-28-2018, 06:31 PM
coupler runout ??
---
it's a 496 coupler temporarily on a 454 for alignment purposes.
since the bolt holes are slightly different sizes i was careful installing it.
read many threads about shouldered bolts and am using the shouldered bolts off the 454.
the snout wiggles when the flywheel is turned
runout on all these surfaces are good : flywheel face, flywheel teeth, coupler face, coupler edge, coupler bell,
coupler surface at rubber, rubber.
everywhere theres tape w/ a pen mark was checked, only thing out is the snout inside and outside
so what do i have bad coupler ?
are splines cut in square to snout ?
normal for snout to be out of round ?
any and all advice on this is appreciated,
thank you
---
Last edited by outonsafari; 03-28-2018 at

06:34 PM

.
03-31-2018, 07:48 PM
---
anyone in the future runs into this problem, it got solved.
got 6 flat head bolts, the heads are countersunk.
again, followed the torque sequence increments of 10, the bolts did line the coupler up better,
but runout was still off until the torque got closer to the final spec, then it was good.
the last 4 pics are 12 - 3 - 6 & 9 o'clock.
next question is would you run the engine w/ these bolts ?
original equipment had washers, not lock washers.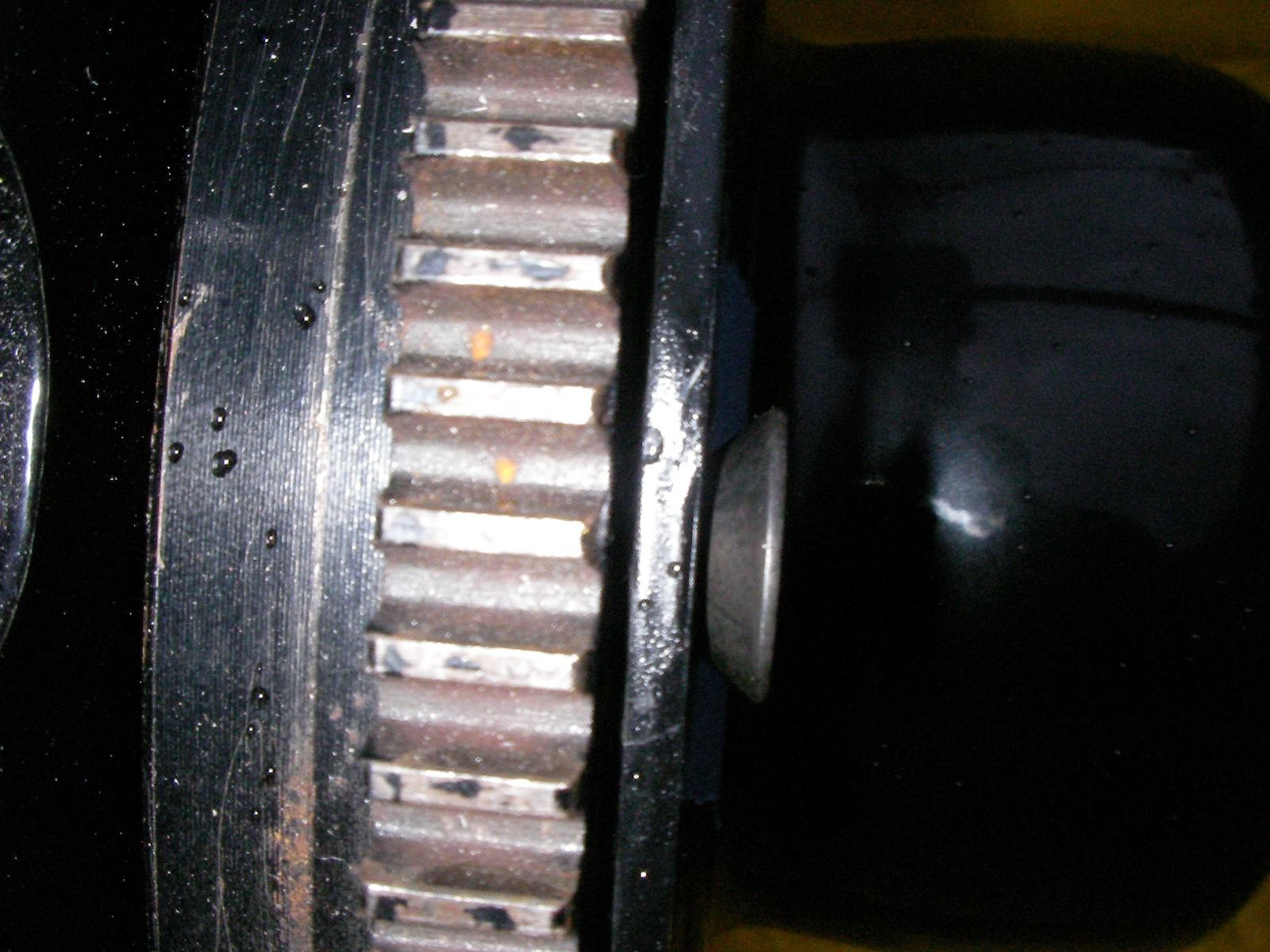 ---
Last edited by outonsafari; 03-31-2018 at

08:24 PM

.
03-31-2018, 08:48 PM
Banned
Join Date: Jul 2011
Location: Ft. Worth TX
Posts: 9,595
Likes: 0
---
merc listed an updated install that they put out years ago for the coupler installations. It would be best if I find it and make copies, then send it. too much to write along with the proper steps, It is not in the manuals. If I recall correctly --- I wrote a very short version of it a couple years ago up here.
---
Last edited by BUP; 03-31-2018 at

08:51 PM

.
04-02-2018, 01:30 PM
Registered
Join Date: Nov 2016
Posts: 73
Likes: 0
Received 0 Likes on 0 Posts
---
I like what you did with the countersunk bolts. I would say you need the clamping force of regular bolt. I would pull one out at a time and torque the right bolts in the countersunk bolts place.
04-02-2018, 04:53 PM
---
Ayuh,.... The point where yer checkin' run-out in the last picture, is just a guide piece, not functional once assembled,.....

The driveshaft don't touch anything but the splines,.....
04-02-2018, 05:30 PM
Registered
Join Date: Nov 2016
Posts: 73
Likes: 0
Received 0 Likes on 0 Posts
---
04-02-2018, 05:51 PM
Registered
Join Date: Aug 2010
Location: Cape Coral FL
Posts: 1,758
Likes: 0
---
The correct bolts have a shoulder on them that fits the holes in the coupler. Get a set of bolts for holding a clutch to a flywheel, they work great. Almost any auto parts store will have them
04-02-2018, 07:23 PM
---
the bolts that came out of the 454 are shouldered, but the coupler is off a 496 which is metric and the holes are a little too big
for them.

the coupler will go back on the 496 once alignment and the mounts are set, however the 496 coupler bolts are metric non shouldered
threaded all the way up from the factory.
i might try to get metric flat heads and replace them one at a time in sequence on the 496 like powermizer suggested.

thanks guys the advice is always appreciated, and i'll keep this thread updated with info how alignment wraps up.
04-05-2018, 07:56 PM
---
before the block was bolted in, but was all shimmed up and aligned, runout on the end of the alignment tool was 15 thousandths.
then i bumped the tool and it took 2 hours to convince myself the bearing was correct.
no way it could have been done w/o the special tool that goes into the gimbal housing.
the engine had to come out twice, once to drill the lower holes in the angles,
and the second to drill the rear lower bolts, (mount to angle) plus the front angles had to come off.
after everything was said and done, reinstalled and torqued, the alignment tool slides in and out nice and smooth
at 12 - 3 - 6 & 9 o'clock with the special tool installed. calling that divine intervention !
when the angles where torqued to 30 pounds there was almost no movement and no noticeable squeezing so fingers crossed.
brings me to torque, since i don't know any better, going w/ safe than sorry. do you guys torque the angles and mount bolts ?
how much torque on the bolts thru the stringers ? they're 4 inch long 1/2 grade 8
mount bolts are 1 1/4 long 7/16 grade 8.
---
Last edited by outonsafari; 04-05-2018 at

07:59 PM

.
Posting Rules
You may not post new threads
You may not post replies
You may not post attachments
You may not edit your posts
---
HTML code is Off
---