WoW, a thread about BOATS! (canopy boats)
10-09-2008, 01:01 PM
10-09-2008, 01:08 PM
Registered
Join Date: Apr 2004
Location: Arizona
My Boat: 46 Skater, 42 Fountain, 23 Tige
Posts: 195
---
I have both. I like the Canopy. They both have their pros and cons it all depends on the type of boating you want to do for the day.
10-09-2008, 05:52 PM
Registered
Join Date: Jul 2008
Posts: 516
---
These two boats aren't FULL canopy but they could be.
The pros are that you don't get any hot or cold wind in your face, you can wear a hat and not worry, and it looks cool
The cons are that when idleing around on a hot day it will get hot in the cockpit and visibility isn't as good as a fully open cockpit.
It realy just depends on what you like and what your going to use it for
Laveycraft 28' EVO
39' EVO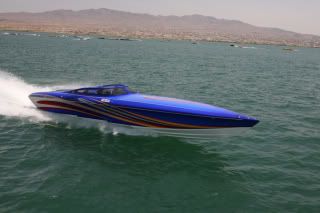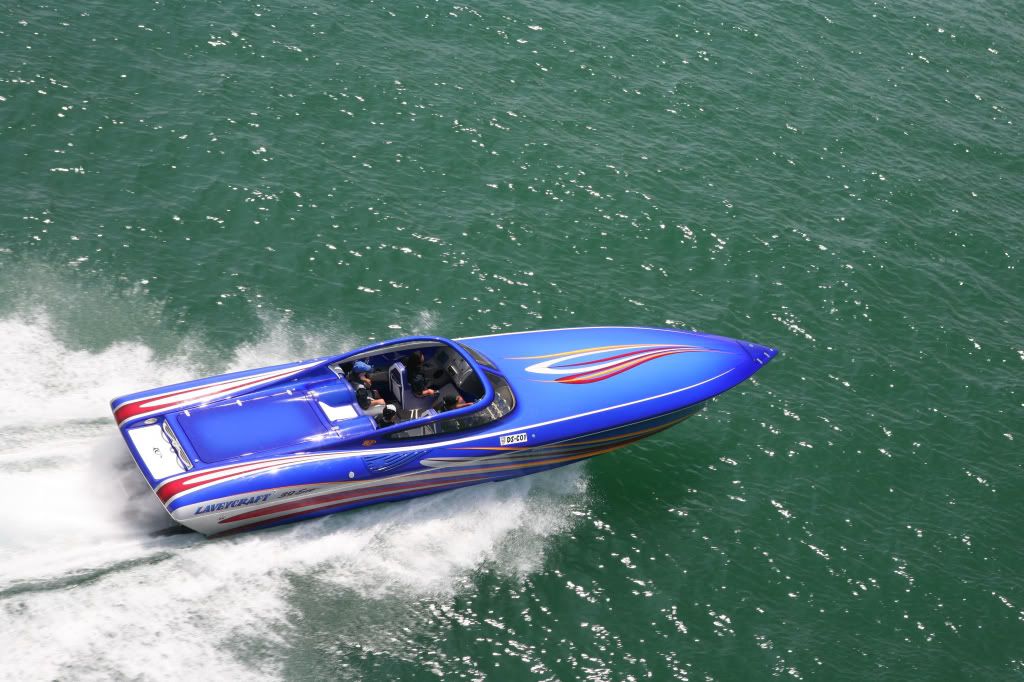 ---
Last edited by lavey jr; 10-09-2008 at

08:37 PM

.
10-09-2008, 06:35 PM
Mod Squad Enforcer
Charter Member
Join Date: Nov 2002
Location: On the way to a PR near you
My Boat: 2009 Skater 3212- Mad Props-- 27' Concept CC t/275VRods
Posts: 12,340
---
That 39' EVO rocks !!!
10-09-2008, 07:46 PM
---
I am in the process of a full conversion vs the half conversion we did in 2006. The noise is unreal in my carbon fiber epoxy full canopy boat. You must wear headsets to talk and to not go deaf from the noise. I had my fun with the race boat look, now I want a different boat so I cut the top off.

1st photo full top with removable top on
2nd photo removable top off
3rd photo SAWZALL!!!
---
Last edited by Brad Zastrow; 10-09-2008 at

07:48 PM

.
10-10-2008, 09:03 AM
Platinum Member
Platinum Member
Join Date: Nov 2002
Location: New Jersey
My Boat: Necessary Evil .............Donzi 38 ZrComp.............
Posts: 4,197
---
If you are going strictly weather protection and versatility, Nor-Tech has got it right with the retractable hard tops. My friend Jim has got one and it is a sick ride.
---
Last edited by Tom A.; 10-10-2008 at

09:08 AM

.
10-10-2008, 09:19 AM
Registered
Platinum Member
Join Date: Nov 2000
Location: Lake Lanier - N. Georgia
My Boat: Being a great husband and dad , boats , golf
Posts: 6,307
---
Canopies can be safer if you do it right. If you haven't taken a dunker test , don't get in one. I always thought ok now I can't get thrown out but wait a minute I can drown. Full time air was a must too.
10-10-2008, 09:21 AM
Registered
Join Date: Apr 2006
Location: Grand Lake (E-Dock Junior Varsity)
My Boat: 24 Skater, 292 SR-1 Formula, 382 Fastech, 41 PC
Posts: 3,017
---
cool ride, brad. Thanks for the input. I like the way yours looks with the full top removed!
10-10-2008, 02:52 PM
---
ssm-v1 the Factory Billet is #1 to me. Does it have an interior? Or is it set to race. any pictures? Thanks Jo