Boat names
02-09-2011, 10:55 PM
Registered
Join Date: Jan 2011
Location: Navarre, Fl
My Boat: 1998 baja 25 outlaw, 1984 Phantom 25(for sale), 1989 23 webbcraft velota(sold)
Posts: 215
Boat names
---
Alright fellas lets hear those boat names or post a pic of your transom if you think it looks good. Ours will be Notta-Yachta when we take time to get lettering and slap it on there.
02-09-2011, 11:01 PM
Driver-441
Racer
Join Date: Aug 2004
Location: Lake George
My Boat: 32 Cobra Raceboat, 27 Avanti Raceboat 27 Kryptonite Raceboat
Posts: 11,452
---
Recently named the challenger "Hell Bent"
02-09-2011, 11:31 PM
Registered
Join Date: Aug 2009
Location: Richardson,Tx
My Boat: 26' Warlock WorldClass
Posts: 153
---
Mine is " SEA - WORD" bc lets face it at some point in time our boats can be a C- Word!!!
02-09-2011, 11:36 PM
Registered
Join Date: Jan 2011
Location: Navarre, Fl
My Boat: 1998 baja 25 outlaw, 1984 Phantom 25(for sale), 1989 23 webbcraft velota(sold)
Posts: 215
---
Friend of mine is gonna name his "$ure in Deep" because if he doesnt sell his other boat he will most definately be sure in deep
02-09-2011, 11:45 PM
Registered
Join Date: Jul 2006
Location: Oshawa, Ontario, Canada
My Boat: 24 Baja Outlaw SST, LOOKING for nice 29 Outlaw
Posts: 2,035
---
"schlorosis of the River"
02-10-2011, 05:08 AM
Registered
Join Date: Sep 2002
Location: Manhasset, NY
My Boat: Sonic 358 Diablo
Posts: 1,943
---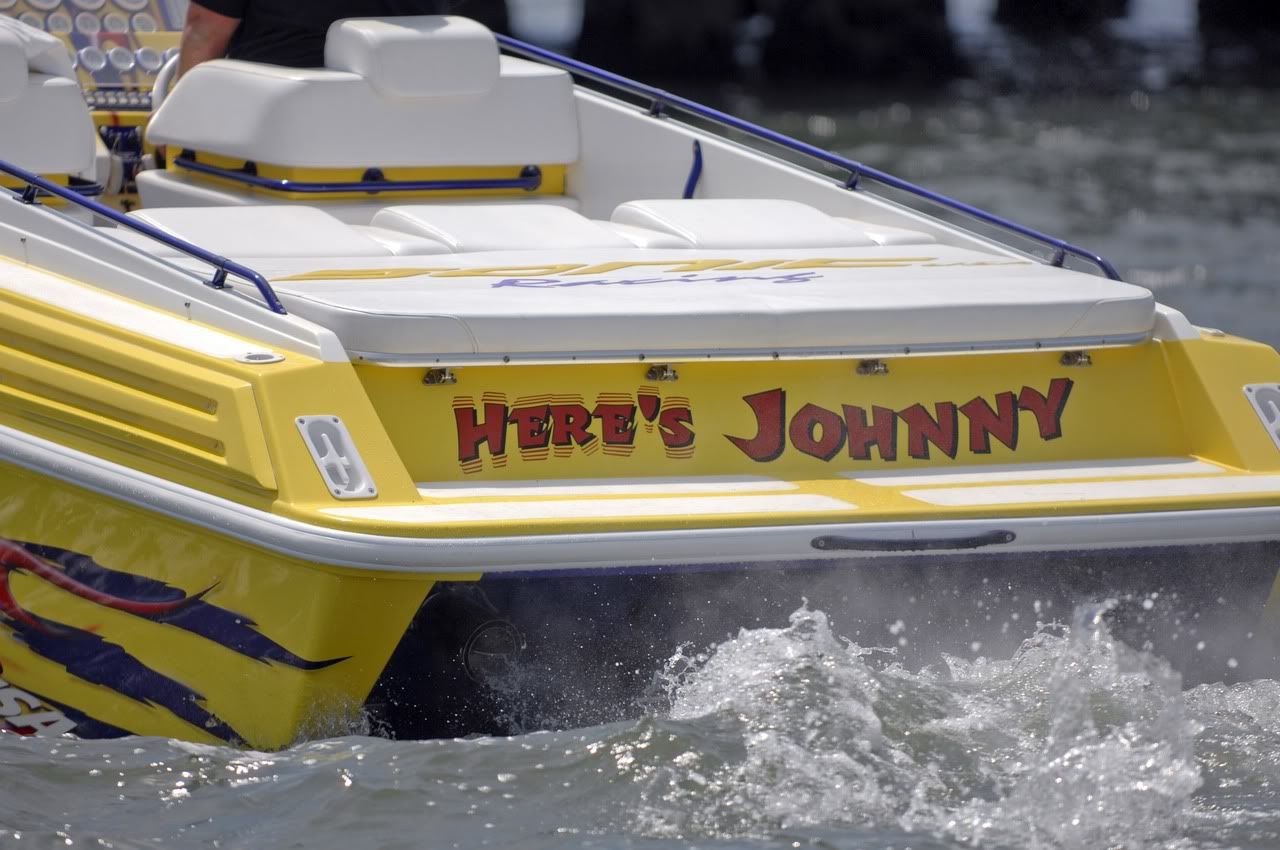 02-10-2011, 05:56 AM
---
21 Scarab - My Commission

38 scarab - My Commission II

43 Black Thunder - Our Compromise (new wife wanted more room)

38 Cigarette - No Compromise (after the divorce)

16 Donzie - Little Compromise
02-10-2011, 08:44 AM
Registered
Join Date: Mar 2010
Location: TOLEDO, OH
My Boat: wellcraft
Posts: 70
---
A-dick-did