Exhaust Modifications
05-09-2011, 01:32 AM
Registered
Join Date: Mar 2010
Location: Oklahoma City, OK
Posts: 15
Exhaust Modifications
---
I've been looking for some Current USCG regulations about loud exhaust, and have read some state regulations, stating that "cut-outs" are strictly prohibited, for example .. "8. Muffling Devices To reduce noise, motorboat engines must be equipped with factory-installed mufflers, exhaust water manifolds or other effective muffling system. Boaters are prohibited from: • Using cutouts; • Removing mufflers or muffler baffles; • Cutting or punching holes in mufflers; and • Modifying the original muffler or muffling system in away that increases noise level" Oklahoma law.

I've been running 3" strait thru-hulls on my boat, and I've not been questioned, but I've recently built a pretty stout 387 cid stroker for the boat, and have bought 4" thru-hull exhaust with cut-outs that direct the exhaust through a bunch of little holes in the bottom of the pipes ... good or bad ?

Any suggestions ? are they cracking down on the law ?

Where is the USCG regulation stating such info ?
05-10-2011, 02:11 PM
---
In my waters, guys are stopped for noise mostly in the no-wake zones. A set of turn-down pipes will keep you out of trouble there. Plus, they actually do limit the noise a little on plane by directing the sound at the water.
These are Gibsons...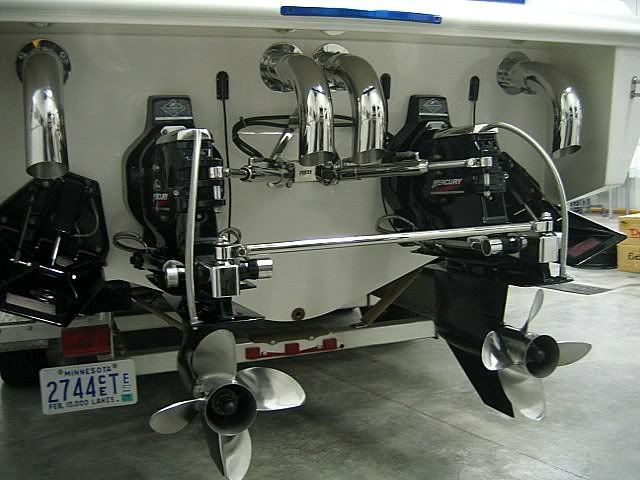 ---
Last edited by Plum_Crazy; 05-10-2011 at

02:14 PM

.
05-10-2011, 03:04 PM
Platinum Member
Platinum Member
Join Date: Oct 2000
Location: Plymouth, Mn. USA
Posts: 936
---
Here is what I did to the exhaust on my 38 Cigarette to meet Minnesota DNR noise regulations. It works. Exhaust between the drives and points downward. The only time it was moderately loud was coming on plane from directly behind the boat.
05-10-2011, 03:14 PM
---
---
Last edited by Coolerman; 05-10-2011 at

03:17 PM

.
05-10-2011, 03:33 PM
---
It all depends on where you boat. I assume you are on an Oklahoma lake. Depending on the regulations, cops may or may not be worried about noise.

I have gotten in trouble on Lake George in upstate NY. They have a 90 DB limit 1 meter from your transom. My AT with 525 blows 99 DB's, so I was issued a ticket and kicked off the lake for the weekend. A couple guys I know put CMI clamp-ons on and they are around 90-90.5 DB. If you have the donkey d!cks like a few guys have already posted, they give you a different test. You have to run your boat on plane at a certain speed past the DB meter. I forget what the limit is for that test.
05-11-2011, 12:45 AM
Registered
Join Date: Mar 2010
Location: Oklahoma City, OK
Posts: 15
---
I take my boat to several states, Minnasota, Illinois, Texas, and Akansas, have taken several trips on the Mississippi river and the Arkansas, we have not had any problems in the last two years, but now, there are several people that have been issued tickets, and had to take their boats off the water.
It would be a bad deal to take the boat to one of the shows and not be able to put it in the water, or get a ticket, thats why I'm asking questions, I'm a little concerned about "cut-outs strictly prohibited " in most states, and the only part of the USCG reg's I can find about it is the part that says the boat must meet all the federal and state laws before it will pass one of their inspections.
Thanks for the replies.
05-11-2011, 02:29 AM
---
Noise regulations are NOT mandated by the USCG. You have to look at each State Law where you boat.

Cut outs means, that you can't have Silent Choice type exhaust or switchable mufflers.
Posting Rules
You may not post new threads
You may not post replies
You may not post attachments
You may not edit your posts
---
HTML code is Off
---