Anyone know this 31 bullet texas boat
01-11-2012, 12:00 PM
VP of the tickfaw200
Join Date: Jul 2007
Location: baton rouge, louisiana
My Boat: 88 cigarette bullet, 2000 Baja 25 outlaw sold
Posts: 1,861
Anyone know this 31 bullet texas boat
---
Looking for info and the owner of this bullet. It's around Dallas Texas area. PM me.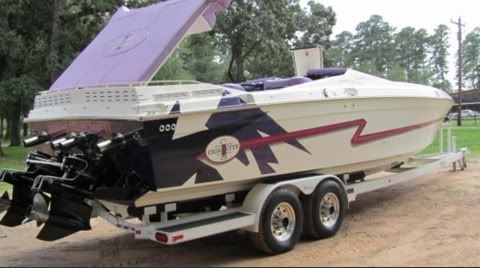 01-11-2012, 12:22 PM
VP of the tickfaw200
Join Date: Jul 2007
Location: baton rouge, louisiana
My Boat: 88 cigarette bullet, 2000 Baja 25 outlaw sold
Posts: 1,861
---
talked to the broker already just want some more info on the boat nice guy. just want some more info.
01-11-2012, 12:56 PM
He will know
---
01-11-2012, 05:11 PM
Registered
Join Date: Sep 2010
Location: The Woodlands, TX
My Boat: Team Baja's 38 Poker Run Special
Posts: 834
---
Casey,
Here's a link to Craigslist Houston where I saw the same boat for sale listed yesterday .
http://houston.craigslist.org/boa/2767473625.html
His location Hockley TX is about 30 miles NW of downtown Houston.
I'm sorry but I don't recognize the boat.
If I can help in any way send me a PM.
See ya,
Kelly
01-11-2012, 10:10 PM
VP of the tickfaw200
Join Date: Jul 2007
Location: baton rouge, louisiana
My Boat: 88 cigarette bullet, 2000 Baja 25 outlaw sold
Posts: 1,861
---
Talked to him and got what i need to know
Posting Rules
You may not post new threads
You may not post replies
You may not post attachments
You may not edit your posts
---
HTML code is Off
---