Finally
07-05-2013, 08:48 PM
Registered
Finally
---
I have been looking for a new smaller day boat for the last year. I finally found the boat that I was looking for. Eliminator Daytona 26. I found quite a few that I didn't like the colors, or didn't like the motor. Three weeks ago I found a boat with colors that I like. I drove to Virginia to look at it and bring it home. 11 hour drive each way. Andy Lohr was kind of the middle man. He bought the boat off a guy that was having a bad day. He parted out the boat. he sold the engine with blown head gaskets, kept the almost new outdrive for his boat and sold me the hull and trailer.
The important thing is that the hull has NO stress cracks or spider webbing anywhere. ( I even crawled under it ) The sides of the hull and top have no scratches that can't be buffed out.
The boat is filthy and the interior needs to be replaced. ( it has quite a few blemishes and a few tears.
The running edges of the sponsons and the back corners have some damage but nothing that can't be easily repaired.
This boat needs a lot of Tinkering to bring it up to my standards.
I plan on cleaning it up and dropping one of the SCARAB's engines and drives into it.
This winter it will go to an upholstery shop and fiberglass repair facility.
I think this boat was stored outside with a ratty leaky whole boat cover for the only protection.
Andy did not sugar coat this in any way. He told me it needed a good cleaning. He had NO idea how fussy I am.
The boat hull is what I wanted and I feel it was worth what I paid for it.
My goal is to keep looking for a 28 or 30 footer.
The 26 is just my first cat.
I can't wait to get it cleaned up.
It is home.
[IMG]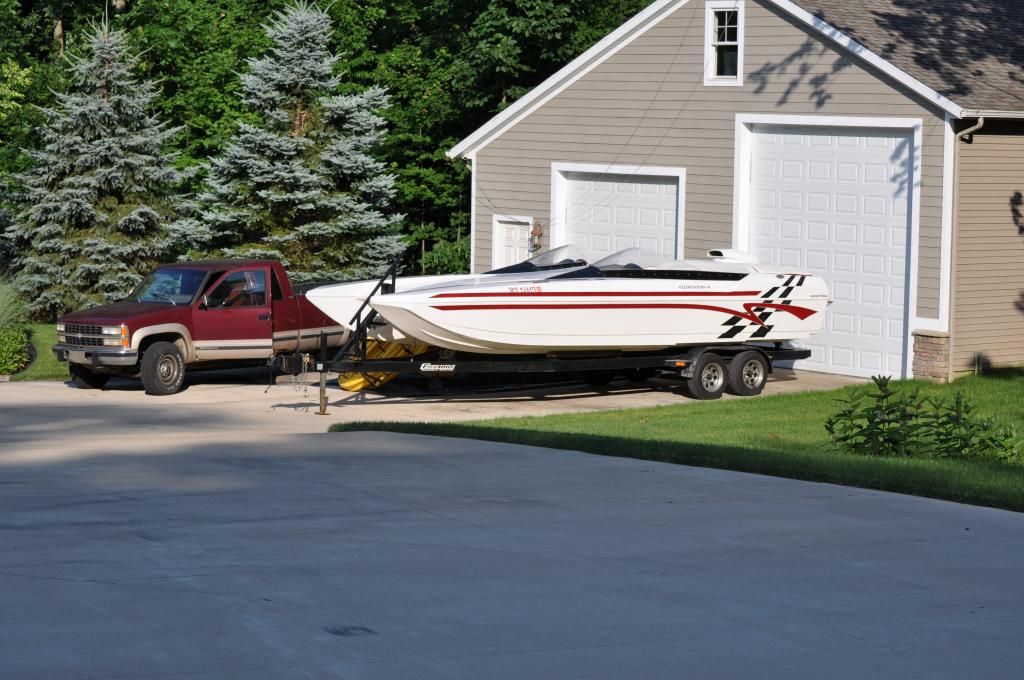 [/IMG]
Posting Rules
You may not post new threads
You may not post replies
You may not post attachments
You may not edit your posts
---
HTML code is Off
---