Dyno'ed the 512 yesterday
07-23-2016, 07:49 AM
Gold Member
Gold Member
Dyno'ed the 512 yesterday
---
Hello all.
went to the dyno yesterday for the moment of truth.
Engine is a 512CI, pump gas, 9.5;1 BBC.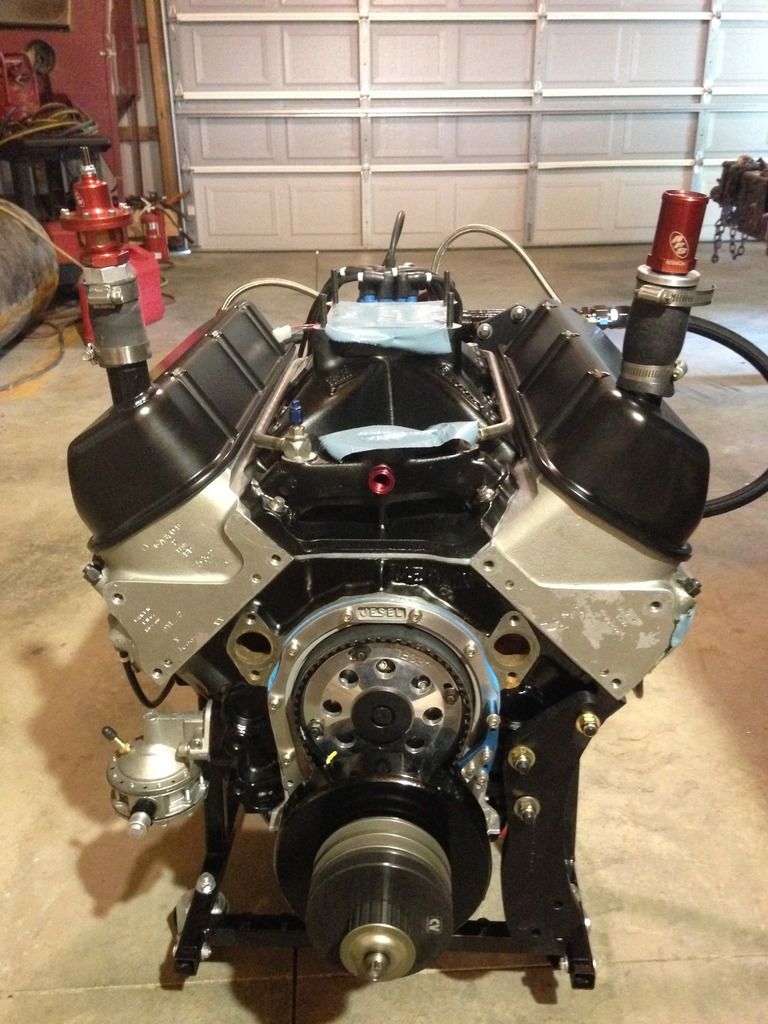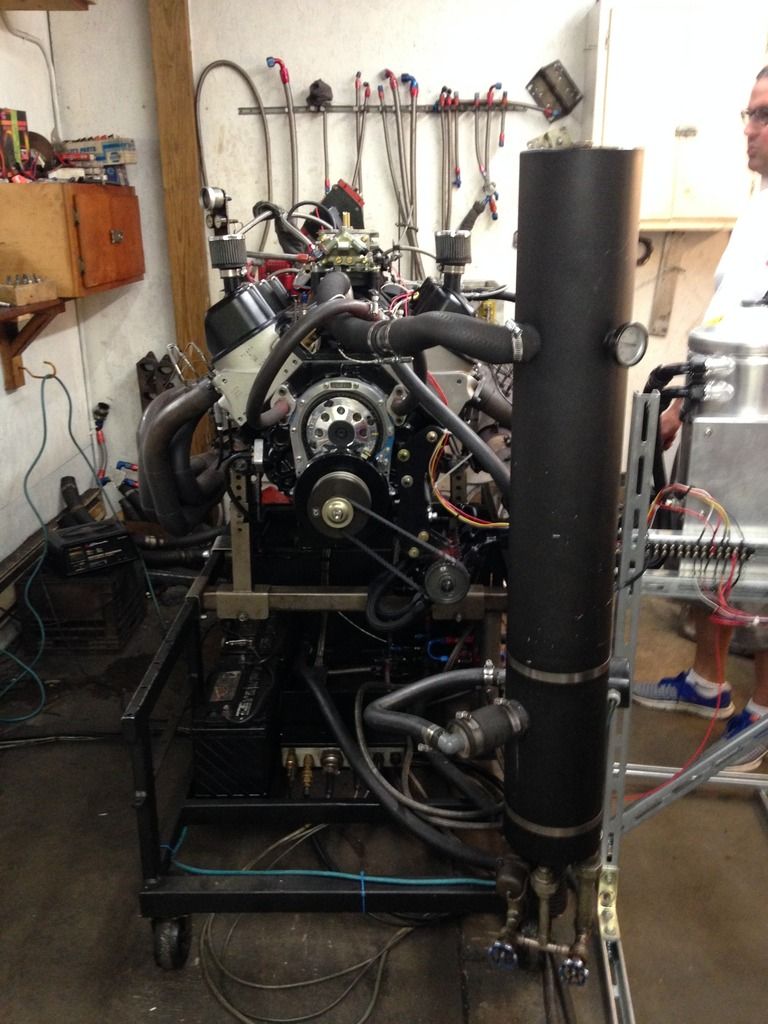 I could barely sleep the night prior as I was reviewing all my stuff to ensure I was ready. This readiness process is no joke and I've never had anything on a dyno before, so I wanted to be ready and prepared.
I built a "chassis" to carry the dry sumo tank and the ignition because I wanted to use as much of my stuff as I could (primarily my ignition)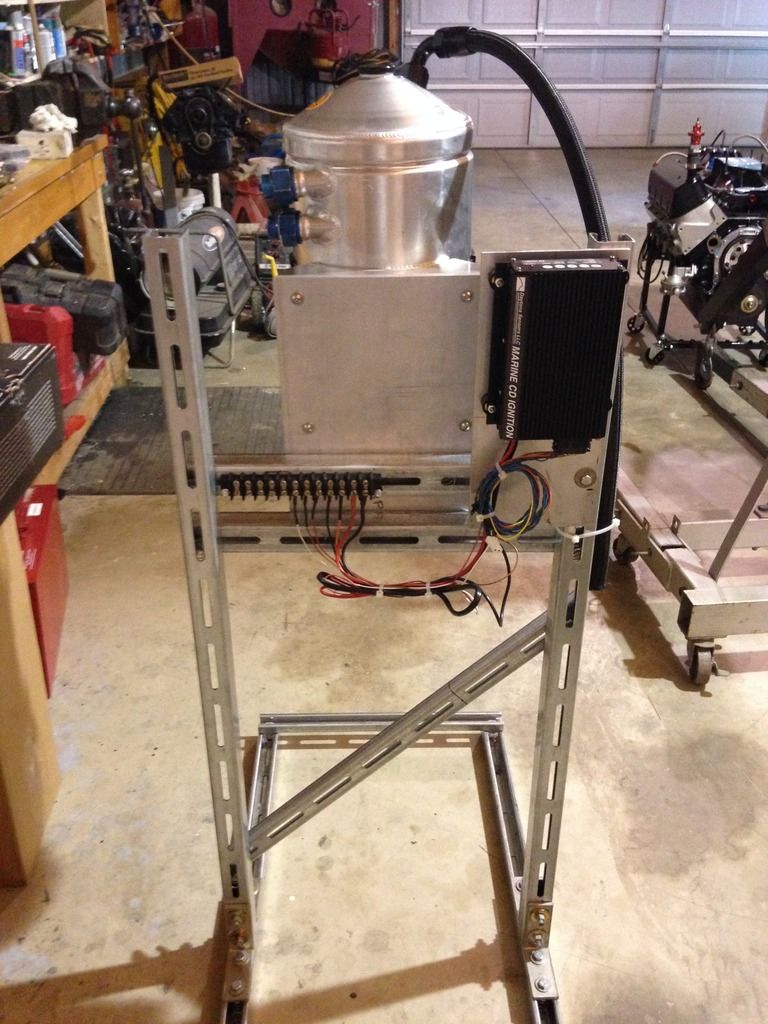 Couple things on my mind were:
-how the Daytona ignition would be to set up and perform. The guys had an MSD digital 7 box on the dyno, but I wanted to use my ignition and it works without a hitch!
-how well we engineered the dry sump system as I pieced it together from several sources and I made the pump bracketry in my barn. 5 stage barnes pump, Saldana tank and a C-line pan. The system worked great (16 QTS or oil) we may put an even lower psi spring in the pump. We dialed it back some but the psi was still on the high side. Once in the boat and through the coolers and plumbing, we will adress that.
Once we warned up the engine and seated the rings, we checked and adjusted hot lash and adjusted the timing.
We made some pulls and then we pulled the breathers and set up the Peterson vacuum relief valve and blow off valve. We set up the relief to maintain roughly 5" vacuum.
Here's where we ended up at: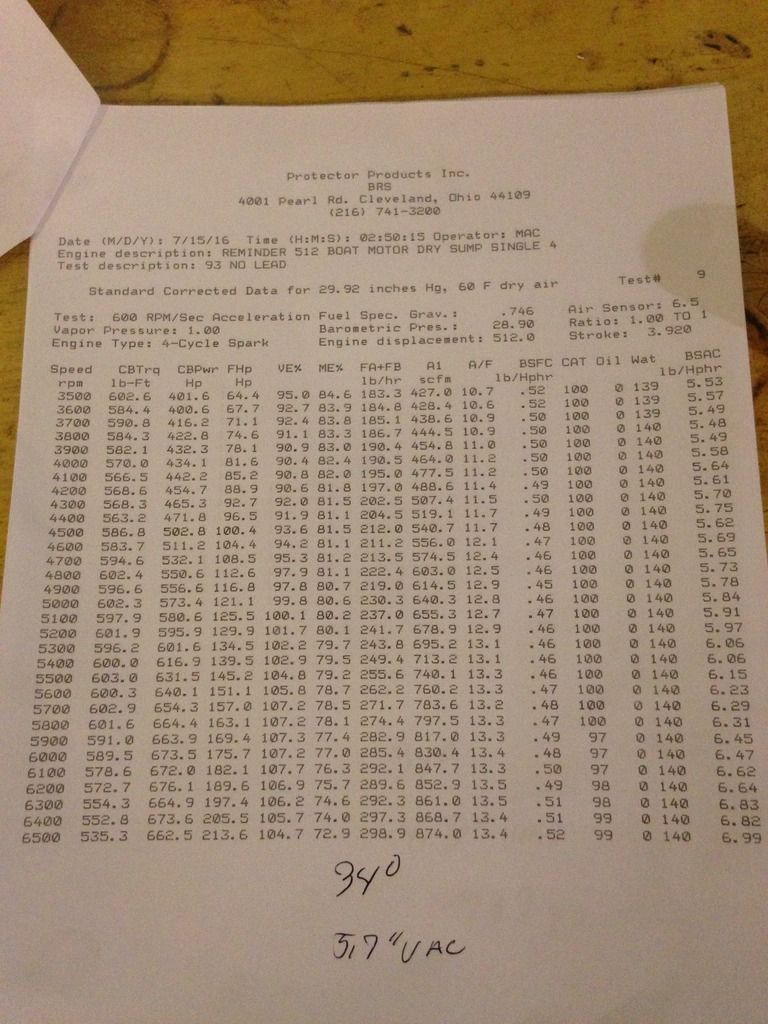 07-23-2016, 02:48 PM
Platinum Member
Platinum Member
Join Date: Apr 2005
Location: Northport N.Y.
Posts: 2,086
Received 0 Likes on 0 Posts
---
Looks good nice brackets you made. Hard work pays off. Good job. Did you try anymore than 34* timing? Good power.
---
Last edited by 14 apache; 07-23-2016 at

02:52 PM

.
07-23-2016, 04:51 PM
Gold Member
Gold Member
---
We didn't put more than 34 in it. We probably should have tried 36.

We made 10 pulls, including a step pull and a pull with the K&N arrestor on it to see if we lost anything with it.

My buddy billy, who builds our engines and was with me yesterday thinks we could have scratched 700 with a bit more timing, a little less oil psi and a little more crankcase vacuum.

With all the bad rapping the K&N stuff gets, I can say the engine didn't lose a lick with the arrestor on it. I was happy about that, because I need to have a short arrestor to clear the hatch. This one is a 14" by 3" element.
07-23-2016, 04:55 PM
Gold Member
Gold Member
---
Thanks
The reciprocating assembly is overkill for what I'm doing. Kryptonite crank, Carrillo rods with Carr bolts and CP Pistons.
---
Last edited by vintage chromoly; 07-23-2016 at

04:56 PM

. Reason: Spelling
07-23-2016, 08:13 PM
Gold Member
Gold Member