Fuel system setup
01-23-2012, 08:38 AM
Fuel system setup
---
How much HP would this setup support.

1/2" tank pickup, 5/8" fuel line to Fram racing fuel filter, #10 line from filter to 1/2 NPT inlet on Holley 130 GPH self regulated six valve mechanical pump. 1/2 NPT pump outlet to #10AN line going up to four port fuel block. Then #6 line to each carb bowl. Dual 850 Holleys on top of a 420 B&M blower.

Trying to keep a simple fuel system but with large lines and no 90* adapter fittings.
01-23-2012, 09:16 PM
---
Your GPH will only flow as much as your smallest line. I think the 1/2 is good for roughly 130 GPH free flow and here s a quote explaining how to calculate what you'll get. You can play with the numbers in the formula below.


The average advertised weight of a gallon of premium fuel is 6.34 lb/gallon.
Brake Specific Fuel Consumption or B.S.F.C.
Brake Specific Fuel Consumption or B.S.F.C. is the amount of fuel required to produce 1 HP for 1 hour. This means that an engine with a B.S.F.C of .5 will burn 1/2 or .5 lbs of fuel to produce 1 HP for one hour. Determining exact B.S.F.C for a specific engine is complicated and requires an engine dyno.
Based on industry standards the B.S.F.C for:
Normal Aspirated Engines is .45 - .55
Supercharged Engines is .55 - .60
Turbocharged Engines is .6 - .65


need to calculate fuel required:
Target Hp * B.S.F.C. = Fuel required in lbs/hr
600 *.56 = 330 lbs/hr
Most fuel pumps flow rate is advertised in gallons per hour:
Lbs/hr / fuel weight per gallon = gal/hr
330 / 6.34 = 52 gal/hr
but remember pump losses, and a fuel pressure regulator and a return line fuel feed system designs flow requirements ?
---
Last edited by Bustinan1022; 01-23-2012 at

09:42 PM

.
01-23-2012, 09:52 PM
Registered
Join Date: Oct 2007
Location: yorkville,il
Posts: 8,485
---
thats almost the same setup as my cat has,and they are 950hp at 6200 rpm,no need to worry,wlll work great for your power.
01-23-2012, 09:57 PM
---
Thanks guys. Trying to keep it simple. I have a few extra of these six valve 1/2" in/out mechanical pumps for spares. I bought two brand new ones last spring.
01-24-2012, 12:52 AM
Registered
Join Date: Jan 2004
Location: Tennessee
Posts: 4,498
Likes: 0
01-24-2012, 09:17 AM
---
How do you guys feel about electric fuel psi gauges? For some reason, i just dont trust them. I was thinking of adding in a fuel psi switch, that will trigger the alarm and LED light should the fuel psi fall below say 5psi??
01-24-2012, 09:44 AM
Registered
Join Date: Aug 2007
Location: Sandown, NH - Sebago Lake Region, ME
Posts: 2,960
Likes: 0
---
Fully agree!
I have an LED on the dash that blinks if psi drops below 4psi and I have mechanical gauges mounted on the engine. You can see them in the big plate that holds my MSD,coil, etc.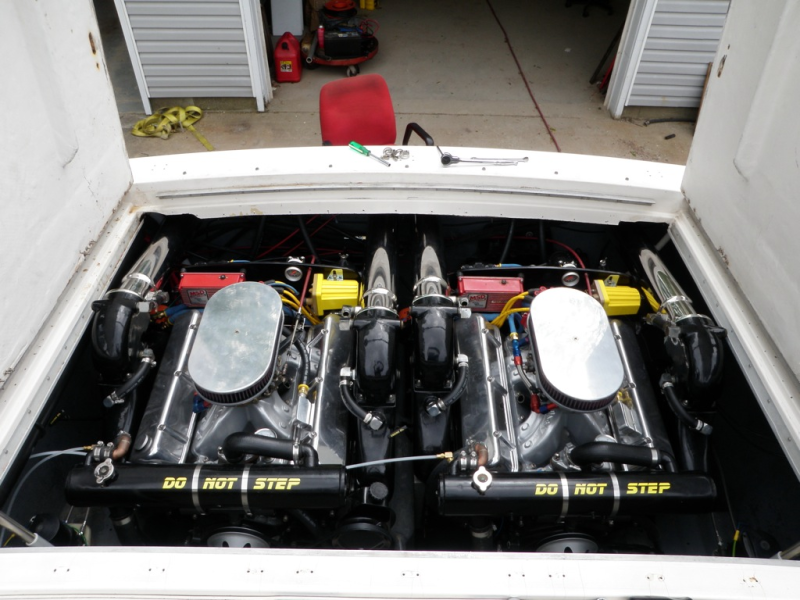 01-25-2012, 09:40 AM
Registered
Join Date: Oct 2010
Location: Cheboygan, MI
Posts: 1,596
---
I have a similar setup on my boat, my concern is sucking through the filter. Is it better to pull through the filter or push through it? I have been thinking about using a mesh prefilter to the pump and then push through my final filter. I am using a WIX 3522 filter which has a built in water separator and has twice the filter area of the standard Fram. Interested in any opinions, I'm running about 700hp through the Merc seawater pump, and I know I'm at the limit of this setup.
01-25-2012, 03:31 PM
Registered
Join Date: Jan 2004
Location: Tennessee
Posts: 4,498
Likes: 0
---
The electric gauges are notoriously inaccurate. However, they usually always hold the same inaccuracy. Even though they aren't usually correct, they should read the same all the time. Your best bet is the set the pressure with a mechanical gauge first.
Eddie