New to me 388
08-24-2015, 12:14 PM
Registered
Join Date: Mar 2004
Location: Vermilion, OH
Posts: 1,030
Likes: 0
Received 0 Likes on 0 Posts
08-24-2015, 09:53 PM
Registered
Join Date: Sep 2014
Location: Long Island n.y.
Posts: 789
Likes: 0
Received 0 Likes on 0 Posts
---
Beg borrow and steal the other $20000.00 it's worth it. I know a guy who just traded his in for a new rocket and hustler gave him almost a 100k for it. Was the same year I think. Maybe a year younger. It had close to 500hrs. Awesome boat
08-25-2015, 05:52 PM
Registered
Join Date: Apr 2003
Location: Punta Gorda
Posts: 1,837
Likes: 0
Received 0 Likes on 0 Posts
---
I just had my 388 surveyed for insurance and they put it at $85 k. I wouldn't sell it for less you cant find one anywhere. I looked at one for 65k and it was destroyed. The used boat market is getting thin on boats with 500 efi,s and 525,s for under 100k. Unless its a fountain or baja but they made way more boats.
08-25-2015, 08:39 PM
Registered
Join Date: Apr 2005
Location: Victor, NY
Posts: 340
Likes: 0
Received 0 Likes on 0 Posts
---
Evils boat is a deal with the equipment it has. If you are going to spend 70-75 on a bravo boat with 500's. spend the extra 15k and get scx drives and a 100mph boat. Then you don't have to worry about wiping out bravos. I looked for a couple years before we bought ours, i wanted to spend the same as you but ended up spending more. All the boats that were 60-70k were junk or needed work. I've had 3 great seasons so far with no major issues. Glad I spent the extra money and got a clean and well maintained boat instead of trying to save 15k and working on it constantly and not boating.

Try to get one with arnesons or scx's if you can, that is the only thing that I regret is the drives (although so far they have been reliable).

There is a bravo boat up at aquamania in the thousand islands that has rebuilt 500's. I can vouch it runs 85 he ran next to us at abay poker run for a few miles.
---
Last edited by 82predictor; 08-25-2015 at

08:42 PM

.
08-26-2015, 09:02 AM
Registered
Join Date: Jun 2002
Location: Sacandaga Lake
Posts: 1,010
Likes: 0
Received 0 Likes on 0 Posts
---
Once I broke an XR I had a decision to make and everyone I talked to said it would be wise to put the SCX's on as the Bravos will not hold up on this boat. So I did. Expensive but so far definitely the right decision. The motor pic (taken the day I brought it home) is before the SCX's were put on as you can see the old drive reservoirs and they were not detailed. lol
[IMG]
[/IMG]
[IMG]
[/IMG]
[IMG]
[/IMG]
[IMG]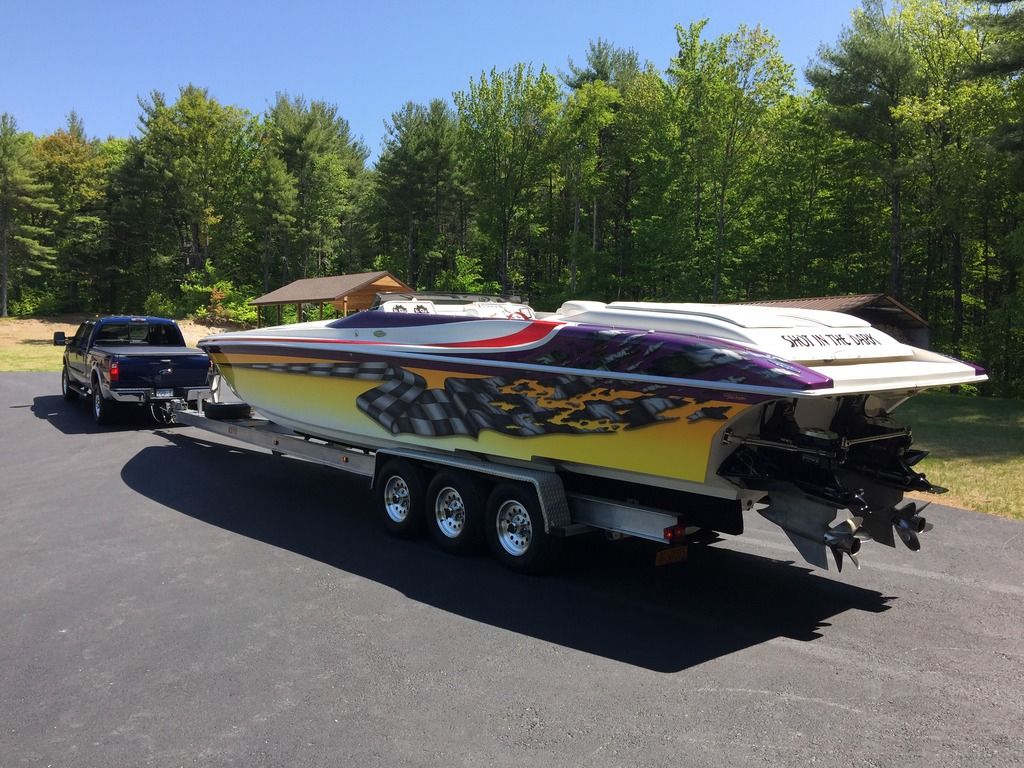 [/IMG]