Quents "Monster" 2750
02-18-2010, 10:17 PM
---
A few of the deck.
This boat is going to be a mid-cabin cuddy open bow so the center of the deck has less laminate because it will be cut out and no sense in using material that will be cut out and thrown away...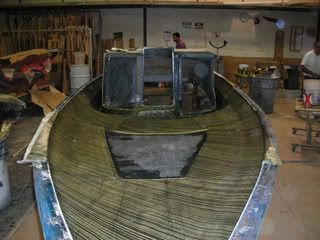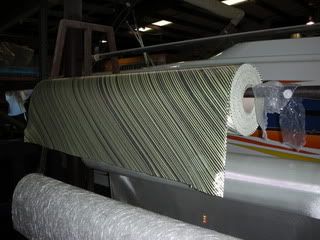 02-18-2010, 10:21 PM
---
The stringers are in and laminated down with carbon/kevlar and is ready to have the tank put in. The deck is done and once the tank goes in the bottom, the two molds will be joined and the seem will be laminted from the inside and bulkheads will be put in. Once that is done, the hull will be popped out.
I'll try and get more pics tomarrow.
02-22-2010, 12:42 AM
02-22-2010, 06:30 PM
Registered
Join Date: Feb 2004
Location: Villa Park, Ca
Posts: 187
Likes: 0
Received 0 Likes on 0 Posts
---
Originally Posted by
Quent
Thanks for the pictures, Dave. This project is going to back up my retirement 2 years, but its worth it. Jeff and Chris are laying up the boat now with carbon fiber/kevlar. According to Chris, its a new experience. The stuff takes special shears to cut it.

This will be a midcuddy bowrider, SCX upper, 2" SC shortie lower. I'm not going to get too exotic on the interior and stereo. I will come out to Corona when the hull and deck are together to pick out some accessories and colors.

My hope is to have a 105mph+ boat that I can keep for a while. The "newboatevery2years is over". I pray. I will keep you posted. Best regards, Quent
Quent,
That should be an awesome ride. I think you'll see your 105 and then some. Mine GPS'd a tick under 100 at Elsinore and I do not have the engine or the light lay-up that you have.
Your's should be awesome.
Best of luck to you,
Tom
03-08-2010, 11:55 AM
Quent
Platinum Member
Join Date: Oct 2004
Location: Loudon, TN
Posts: 237
Likes: 0
Received 0 Likes on 0 Posts
New 2750
---
I went to Lavey over the weekend and picked out my upholstery package, stereo, and the rest of the stuff. The deck is on the hull and I could not be more excited. Jeff and Chris took time to come on Saturday afternoon to help with the process and I am most appreciative of that. Here are some pictures. Its getting closer. Quent