Pickwick on ESPN...........
05-10-2007, 05:42 AM
Registered
Join Date: Nov 2002
Location: Lake Murray, SC
My Boat: 30' Phantom
Posts: 5,647
Pickwick on ESPN...........
---
website.
Racing on the Edge
Motley Crew teams defends title at the OSS Pickwick Challenge
By Rodrick Cox
Special to ESPNOutdoors.com — May 9, 2007
PICKWICK LAKE, Tenn. — "Motley" is an adjective that means exhibiting a great diversity of elements, hardly the foundation of a successful powerboat team — or is it? The Roman brothers of the Motley Crew Super Cat Lite Powerboat might have something to say about that.
Spectators at the third annual Pickwick Challenge will tell you the success of Motley Crew is almost legendary, as they have led the OSS Cat Lite field for three consecutive years.
"Pickwick is our backyard, and we do well together," said Scott Roman, driver of the Motley Crew Super Cat. "The boat likes the water, and we click in this race better than any other. We've made it three in a row, and we're coming back. I don't think we will ever be defeated here — we are confident."
The source of that confidence could be attributed to wins and titles, a childhood spent on the water, the setup of the boat or even the sheer physicality of the team. The success of the Motley Crew team runs much deeper, though. It lies in brotherhood.
Ron Roman, Motley Crew throttleman, believes he can't ask for a better situation than to have his brother in the cockpit. "Blood will do anything for each other. When it comes to running to the ragged edge, we will take it farther than most teams."
There is no mistaking the brutality of an hour-long race at 130 mph. As quickly as the second lap, a driver's shoulder is heavy and worn. Racers finish the course barely able to lift their arms — winded and drenched with sweat. Being able to turn the wheel in lap one the same as in lap 10 demands moxie and strength.
"People may not think sitting in the [driver's] seat demands endurance," said Scott Roman. "Racing for an hour, turning the wheel on a boat that weighs 9,000 pounds while going 130 mph — it takes a toll on you."
There is no slow burn in powerboat racing, and the course at Pickwick is no exception. It demands respect from the very first turn.
"In this class, there are more boats coming into turn one than any class in the field," Ron Roman said. "Getting into the turn and through it, you are either in the lead or hosed down and blind, swamped by traffic on all sides.
"You can't predetermine what is going to happen. You can't have a plan. The plan is out the window as soon as you get within a quarter mile from the turn. All things have changed."
Racers have to rely on spur of the moment decisions, expertly tuned engines, a heavy hand on the throttles and consistent lines into the turns. Every second counts, and teammates has to be in harmony to make it happen.
The powerboat owners, Kevin and Darien Hatcher, know something about brotherly bonds. The Hatchers entered into boat racing seven years ago. Kevin, retired NHL player, and Darien, currently playing for the Philadelphia Flyers, understand the meaning of taking it to the edge.
"The addition of the Hatcher brothers to OSS really shows the strength of the sport and how it's growing," OSS Director Misty Velasquez said. "More people are becoming interested and involved in it. Going into Offshore racing is pushing yourself past the limit and that is what these guys are all about."
Scott Roman explains the tight team dynamic required of the extreme sport in simple terms. "We trust each other with our lives and always think along the same lines."
Of course Motley Crew is not without trouble, just as powerboat racing is not without controversy.
"We had a lot of adversity coming into this race," Ron Roman said. "We lost by one second in the Arkansas race, and if that wasn't enough, we got knocked back to last in points on a technicality. Our crew chief left us before this race, we didn't get a chance to test yesterday, and now we are facing malfunctions in the motor department.
"There are skeptics out there that think we have lost our touch, and we felt we needed to step up and do what we used to do and put all that to rest. We regrouped, went through everything soup to nuts and looked at every detail. We calculated our fuel consumption to the last drop. We came to the start lean, mean and ready to race."
And what a start is was. Motley Crew did not relinquish its lead throughout the entire race.
"It's been three years since we got to the pin first," Scott Roman said. "I made my brother a promise that if you get me to the pin first, no one will pass us."
About 5,000 spectators bore witness to this testament of success. The support of the small town was undeniable, and their embrace of Motley Crew was stuff of rock legends.
"This truly is a boating community," Velasquez said, "and they like to see things go fast on the water."
"This is a sport where you need heroes and a following," Ron said, "and Motley Crew is a team that people want to relate to from their own personal lives."
More than the name, the team's performance at Pickwick is a victory everyone can respect.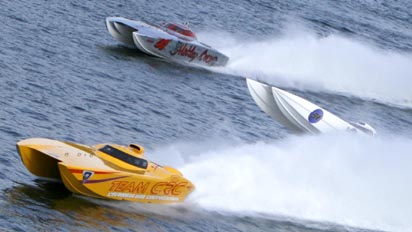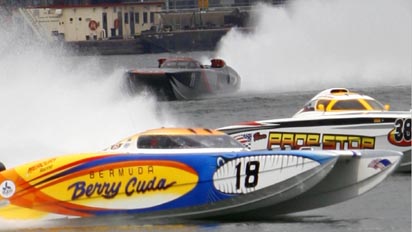 http://sports.espn.go.com/outdoors/g...ory?id=2864888
05-10-2007, 06:00 AM
Charter Member#203
Charter Member
Join Date: Oct 2000
Location: Ft.Myers, Fl/ Atlanta, Ga/ Worldwide
My Boat: 98 Scarab 302 Sport
Posts: 13,732
---
Nice write up, Great racing, and a great team!!
05-10-2007, 08:58 AM
Registered
Join Date: Jun 2003
Location: tennessee
Posts: 143
---
Very good article, glad I read it.
05-10-2007, 09:44 AM
---
Joey and steve (hard rock) have so much power in that boat it can pull a wheeeeeeeeeeeelly.
05-10-2007, 10:50 AM
Registered
Join Date: Feb 2003
Location: Jupiter, Fl
My Boat: 2000 24 Pantera
Posts: 3,660
---
Great article and great job Motley Crew
05-10-2007, 12:14 PM
DriverofDonzi
Gold Member
Join Date: Mar 2007
Location: Grand Blanc, MI
My Boat: 14' Searayder 1996 (recently sold)
Posts: 3,322
---
Way to go, Motley Crew!!!! 3 times in a row!!!!!
05-11-2007, 09:24 PM
Registered
VIP Member
Join Date: Jun 2003
Location: Dover,Ohio
My Boat: SUPERCAT 388 Skater HULL No 1.
Posts: 1,188
---
Congrats guys..nice piece on you guys....
Thread
Thread Starter
Forum
Replies
Last Post
General Racing Discussion
Posting Rules
You may not post new threads
You may not post replies
You may not post attachments
You may not edit your posts
---
HTML code is Off
---