Deep Impact Boats- New Energy
01-05-2012, 12:41 PM
Deep Impact Boats- New Energy
---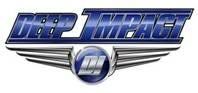 Miami-based brand Deep Impact offers center console performance boats from 33 to 39 feet—and a 42-footer is coming soon.
Center-console performance-boat builder Deep Impact of Miami has nearly completed its move into its new 50,000-square-foot facility, which is just four miles away from its current plant, right off of I-95 & Miami Gardens Drive.
The new plant, which is equipped with overhead cranes and a 70-foot-long paint booth, has twice as much space as the old plant and that space will be better utilized, according to the company's General Manager, Tim Gallagher.
"The new plant will make our production line much more efficient, and increase our ability to service our clients after the sale." said Gallagher. "It's a major step forward."
The expanded facility comes at a good time for builder. According to Gallagher, Deep Impact has six orders for it's recently released 39-footer. "We'll have no trouble filling the new plant," said Gallagher.
The company also is reconfiguring its popular 33-foot offering in both angling-specific and "LS" versions.
"The LS will be more a luxurious, performance-cruising version of the 33," said Gallagher.
You may not post new threads
You may not post replies
You may not post attachments
You may not edit your posts
---
HTML code is On
---