Team FastBoats heads to Key West for World Championships!
11-08-2012, 01:26 PM
Team FastBoats heads to Key West for World Championships!
---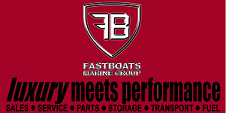 Team FastBoats will be racing this week in Key West, FL at the Super Boat World Championships on Friday, November 9 and Sunday, November 11. We will be racing in the new Superboat class with our new 750 engines by Potter Performance. "It appears the new class is going to attract the best teams from not only the USA but other countries as well. "We are looking forward to some great competition this year in Key West and beyond in the 2013 race season,"says Randy Sweers, owner and throttleman of the #33 MTI Supercat.
Come visit our team in the dry pits at Truman Annex, also the viewing area for the races. Weekend festivities begin Friday night with the parade of race boats on Duval Street from 7-11pm. For a full listing of the schedule, visit superboat.com.
If you can't make it down to the races, you can keep up with all of the action of the FastBoats Marine Group offshore race team via the official Key West Championships livestream, as provided by Super Boat International! There, you can catch exclusive interviews, pictures, and all of the races in real-time!
You may not post new threads
You may not post replies
You may not post attachments
You may not edit your posts
---
HTML code is On
---