10th annual Boyne Thunder
04-30-2013, 02:46 PM
10th annual Boyne Thunder
---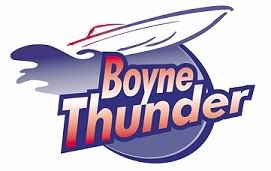 Speed, excitement and fun returns to northern Michigan for the tenth annual Boyne Thunder Poker Run on July 12 and 13 in Boyne City.
This unique boating event is a fund-raiser for Camp Quality and showcases high performance boats roaring through the waters of Lake Charlevoix and Lake Michigan on a 90-mile excursion. Card stops during the journey on gorgeous Lake Michigan include Northport, Elk Rapids, Harbor Springs, Bay Harbor, with a lunch stop in beautiful downtown Charlevoix. Boaters wrap up their day on the water with a final card stop near Horton Bay and a gathering at Sommerset Pointe, a beautiful waterfront development near Boyne City and one of the event's sponsors. The day concludes with a dinner at Veterans Park where participants play their cards to see who has the best hand.
The Poker Run, which starts at 9:45 a.m. Saturday from the Boyne City Marina, is the highlight of the weekend but the event offers so much more. From the moment the boats arrive to the time they depart Sunday there are activities galore in Boyne City. Events begin Friday with a dinner for the boaters at the Veterans Park Pavilion.
That same evening, downtown Boyne City comes alive for an expanded Stroll the Streets Friday evening. Incredible displays of Boyne Thunder boats and classic cars, combined with music on every street corner will make for a glorious evening in beautiful downtown Boyne City until 9:00 p.m.
Saturday's festivities also include a Champagne Cruise for people to get an up-close view of the spectacular boats. Guests are invited to come aboard one of the yachts, generously donated for the day by area boat owners. Once aboard, you will be served beverages and hors d'oeuvres while you cruise about Lake Charlevoix, viewing all of the action from your vantage on the water. Later, your yacht will join up with all of the other Champagne boats for a "raft off." Tickets for the Champagne Cruise are $75 and reservations can be made by calling 231.582.2400
In addition to a great event in a beautiful area, what has made Boyne Thunder special is its relationship with Camp Quality, celebrating 26 years and is a non-profit organization that provides special experiences and support for children with cancer. The goal of Camp Quality is to allow children with cancer to be children again, facilitate experiences and friendships, and provide confidence for these special children and their families in a way that matters. Since it began, Boyne Thunder has raised more than $220,000 for Camp Quality, and it has become an important part of the camp's success.
Major sponsor for this year's event is Walloon Village Lake Marina.
For more information about Boyne Thunder, visit
www.boynethunder.com
or email
[email protected]
.
07-09-2013, 08:53 AM
Registered
Join Date: Sep 2007
Location: Gaylord, Mi
My Boats: 37 Outerlimits
Posts: 2,561
---
Just like we ordered
07-09-2013, 09:54 PM
You may not post new threads
You may not post replies
You may not post attachments
You may not edit your posts
---
HTML code is On
---