1998 Active Thunder 37 Triple Resto
01-27-2014, 04:10 PM
Registered
Join Date: Dec 2013
Location: London, On
Posts: 55
Likes: 0
Received 0 Likes on 0 Posts
---
Will be starting hull prep in the next 2 weeks (removing loose clear and featherin rough spots). Have been waiting on misc parts to service engines and drives. Other difficulty is -20 !!!! (sooo cold) cant seem to get anything done. Definitely have the ball rolling. All drive line should be service / repaired in the next 2 weeks and ready to go. Body will take about 2 weeks to prep then the wrap will start mid march.
03-02-2014, 08:57 AM
Registered
Join Date: Dec 2013
Location: London, On
Posts: 55
Likes: 0
Received 0 Likes on 0 Posts
---
Little behind on updates and working on the boast due to work and 5000 ft of snow. Almost done the drives. Have replaced 1 gimble ,couple lift rams (seized) rebuilt steering rams, tune up kits and tons of little parts, (cables, solenoids etc).. Internal portions of the drives all look good, otors fire right up and are running great!!!! Well.....sort of. Decided to complete a leak down on the motors. All of them checked out excellent (better then excellent in my opinion) except when I got to the LAST Cylinder. As I was hand turning the motor I heard a sort of knock/crack. Leak tested the cylinder and nothing. I removed the valve cover and saw a broken push rod (see pics)!!!! (did I do this??) Things are moving well other then that!!! excited for summer.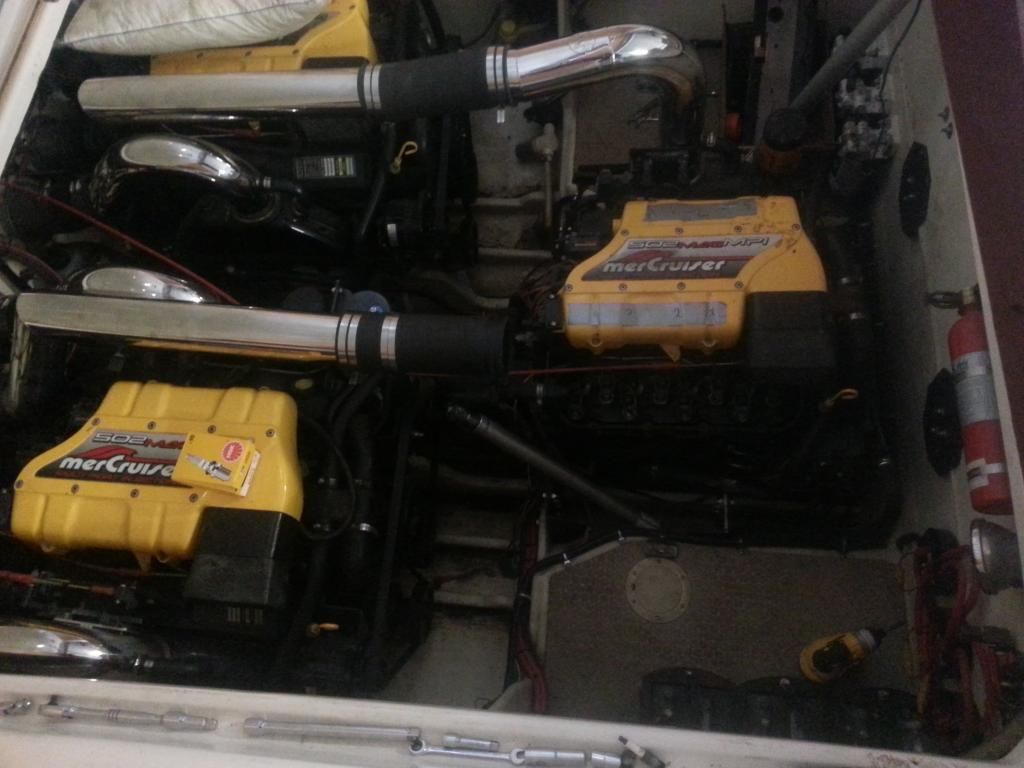 03-02-2014, 12:32 PM
Ginger or Mary Ann?
Charter Member
Join Date: Oct 2000
Location: L
Posts: 11,030
Likes: 0
---
is it just a reflection or is there something with that valve keeper?
__________________
Some people are like Slinkies - Not really good for anything, but they
bring a smile to your face when pushed down the stairs.
03-13-2014, 02:27 PM
Registered
Join Date: Feb 2011
Location: Brookfield Wi
Posts: 771
Likes: 0
Received 0 Likes on 0 Posts
---
You might have a collapsed lifter. Common if the engines sat without being rotated for a while. Put a new push rod in and compare the exposed threads on rocker stud to others. Make sure you are on the non-lobe portion of the cam.
03-13-2014, 05:29 PM
Registered
Join Date: Dec 2013
Location: London, On
Posts: 55
Likes: 0
Received 0 Likes on 0 Posts
---
I'm excited that things are moving and so far so good and reasonably on budget as well. Our plans are to wrap whole boat as paint at this time is too expensive(finishing sanding and prep this weekend) and redo the cockpit. we are trying to update the look of the boat a little. any ideas/advice is always welcome as this is my first boat.
03-13-2014, 05:43 PM
VIP Member
VIP Member
Join Date: Jan 2002
Location: Michigan
Posts: 2,840
Likes: 0
---
Should be a fun project,

Make sure to post pictures every step of the way!


Jon
__________________
"If some is good, more is better.
And to much is just enough."
----Carroll Shelby