'86 Scarab Panther
05-04-2014, 01:01 PM
Custom Interiors & More
Join Date: Jun 2008
Location: Bucyrus, OH.
Posts: 1,742
Likes: 0
---
I was still in high school during the 79' thru 83' production runs for Wellcraft and just remembering staring at every page of my old Wellcraft brochures almost nightly. I remember begging my parents to buy a brand new 21' Nova from Copper Kettle Marine, but they never did, but 30 years later he has a 83' 23 Nova that we still use today. I was lucky enough to be born in Bucyrus OH. home of Baja and Checkmate boats though. I pretty much had a good choice to go and work for a performance boat builder and decided that Baja was on the path to be the bigger company. After 24 years as a Baja designer from 84' to 08' when it was sent to NC, and owning more than a dozen different Baja models (still own three) I think it is time for me to find a old SCARAB just because I wanted one so bad as a kid. About 10 years ago while sitting in my new Baja 29 Outlaw this old S-Type cruised past me in the Middle Bass marina and was in mint condition. That would be the barn find of a life time for me right now.

XT
05-04-2014, 01:19 PM
Registered
Join Date: Aug 2004
Location: naples,florida
Posts: 3,773
---
Loved the old S-Types they were so cool with the blacked out low windshields and no windows in the hullsides.

Add the twin Gale Banks turbocharged 475 hp Mercruisers to top it off. Funny how you never see that gale banks package come up much around this site. Must have been a problem child or not many were produced.

That Panther of the original posters is a dream .Love the old style pleats with the deep red cloth on the interior.
---
Last edited by tommymonza; 05-04-2014 at

01:22 PM

.
05-04-2014, 08:28 PM
Custom Interiors & More
Join Date: Jun 2008
Location: Bucyrus, OH.
Posts: 1,742
Likes: 0
---
I think Wellcraft should have continued to call them S-Types even after they changed to windscreens on them. A Scarab is a "beetle" and a Panther is from the cat family of names. I can understand the Nova Spider name. Were there any other Wellcraft models named from the cat theme. Arctic Cat sleds are all cat names, and Baja got stuck in the gun theme (.38 Special, Shooter, 22 Caliber, Outlaw, Hammer, and so)

Don't get me wrong, I will take a Panther any day of the week if I find one.

XT
06-05-2014, 04:39 PM
Registered
Join Date: Oct 2006
Location: Baltimore, MD
Posts: 1,023
Received 0 Likes on 0 Posts
---
nice i have the exact same boat, i have been replacing the stringers and transom assembly. with new 502's bbc and converted from trs to bravo's with imco extension boxes. love the old scarab's
06-06-2014, 11:11 PM
Registered
Join Date: Oct 2005
Location: Caledonia, Ontario,Canada
Posts: 78
Likes: 0
Received 0 Likes on 0 Posts
---
Nice boat. I have the 1989 Scarab Panther 30' for 8 years now. Started out with twin 330 HP Stock engine and now have twin EFI 502 EFIs with CMI Headers.
A blast to drive
06-08-2014, 06:15 PM
Registered
Join Date: Aug 2007
Location: Sandown, NH - Sebago Lake Region, ME
Posts: 2,960
Likes: 0
---
My 84 S-Type!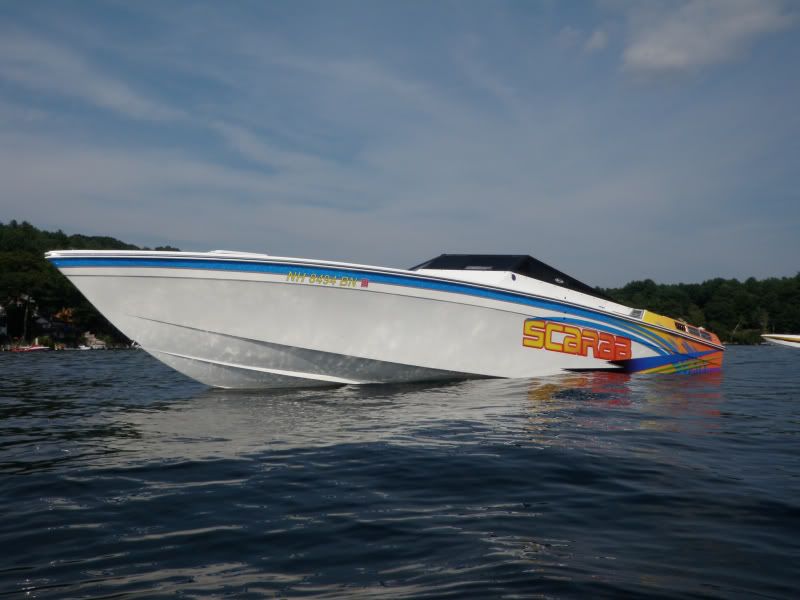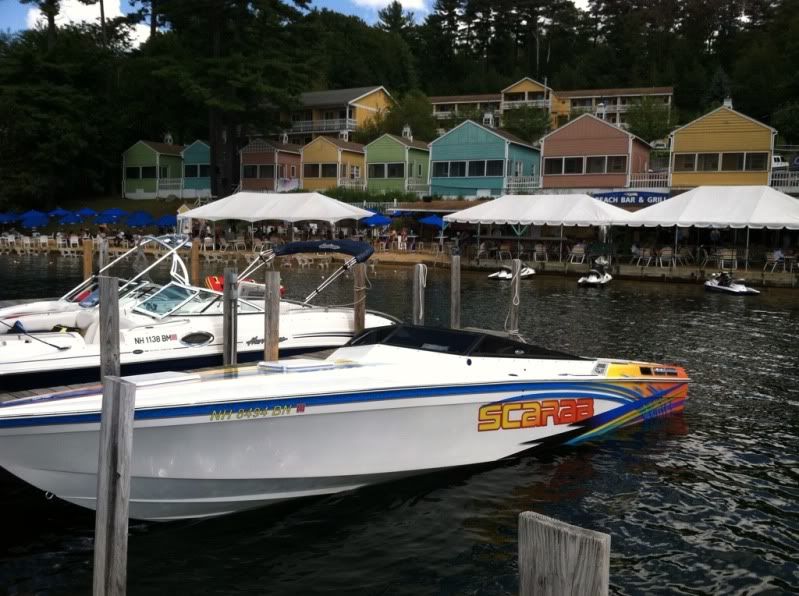 A couple vids!!
http://youtu.be/gpHPuXXpQ9E
http://youtu.be/tELnZ1ZJVRY
Posting Rules
You may not post new threads
You may not post replies
You may not post attachments
You may not edit your posts
---
HTML code is Off
---