91 Scarab Cv
07-03-2017, 09:30 AM
Registered
Join Date: Jul 2017
Location: New Jersey
Posts: 2
Likes: 0
Received 0 Likes on 0 Posts
91 Scarab Cv
---
Hey everyone I have a 1991 Scarab CV 26ft w the bowtie 454 block - looking for any and all information on the history / production of these boats. I saw in an old ad one had a rear wing on it, has anyone ever seen one with a wing on it? Any type of information is great, thank you.
07-03-2017, 07:32 PM
Registered
Join Date: Apr 2015
Location: Deer Park,TX
Posts: 525
Likes: 0
---
Great rough water boats for the size. I have 3 of them over the years. Built 1990-1991. Never seen a wing. One of mine had the performance hatch option that was really cool. Easy engine access.
07-03-2017, 08:24 PM
Registered
Join Date: Jul 2017
Location: New Jersey
Posts: 2
Likes: 0
Received 0 Likes on 0 Posts
---
Thanks for the reply, i don't see many of the cv's around and hardly ever come across one for sale. I know they were only made about a year and a half and wonder if it was in very minimal nembers...
Is the performance hatch you are talking about the fiberglass dual ram air engine cover?
10-17-2017, 09:32 PM
Registered
Join Date: Oct 2017
Posts: 3
Likes: 0
Received 0 Likes on 0 Posts
---
Anyone know where I can get one?
Had one back in the 90's, but sold it for a 30 Spectre in 98.
Got married and sold that in 2000 and now the wife is interested in getting another boat, and I would like one of these... Again!

Thanks in advance!
Bill
10-18-2017, 02:08 AM
Registered
Join Date: Nov 2006
Location: Newport Coast, California.
Posts: 513
1990 for sale in N.Y.
---
Is this the one? The boat looks very nice in the ad.
Ad link:
1990 SCARAB 26 CV powerboat for sale in New York
P.S. There's a fellow Kyle Miller who's restoring his second 26 CV and probably knows these boats better than most. Check out his threads here on OSO:
Resto Two:
1990 Scarab CV saved from the scrap pile!
Resto One:
My new Scarab
D.S.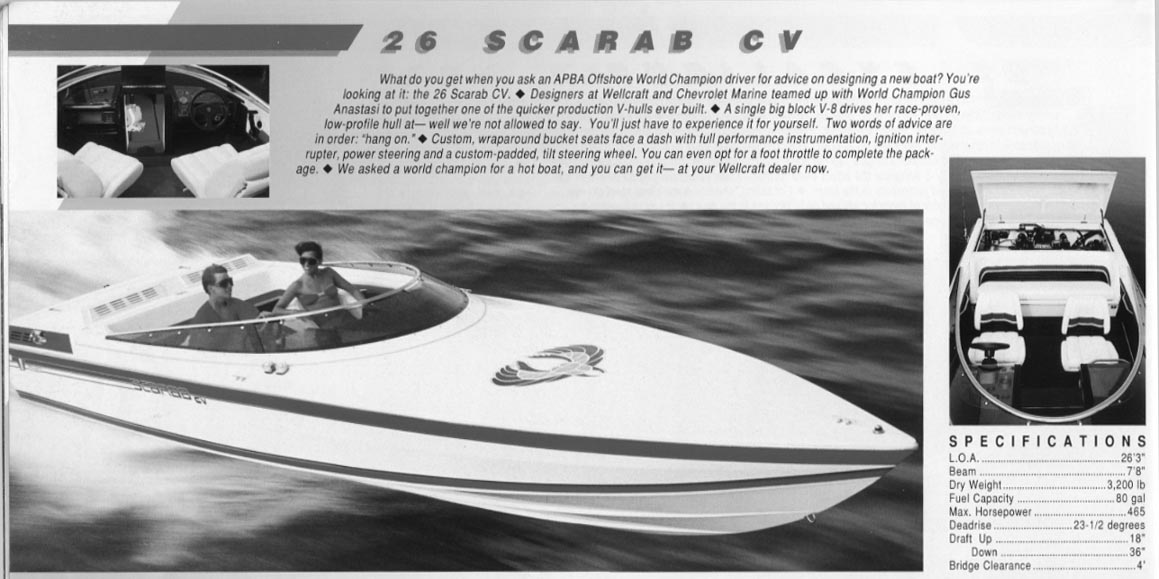 ---
Last edited by larslindroth; 10-18-2017 at

03:00 AM

. Reason: Brochure photo 1991.
10-18-2017, 08:27 AM
Registered
Join Date: May 2014
Location: Buffalo, NY
Posts: 1,054
Likes: 0
Received 0 Likes on 0 Posts
---
10-18-2017, 10:52 AM
Registered
Join Date: Apr 2015
Location: Deer Park,TX
Posts: 525
Likes: 0
---
The New York CV is owned by Mike and a very nice piece. His number is 585 three three zero 31 zero six.
I have owned several 26's over the years including the step 26 and like the straight bottom better. Easy engine access and convenient bow storage.
Has great hardware just needs k planes
Posting Rules
You may not post new threads
You may not post replies
You may not post attachments
You may not edit your posts
---
HTML code is Off
---