32 Skater Project AKA Beat Dad
01-06-2019, 04:22 PM
VIP Member
VIP Member
Join Date: Dec 2018
Location: Zeeland, MI
My Boat: 32 Skater
Posts: 174
32 Skater Project AKA Beat Dad
---
Well... here goes
Been boating all my life and I cant get enough of it. I remember going to races as a kid growing up and watching my dad fly by! Just cant get enough of it. So I bought my first boat when I was 16 - a 23' Powerplay Conquest. Had a blast with a bunch of friends and figured why not go faster and bigger. A few years later I bought a 32' Velocity with some 454 mags. That was fun too! A real drivers boat - especially on Lake Michigan. My father had a 35 Fountain and the velocity out ran it by a few MPH. He ended up with a 42 Tiger and I was left far behind. He found a sweet deal on a 40' Classic Skater and snatched it up. I have never had as much fun on the water. After the first ride and driving the boat i started hunting for a cat. Went to Florida to look at a 39 ocean express that ended up having a hurt motor and a wet hull (was a great trip glad we flew all the way down there...NOT). A few months later at lunch my father showed me a 32 Skater on Ebay and I went and looked at it the next day and bought it!
The day I looked at it
Bringing it home
Its pretty cool how you can see traffic behind you while towing the boat! LOL
So I am not sure why the original trailer was ever modified... No need for dually tri axles at all. The brakes were out dated and I was unable to find parts anywhere for them and I didnt want to end up on a long trip some where and end up on the side of the road - Also one of the axles was bent. I drove down to Skater and discussed some options and what they run on their new trailers with Pete and settled on some 7K lb torsions.
Took the boat off the trailer
And then started hacking apart the wagon
It was time for the axles to go!
Added a drive guard on the ass end (This will change before paint once the other drives show up)
The trip to Florida was not a total waste of time! I found a 40' Classic Skater in Clearwater that needed too much love and care that I was willing to put into it at the time. Looking back I should have snatched it up. Anyways - The guy with the 40' Skate also has a bunch of other cool boats down there and tons of parts! He showed us some old merc 700's in a crate. On the way home with my 32 I called my father to shoot the **** a bit and he threw the idea of "Hey why not give Ralph a call and see if hes still got those motors!?" A few days later they were on their way.
Added some steps
And some axles
If you look closely in this pic you can see where the tongue and the trailer meet there is bondo that i had ground down. I found that there was a 4X5" rectangular tube welded to a 4X3" rectangular tube to achieve a 4X8" rectangular tube mess that is the tongue.....Not my style
Replaced the tongue and received some wheels in the mail. Quick trip to a buddies shop and had the rubber mounted on the rim and then onto the trailer they went
01-06-2019, 05:18 PM
Registered
Join Date: Jun 2018
Location: Michigan
My Boat: 86 242LS
Posts: 241
---
Great job on everything, fantastic looking boat. What's the cockpit look like? Does it have engines now?
01-06-2019, 05:47 PM
VIP Member
VIP Member
Join Date: Dec 2018
Location: Zeeland, MI
My Boat: 32 Skater
Posts: 174
---
01-06-2019, 05:51 PM
VIP Member
VIP Member
Join Date: Dec 2018
Location: Zeeland, MI
My Boat: 32 Skater
Posts: 174
---
Thanks Al! I am working on trying to find a better way to post pictures - I'm no computer genius. It is a 5 man cockpit steering on the starboard side nothing special. I have dipped a motor in it a couple of times to get an idea on where they need to land and have modified the motor mounts but they may change again. The boat has IMCO boxes / 1.36 Bravos and I think its time they go. My father sometimes calls me "Stone hands" and I feel like it would only be a matter of time before the Bravos and I disagree. That being said if anyone is looking for or knows someone who needs a whole transom set up give me a PM or phone call. 616405406four
01-06-2019, 06:01 PM
VIP Member
VIP Member
Join Date: Dec 2018
Location: Zeeland, MI
My Boat: 32 Skater
Posts: 174
---
Off with the old tongue
On with the new
Needed to figure out where the fenders needed to land so threw the boat back on the wagon
I think it sits too high. Will have to lower it down at some point in time
01-06-2019, 06:14 PM
Registered
Join Date: Apr 2007
Location: Ontario
My Boat: 40SS SKATER
Posts: 445
---
Congratulations, Nice ride..!!! Thats quite the trailer a 3 axle dually!!!
01-06-2019, 06:23 PM
Registered
Join Date: Aug 2012
Location: Cincinnati ohio
My Boat: '03 28 daytona TD
Posts: 604
---
Wow sitting like a monster truck lol. What are you plans for drives . Hope the bravos live?
01-06-2019, 06:42 PM
VIP Member
VIP Member
Join Date: Dec 2018
Location: Zeeland, MI
My Boat: 32 Skater
Posts: 174
---
Thanks guys. Plan for drives... good question. Suggestions?
I donít believe the bravos would make it a summer to be honest
01-06-2019, 08:27 PM
Registered
Join Date: Apr 2007
Location: Ontario
My Boat: 40SS SKATER
Posts: 445
01-06-2019, 09:09 PM
VIP Member
VIP Member
Join Date: Dec 2018
Location: Zeeland, MI
My Boat: 32 Skater
Posts: 174
---
Found a pickup truck that should haul it. I took a trip to munising (pictured rocks) with the velocity a year ago and towed with a lifted 1500 Silverado. This duramax has impressed me so far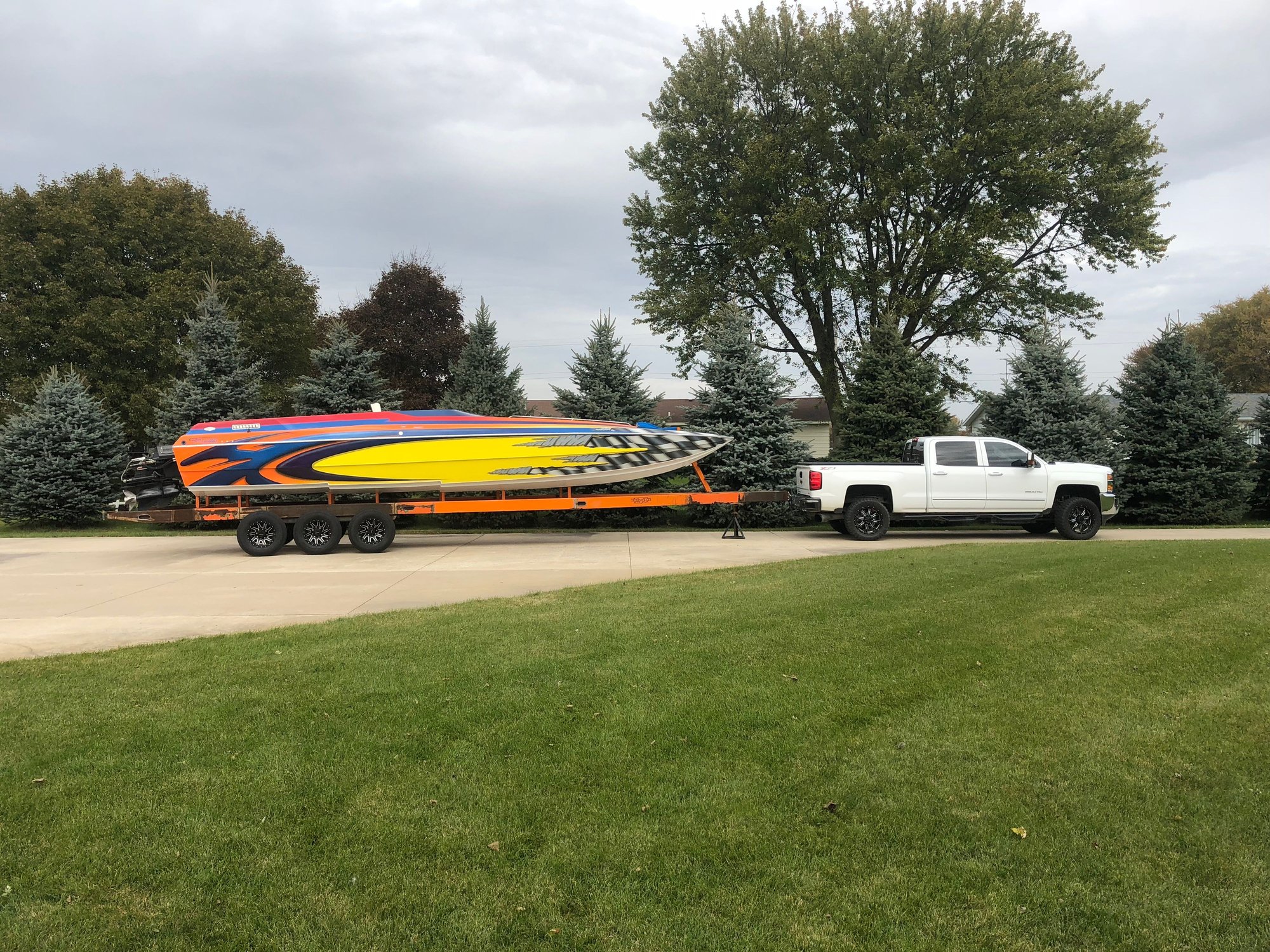 Set the truck in front of the boat and yes it needs to be dropped lower for sure