Say hello to the Deviant
06-04-2011, 12:36 PM
Registered
Join Date: Mar 2011
Posts: 442
Likes: 0
Received 0 Likes on 0 Posts
Say hello to the Deviant
---
OK well we don't have the boat just yet but I'm told we're getting close so wanted to share a few pics of the boat and hopefully keep this thread up with more as we enjoy the boat.
We fell in love with it at the Miami boat show (AKA the devil) and have been working on getting it ever since. So several trips to the factory and a ton of phone calls and texts later here's where we are.
Molds being prepped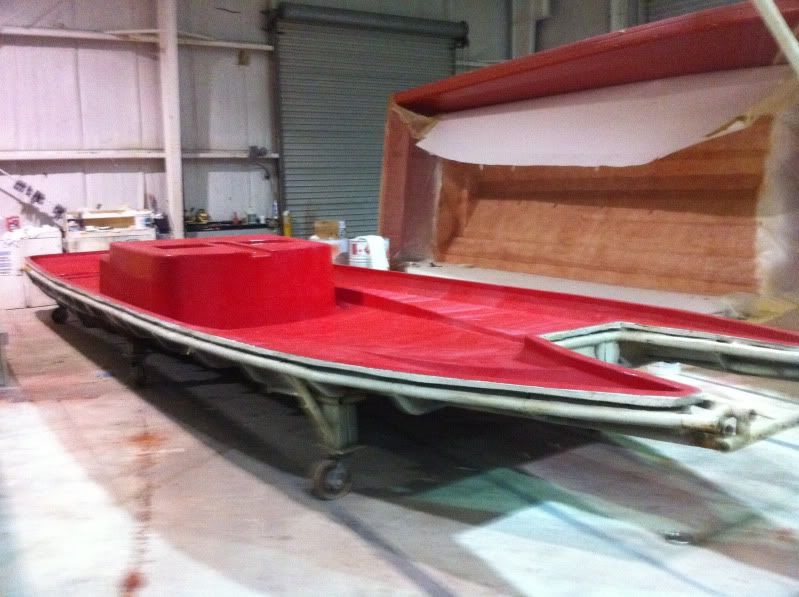 More to come...
06-05-2011, 06:22 AM
Registered
Platinum Member
Join Date: Aug 2004
Location: Toms River, N,J
Posts: 5,878
Likes: 0
Received 0 Likes on 0 Posts
---
mlb75, your boat looks great, we were at the factory may 12-13
checking out our build, and I saw your boat being built. a couple of photos of your boat.
06-07-2011, 09:25 PM
Registered
Join Date: Mar 2011
Posts: 442
Likes: 0
Received 0 Likes on 0 Posts
---
Superbabi, thanks for the extra pics I just can't get enough of the entire process. If I could have swung it I would have taken the last month off and lived there to see it all (assuming John wouldn't have run me off for making to many changes)

FullAuto, yep it ought to look something like that VERY soon. Main differences will be no rail on the bow and no cleats on the boat. I've gone with push pin's for both fenders and lines. Seeing those pics makes the wait so much tougher though...

Tax man, thanks I also love the huge GPS. I wanted the larger display since I plan to use it to display the engine data as well as chart plotter info all the time and didn't want either to be to small to be functional. To make that work I'll be putting the MercMonitor gauge to the right of the Garmin where the speedo would normally go, and will have another GPS speedo in the rear of the center console. As for the radio if you notice the first picture in post three that is one of the new gunnel inserts (the port to be specific) and the radio head unit will be mounted in the front of the starboard insert with a fully functional remote mounted in both the port insert (for the passenger to be able to control the stereo) as well as another remote mounted near the transom on the starboard side on what I'll call the hull extension beside the motor (to be able to control the stereo when everyone is in the water.) The stereo may be big enough to require a third motor but hey that doesn't sound like a bad thing does it?

Hopefully I'll have a few more pics soon since I spoke to John earlier and he said we were getting close.