How is the ride on Statement CC's?
04-23-2018, 04:04 PM
---
They are not fast compared to a nor tech, but we have a 35 and it rides good in the chop. Pretty dry ride in mixed 2-3ís and stable. No complaints other than 64 mph isnít screaming. Boat would be much better with trip 300ís vs twin 350ís
that being said everything is for sale. Whatís your budget?
05-30-2018, 09:11 PM
Fastboats Marine Group
Offshoreonly Advertiser
Join Date: Feb 2009
Location: Ft Lauderdale,Florida
Posts: 191
Likes: 0
Received 0 Likes on 0 Posts
35 and 38 Statement ride
---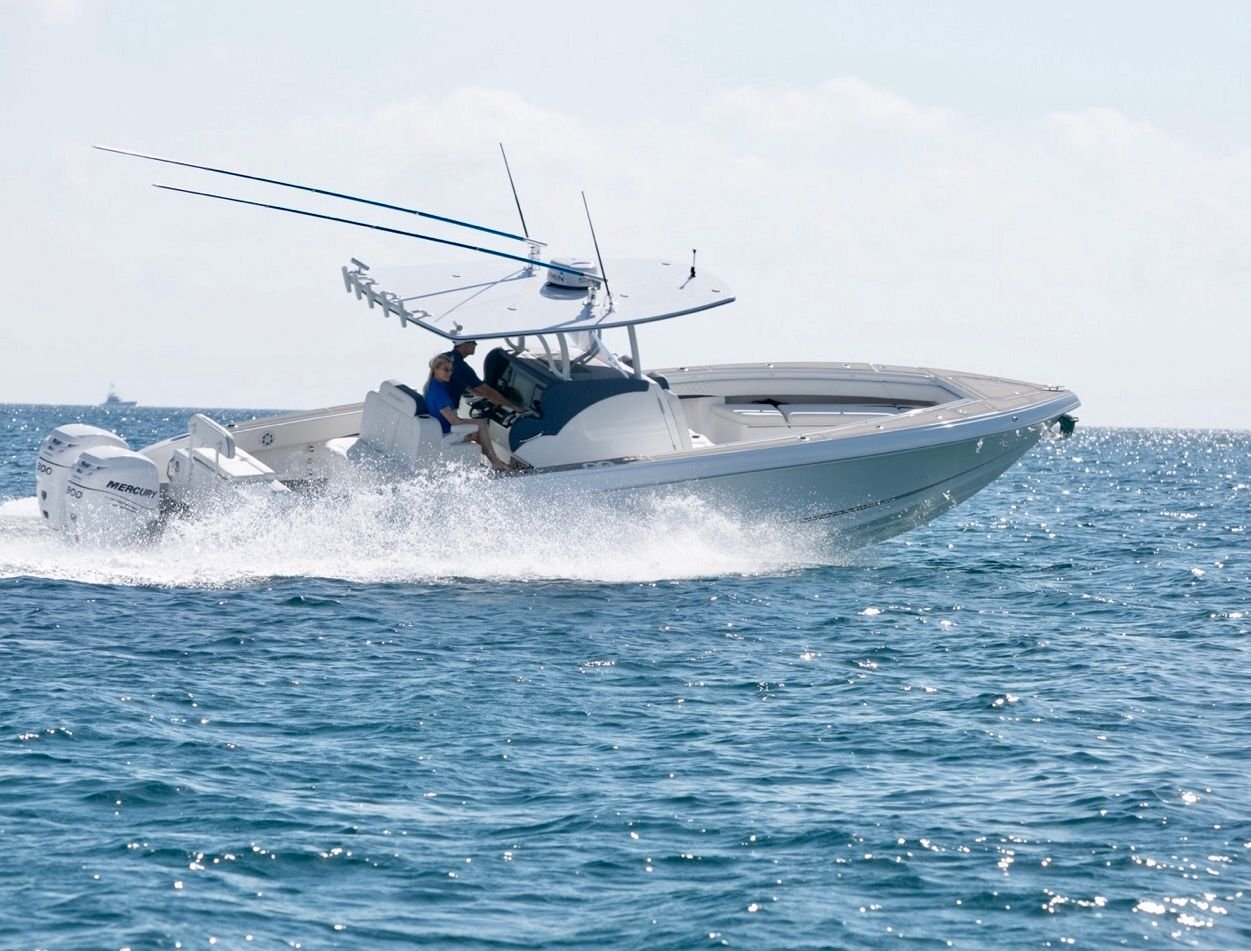 I have sold alot of 35 and 38 Statements.. Like most people say the 35 is not going to set any speed records with Twins.. But neither does a twin engine 34 Nortech.. Our 35 with Triple 350 Mercs runs 80 mph .
Both the 35 and 38 handle 3-4 footers with ease and are very dry.
Bang for the buck you cant beat the 35 and 38 Statement.. I you are interested in sea trialing one you can reach me any tine at FB Marine Group and I would be happy to set up a demo ride
06-30-2018, 12:49 PM
Registered
Join Date: Apr 2007
Location: Cartersville, GA
Posts: 267
Likes: 0
Received 0 Likes on 0 Posts
---
How do the 38 opens run with trip 350s. Seems like a lot of boat for the money. Seen a bunch on poker runs but never really seen them run. Always about 15 people onboard.
07-23-2018, 09:24 PM
Registered
Join Date: May 2016
Location: Miami Beach Marina
Posts: 55
Likes: 0
Received 0 Likes on 0 Posts
---
I had a 368 SUV with trip 300s (ran mid 60s) and now a 38 w/ trip 400s (runs high 70s).

If you are a CC boater then top speed will never matter. You will be more than likely carrying passengers.....and it's also likely they will want to lounge out and listen to music, have a drink and chill.....this is what CC boating is. I haven't had my new 38 above 55mph because the passengers just aren't into that.

For that reason, I see no purpose on spending at least $100k more on other brands with the same amenities unless you have it to spare. Everyone's using Garmin, JL audio, and Mercury power so what else is there to it?

One of the guys who used to run my 368 said it was his favorite boat (even over the MTI V) because it does everything you need in style and you can afford to own 3 of them for the cost of a MTI. A "no go because it's too rough" day will be the same in all of the boats. I'm using the spare $100k I saved over the other brands to take more time off and enjoy using my boat.

Now for resale - if you are going to buy newer then expect to take a bigger depreciation than Ntech, Cig, and MTI....but you will have a much larger initial capital outlay.

In summary, I'll probably buy another Statement when it's time because for 99% of the boating any of us CC owners do....it does the job very very well.