Converting Myco to carry 382 fastech
05-31-2016, 03:05 PM
Registered
Join Date: Aug 2003
Location: Texoma/LOTO
Posts: 565
Likes: 0
Received 0 Likes on 0 Posts
Converting Myco to carry 382 fastech
---
I am buying a 382 fastech with no trailer. I've located a used Myco with drive guard and EOH brakes that was built for a 42 Outerlimits. Trailer can be bought for a nice price. Would this be a good trailer to rebunk for the fastech? I know the OL is 4' longer, but I'm thinking adjusting bunks and bow stop should accommodate that length and provide for a very nice riding trailer for the formula. Any ideas in terms of pros/cons?
05-31-2016, 07:55 PM
Registered
Join Date: Aug 2005
Location: Cudjoe Key FL
Posts: 786
---
Any chance you gave Myco a call to see how much they want to modify it?
06-01-2016, 02:56 PM
---
Chances are, it's going to to be really long for the boat. I hope you don't have any tight turns in your travels, as it's going to be a burden. Assuming it's a welded trailer, any good welding shop should be able to do this.

You may be able to get the actual hull specs from Formula if you call them directly. Do not expect Myco or another trailer manufacturer to give them to you.
If you cannot get the exact hull specs, you are likely going to have to find a shop that can suspend the boat above the trailer and correctly reposition and weld the bunks accordingly.

On the plus side, you will have room for a couple of scooters or pitbikes on the front of the trailer for paddock support vehicles.
06-01-2016, 03:27 PM
Registered
Join Date: Aug 2003
Location: Texoma/LOTO
Posts: 565
Likes: 0
Received 0 Likes on 0 Posts
---
Never even considered adding room for scooter in front. That would be perfect.
I hadn't even considered calling Myco for whatever reason. I'll call them now and inquire.
Edit: I called Myco and they are not able to offer that service for at least 2yrs
I asked if he could offer any of their hull mapping info for the 382, and of course he said only if they do the work. I reminded him that he turned down the work and didn't get anywhere. He recommended just finding a local competent welder to make the changes....
---
Last edited by lonestar382; 06-01-2016 at

03:42 PM

.
06-01-2016, 03:36 PM
---
Been down this road before. I just had a Myco from a 42 OL converted to fit my Gun. Something to watch out for that was pointed out to me at the end, since the OL had staggered power, the axles on the trailer are moved forward 6-8" compared to a trailer for a SxS engine configuration. That affected CG a bit on mine (Just needed to go forward a bit).
You may also want to confirm the model number of the trailer is correct for the length of boat you're putting on it. Oddly enough, the trailer I bought came from the factory under a 42 Legacy (per Myco) but the model number is a "37-39". Myco can confirm the model number that they would've put under a 38 Formula. I suspect it will be the same "37-39".
I was never able to get trailer drawings so I ended up having a local commercial fabrication shop (owner happens to be a boater also) hang it and build out from there. I will mention I did originally call Myco and they said they could do the bunk changes but there was no chance within the next 4-6 months to get to it. I will say Myco was helpful at least in getting me an overview photo of bunk locations for my application. (Sans measurements)
Good luck!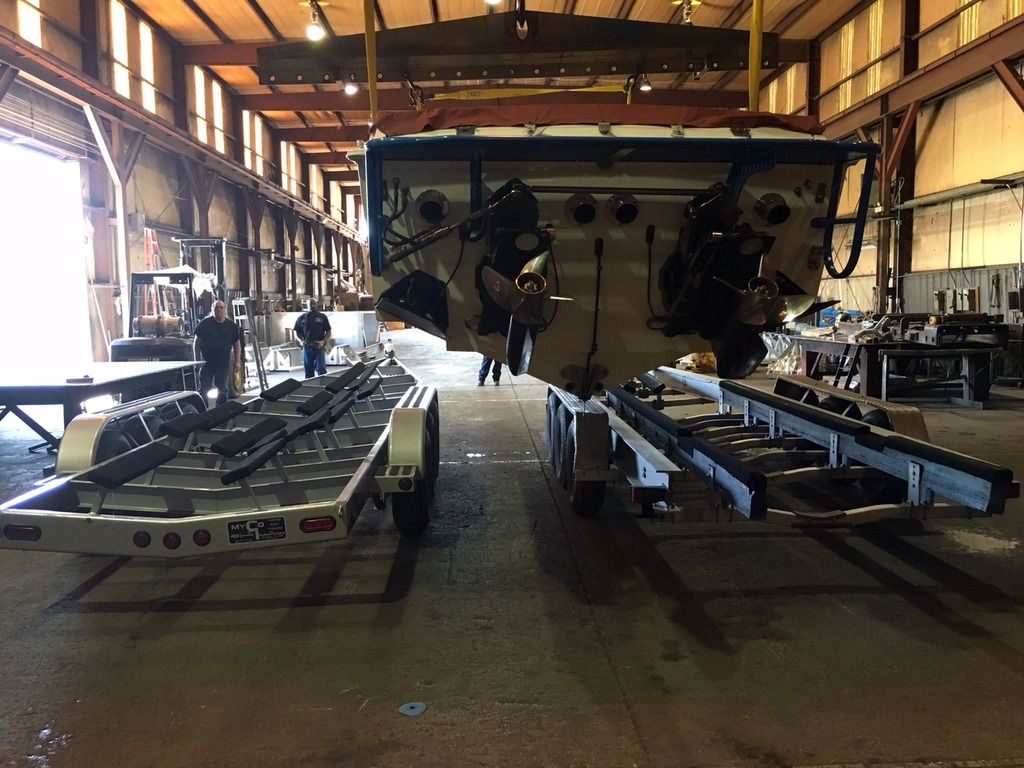 ---
Last edited by VortechSS; 06-01-2016 at

03:49 PM

.
06-01-2016, 04:48 PM
Charter Member
Charter Member
Join Date: Nov 2000
Location: Merritt Is. Fl. USA
Posts: 7,105