Beware!!! Mesa racing engines aka mesa balancing
11-06-2019, 09:51 AM
Registered
Join Date: Aug 2016
Posts: 34
Likes: 0
Received 0 Likes on 0 Posts
Beware!!! Mesa racing engines aka mesa balancing
---
Had an engine built by Mesa at a cost of over $8000 for an SBC shortblock and customer provided heads to be checked and freshened. After 15 hours of low RPM break-in the top end blew apart when finally giving it some gas. I figured they would at least cover the labor and I could provide parts. Nope, didn't stand by their product and made every excuse why it was anyone's fault but their own ,and gave me a quote of 5-8K to fix it with a 60 day warranty. I spoke with Comp Cams and had the engine inspected by a 2 reputable builders. Also it sat at his shop for 5 WEEKS when he promised a tear down and inspection in a couple days. So a few things done completely wrong...
-No build sheet was provided whatsoever.
-We specifically required 9.8:1 compression for the Mercury efi system with the OEM Merc tune which never had any issues, it was in all the paperwork we provided for the build that is still folded up in the sealed envelope that was given back to us unopened. Wrong thickness of head gasket. tt was far too thick which put the compression too low. this low compression caused the detonation he spoke about in his emails to me.
-Valves buried so far in the head that it ruined the heads including a cracked valve seat which was supposed to have been magnafluxed.
-Mismatched rocker studs of various lengths..were supposed to be new
-Main bearings not clearance and were toast...see pic below.
-Re-used old beehive springs with light pressure. Heavier valves were used by you and this caused valve float
-Wrong pushrod length..by the way you said you sold my OEM pushrods to someone and i never received that credit on my bill
-Valve terrain exploded after it bound up.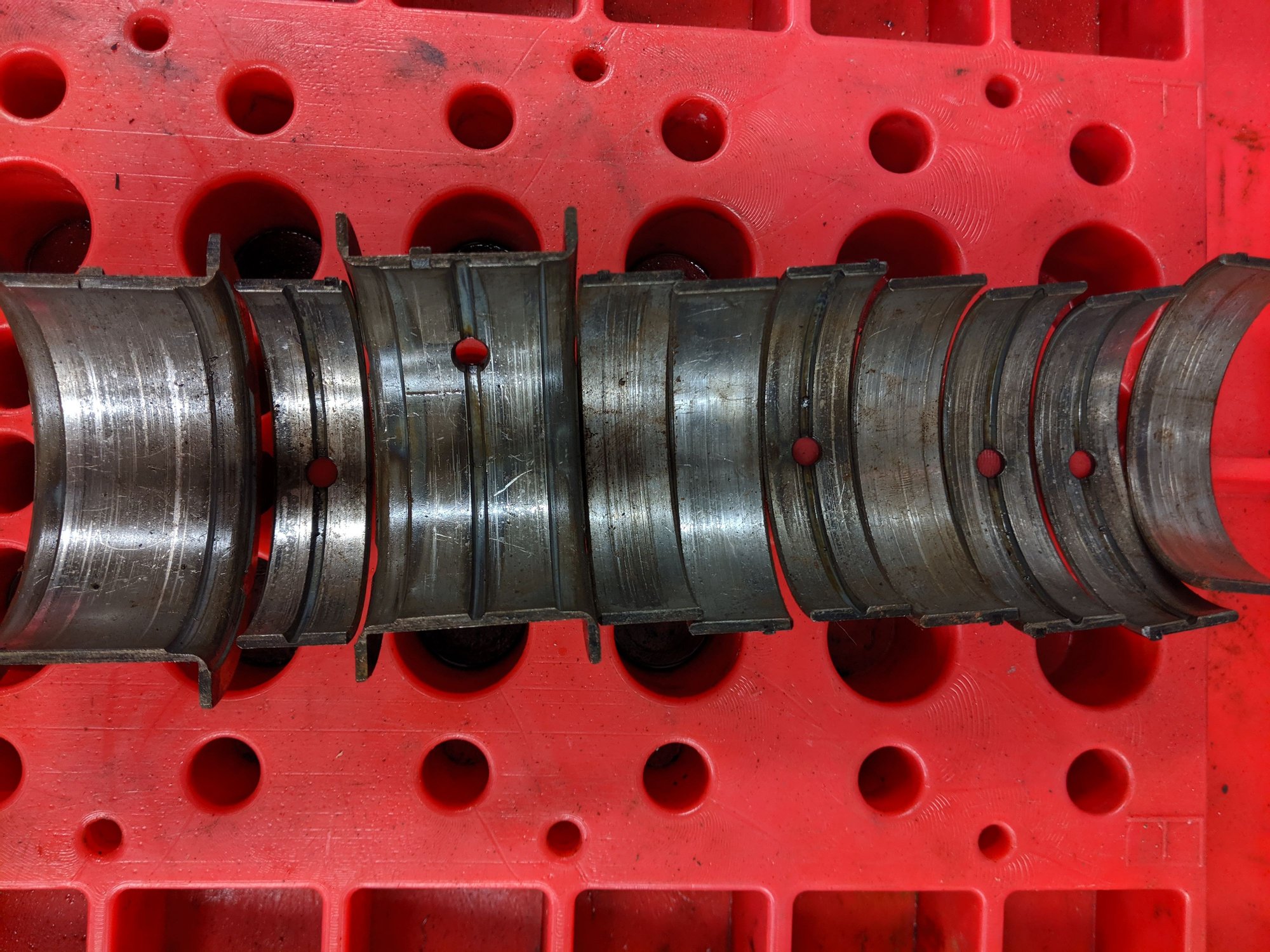 11-06-2019, 02:25 PM
---
Sounds like it was EFI engine. I totally agree with Laz's policy that no warranty unless he provided field inspection of setup/tune. Could have had a weak fuel pump or bad fuel injector that fried the first engine......and then install new motor, and BOOM again! That is not his fault if ends up being the case. Also seen happen where person buys new HP engine and installs it with stock rigging (fuel, cooling, oiling) and goes boom too. Builder sells short/long block with decent cam used to make desired customer goal, and customer then re-installs with short riser exhaust and ruins motor.

Much more to this story I feel.......
11-06-2019, 03:27 PM
Platinum Member
Platinum Member
---
I always enjoyed following Laz's threads on here and the Tech posting on other threads, looked like a Top notch outfit to me.
11-06-2019, 07:32 PM
Registered
---
I see no mention of tuning the EFI on dyno or in the boat , was motor EVER tuned after being rebuilt/modded? He mentions water intrusion and signs of SEVERE detonation. Before I put another engine in, I would HIGHLY recommened you tune the efi, check fuel pressure, etc. Smitty
11-06-2019, 08:38 PM
Registered
Join Date: Jan 2007
Location: Murrayville Georgia
Posts: 1,221
Likes: 0
Received 0 Likes on 0 Posts
---
curious what small block mercury runs 9.8 comp with a stock tune. also how does a thicker head gasket that reduces comp cause detonation? seems more likely if it was a thinner gasket causing too high a comp that would cause that.
11-07-2019, 12:18 AM
Charter Member # 55
Charter Member
---