Boats vs. Planes
01-02-2011, 10:04 AM
Registered
Join Date: Jun 2005
Posts: 10,225
---
Originally Posted by
chuckbeecher
The company I fly for just acquired a Lear 60 and we have our Westwind I for sale or partnership.
Westwind I..
430 kts.
2200 mi. range
2 crew + 8 passengers
Large baggage areas
freon air for ground operations
225 gals/hr.
Only inspection due every 200 hrs.
Best and lowest maintenance program of
any corporate jet
* priced less than a new MTI*
and most likely cheaper to operate & maintain
Can supply contract crews
I had never heard of one so when I googled it this is what came up:
http://www.amsair.biz/westwind1.html
It has some pics/info.
01-02-2011, 12:20 PM
Platinum Member
Platinum Member
Join Date: Apr 2001
Location: East Coast
My Boat: 1985 22' Velocity, 1996 28' Skater, 2003 38' Powerplay
Posts: 2,856
---
Originally Posted by
BraceYourself
Flew my plane back from texas to ohio this weekend. 3.5 hour flight time. Went to 25,000 feet and had a nice tail wind that at some times had us with a GS of 400 mph. At FL250 you have to have oxygen so hence the masks.
Was a blast. I have about 15 hours in the plane now and feel very comfortable.
Awesome!!
01-02-2011, 07:09 PM
---
Went to detroit and landed at DTW today. Took some pics for Ron. I think Flight club is down there somewhere.
01-02-2011, 07:18 PM
Neno the mind boggler
VIP Member
Join Date: Sep 2001
Location: toledo oh
My Boat: Batboat, 38 Scarab Thunder, 16 Sidewinder, 27 Magnum
Posts: 12,904
---
how much of the lake is froze?
__________________
Throttles- Cleveland Construction 377 Talon
08 OPA Class 1 National Champion
08 Class 1 Geico Triple Crown Champion
08 OPA High Points Champion
10 OPA Class 1 National Champion ( happy now Ed! )
01-02-2011, 07:26 PM
Registered
Join Date: Mar 2002
Location: cleveland
My Boat: boatless... with money in the bank!!
Posts: 5,798
---
I'm taking the diamond 40 to detroit in the upcoming weekend for the Detroit autoshow
Should be fun
01-02-2011, 10:12 PM
Registered
Join Date: Nov 2010
Posts: 42
---
Originally Posted by
Dkahnjob
Welcome to the aviation community.
I have been flying for 42 years and boating for 50 years. I love them both and use the plane to get to the lake. I live in the L.A. area and boat in Lake Havasu, AZ it take 5 1/2 hours by car, not towing and I get there in the Baron in 1 1/4 hours and feel relaxed when I arrive. At the end of the week end I look forward to the flight home rather than dredding the drive.
Dave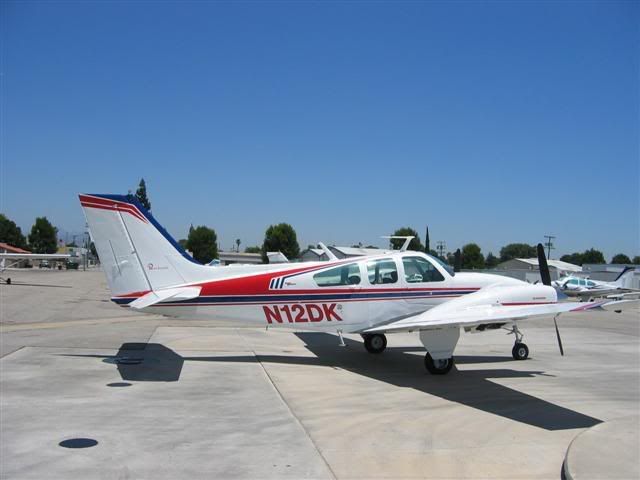 Right there with you, live in Thousand Oaks and boat in Havasu. Love the flexibility to drive 10 minutes to Camarillo, pre-flight and be in Havasu less than 2 hours later with no traffic and stress.
01-02-2011, 10:24 PM
Registered
Join Date: Nov 2010
Posts: 42
---
Originally Posted by
BraceYourself
The stick is great. Rest your elbow on the padded door ledge and just move your wrist. It has aileron and elevator trim on the stick so very easy to trim off pressure. Also ready pad for data entry is in front of the center counsel. I like all the room in front of me instead of having the yoke there. Don't have to worry about pulling the yoke back and hitting your passengers knees.
How does the Aileron trim work, as I am only used to rudder and elevator trim on my Turbo Skylane ?!?
---
Last edited by IinsureU; 01-03-2011 at

09:48 AM

. Reason: error
01-02-2011, 10:48 PM
Registered
Join Date: Aug 2006
Location: Simsbury ct
My Boat: SUTPHEN CPBA PRES.
Posts: 4,200
---
man that is great to hear your enjoying it so much. I am planning on getting my private lic soon.


looks like 40 Hrs here is $6200, if you can get it down by then.

I have always doen things like this, Freestyle dki drag race road race performance boats etc, always wanted to fly, I am a pretty safety minded guy when I run something.

When I was a kid I had a plane land in a tree right near my house and my prother saw one slam straight into the ground on one of our jobsites in plainville so I am sure I will approach it cautiously.

Gotta imagine its very freeing to be able to just get up there whenever you want.
01-03-2011, 12:55 PM