From Cat to Console, a Nor-Tech CC is in my Future
07-25-2019, 07:20 AM
---
Agreed but most would say it's a drop in the bucket in comparison to the cost of the boat and it's money well spent to protect your investment.
As I mentioned, my style cover is like $3k but I'd say that's under typical market value.
What a bout side curtains on your lift (like pictured)? This would be the easiest and most efficient way to quickly protect your boat.
I may be fortunate to store inside but it depends how you look at it. I have to hook up to my trailer, tow to the ramp, launch, load, and return to my storage unit each use. I'd say thats approx 60-90 mins total for each use.
Boating in FL is a 5.5hr tow just to get to JAX so in comparison to you pressing a button on your lift remote, which one of us is more fortunate?
07-25-2019, 09:21 AM
Platinum Member
Platinum Member
---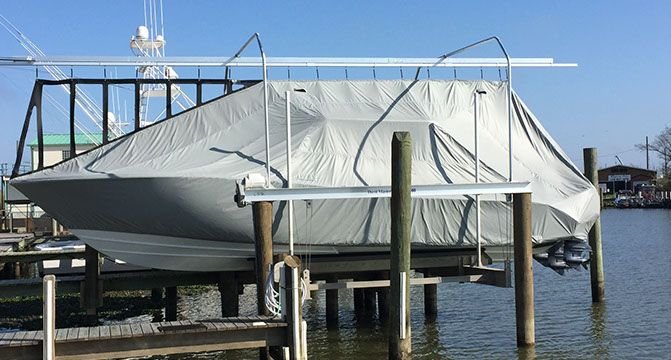 Randy makes track style covers whether your slip is under a covered dock or open air. I've had his covers since 2008. They work well, and hold up well, albeit at LOTO all the docks are covered so the boat cover gets limited sun on it, either early or late in the day. He also opened a shop in Florida so access and support should be pretty good. It takes me about 2-3 minutes to either cover or uncover my boat with his track style covers. Attached are pics of both under a covered dock and open air slip.
---
Last edited by Mentalpause; 07-25-2019 at

09:23 AM

.
07-25-2019, 02:56 PM
---
Originally Posted by
GatorMD
10K for a cover is steep, The option was on my build sheet, i'm pretty sure it was from Kent. I just can't wrap my head around spending 15K for a storage cover + travel cover...I will keep my boat on a lift and eventually on a lift under a boat house so that will help tremendously. But, meanwhile while on the lift exposed to the Florida sun I need something thats going to protect it all so my seats don't turn pink and my interior stays relatively clean. My dealer strongly steered me away from painting my whole hardtop blue, as he said nearly every boat he's had with the hardtop painted ultimately bubbles from being exposed to the Florida sun. You're fortunate to store it inside. I will likely find a local shop to custom make me my travel/storage top which I'm hoping can be the same.
Friend installs these here in FL.
https://www.facebook.com/BuisEnterprises/videos/1078739855577650/
https://www.facebook.com/BuisEnterprises/videos/1674485729336390/
---
Last edited by Nate5.0; 07-25-2019 at

02:58 PM

.
Posting Rules
You may not post new threads
You may not post replies
You may not post attachments
You may not edit your posts
---
HTML code is Off
---