Propeller and engine question. American offshore nxs2600 -04 mod
08-08-2018, 04:49 PM
Registered
Join Date: Apr 2015
Posts: 24
Likes: 0
Received 0 Likes on 0 Posts
Propeller and engine question. American offshore nxs2600 -04 mod
---
hi. I just bought an American offshore nxs2600 with a 540 engine with 4.0l whipple and Moac cooler. Dyno papers show 845 hp at 6000 rpm. The boat is running 100 mph at 5400 rpm. I lost a propeller blade on the propeller that was a 4 blade hydromotive 33 pitch. I put on a 32 pitch non labbed bravo one and got 5200 rpm wot and 98 mph. Of course I have many questions about this boat. But what do you think about rpm range? Is it too low and could it be harmful to the engine. This is a professional built engine from Goldfish technology in Norway. Should I possibly go down to 30 pitch bravo non labbed. There is an imco scx with 1:36 gear. Engine and drive is from 2013. And What should i expect in speed with this setup?

Does someone have some good advices for me?

Dan
Norway
08-08-2018, 10:06 PM
---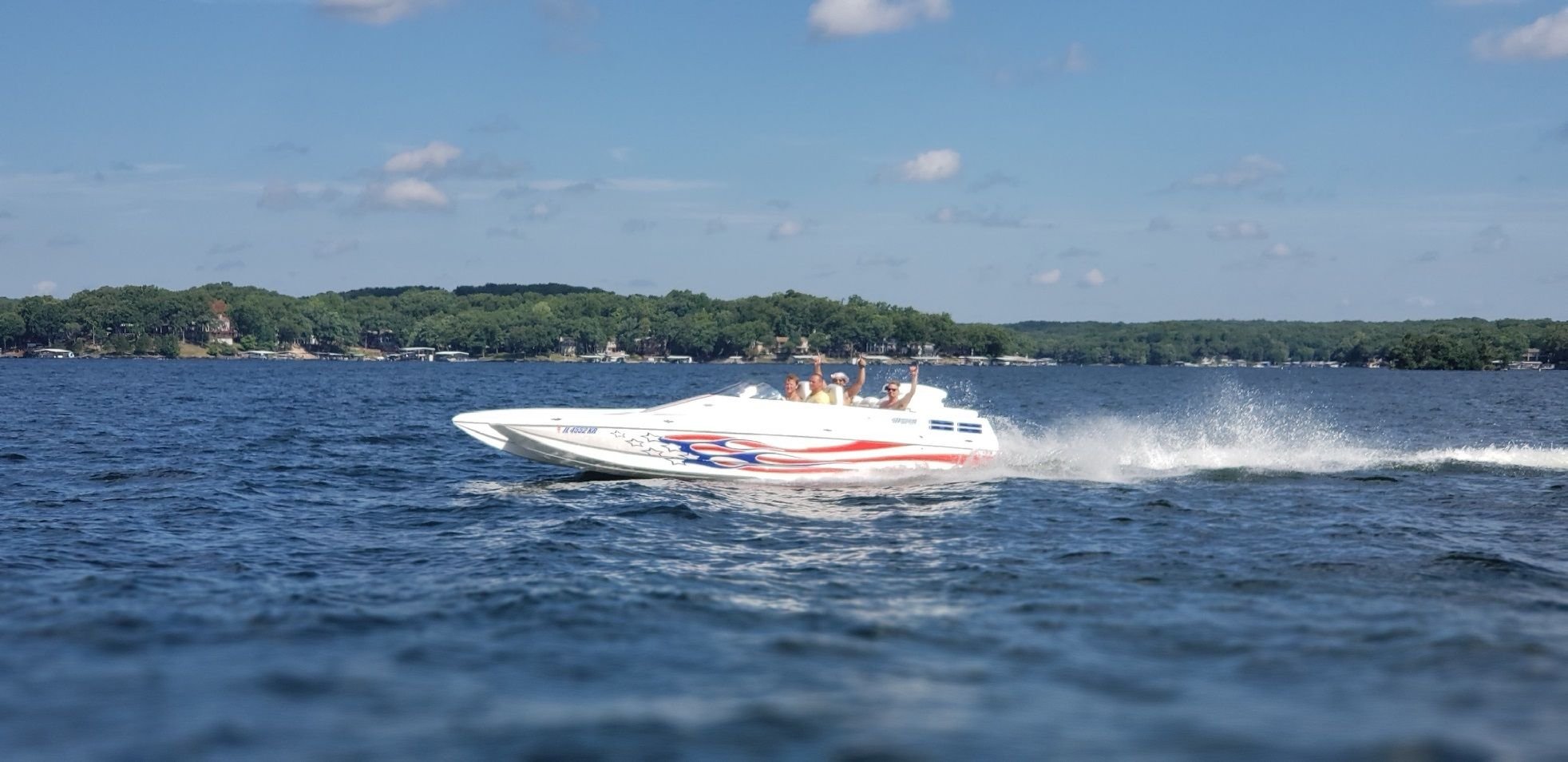 Dan,
I have a 2004 AO 2600 NSX w/ 800HP. Itís running low 100ís in ideal conditions w/ IMCO SCX upper/SC lower 1.5 gear ratio turning a B1 34 pitch non labbed prop (5500-5600rpm WOT). I also have a B1 32 pitch prop for pulling skiers/tubers. The boat likes the 34 much better above 80mph. The 34 lifts the nose a lot more w/ trim. Not sure how thatís possible if theyíre the same diameter but it does.
Rob
08-09-2018, 08:28 AM
---
I'd try the 30 B1 non-labbed next and if you're not satisfied with your speed raise your prop shaft 1/2 inch. You need to spin your motor faster to take advantage of the power. I think the 30 B1 will be the ticket.
08-16-2018, 10:12 AM
Registered
Join Date: Apr 2015
Posts: 24
Likes: 0
Received 0 Likes on 0 Posts
---
Hi and thanks for your reply.
I found that the propeller I had borrowed was a Verado 350 propeller that was slightly modified.
I got an original 32 pitch non labbed.
Took a test trip with the boat and got a top speed of 103.6 mph 5200 rpm.
I contacted the company who built the engine and they recommended not to be so low on the rpm and recommended me to go down to 30pitch to get increased rpm.
The engine produces 850 hp at 6000 rpm.
How much do I increase in rpm by going down 2 pitch?
I should have 5600-6000 rpm.
I drive with 0.54 boost and european 95octane fuel.
Nice ride you have btw
---
Last edited by danse78; 08-16-2018 at

10:16 AM

.
08-16-2018, 07:13 PM
---
How much less HP is the current tune than the dyno tune? I'd think 845hp would easily spin a Bravo 32 higher than that. The 32 Bravo acts much smaller than the Hydro 33 that Second Wind is spinning to 5600.
08-16-2018, 07:20 PM
Registered
Join Date: Apr 2015
Posts: 24
Likes: 0
Received 0 Likes on 0 Posts