Brand new ZRC Donzi
11-01-2019, 06:38 AM
Gold Member
Gold Member
---
Here's a few. (Lifted from Big Thunder Marine and
https://www.powerboatlistings.com/photographs/62987
)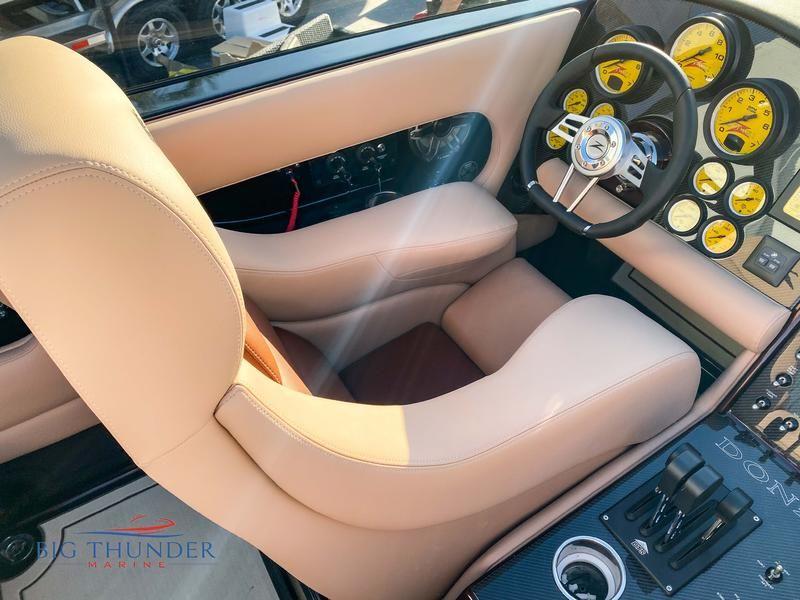 Nice to see a new one built, I'd be happy with one like that....
---
Last edited by rak rua; 11-01-2019 at

07:43 PM

.
11-01-2019, 06:50 AM
Platinum Member
Platinum Member
Join Date: Dec 2003
Location: Washington, IL
Posts: 5,646
---
That boat is gorgeous!!
11-01-2019, 07:02 AM
11-01-2019, 07:10 AM
---
As Tom pointed out in another forum, the switches for the power foot rests are located where most of us Comp owners have a foot-pad to step to and from the deck. If these guys had ever ridden in a comp before building one they would have known to put them on the dash instead.
Beautiful boat nonetheless. Ran 115 first time out - I'm sure it'll do better with prop and or hull mods. I think the 700 boats ran 110-113, but drunk guys at the bar will claim they saw 115 once.
Those were the later hull though with 2 more small steps added. The mold for this one was taken from a 2 step 2003 boat that probably needed some hull work.
__________________
The Beak be gone
---
Last edited by Marginmn; 11-01-2019 at

07:14 AM

.
11-01-2019, 07:29 AM
---
Interesting info. I hope they put some time into dialing it in. I went for a couple rides in a Zrc with 575's. The one with American flag graphics, great riding boat.