89 scarab 21 excel rebuild
11-01-2013, 08:53 PM
Registered
Join Date: Oct 2012
Location: madrid, ia
Posts: 352
Likes: 0
Received 0 Likes on 0 Posts
---
Anyone have any ideas for cooling this beast??? I'm running fresh water cooling so no heat exchangers. I need to figure out where to put my hoses to route to my headers and all that fun stuff...lol the marine pumps for these ls engines are exactly the same as the truck pumps so no help there. I have seen a standard thermostat housing and one that looks a lot like the one off my merc. so how the hell does the standard one work? I'm also looking into fuel systems for this. though about making the stock silverado pump and sending unit fit. also thought about the aeromotive pumps. I just want to avoid having to run a return line, not hard i can splice into the vent tube to take my sending unit out and tap it for a return. I hate not having parts in hand when making decisions...lol and sadly i have to wait til monday or tuesday to get my motor. apparently this truck was a recent arrival to the wrecking yard. super nice guys to deal with but I really wanted to tear into it over the weekend...lol
11-01-2013, 10:56 PM
Registered
Join Date: Oct 2012
Location: madrid, ia
Posts: 352
Likes: 0
Received 0 Likes on 0 Posts
---
I've been trying to find a good pic of one of the cooling systems. so far no luck. I see they plug off the heater lines. easy enough. but then I guess I'll have to figure out everything else...lol oh well if i can rewire an entire electrical system in this boat a few hoses shouldn't pose much of a challenge. the fuel system could get pricey...lol I've got a $4K budget to get everything for this boat. sadly if i go headers that eats up $2k of it...lol no cheap options looking for about a grand just for stock system so might as well go headers.
11-02-2013, 12:34 AM
Registered
Join Date: Aug 2010
Location: Brooklyn Park, MN
Posts: 659
Likes: 0
---
I have got a set of the crusader manifolds an honestly they are heavy but the look like like ls7 manifolds inside. if you are on a budget I would run those, skip athe fast manifold whats the differance going to be maybe 2mph?
http://www.skidim.com/products.asp?dept=1157
also loop the heater core hose for the thermostat to work properly
11-05-2013, 06:06 AM
Registered
Join Date: Oct 2012
Location: madrid, ia
Posts: 352
Likes: 0
Received 0 Likes on 0 Posts
---
I wonder if I should put my fuel water seperator before the high pressure pump. Its a screw on wix filter but I don't know if it can handle 58 psi..I'm thinking it should tho as oil filtera hold well over 80. Plus I wonder if I can dump my return line into one of the unused ports in the base plate.
---
Last edited by sdg0080; 11-05-2013 at

06:47 AM

.
11-06-2013, 06:07 AM
Registered
Join Date: Oct 2012
Location: madrid, ia
Posts: 352
Likes: 0
Received 0 Likes on 0 Posts
---
On a side note. My engine is now home safe and sound. let me say this, its freaking heavy...lol i managed to have a great time in the rain last night getting it out of my truck and into my basement. I will say i dearly wish I had my garage already constructed but however that is not the case. so using a 4x8 sheet of plywood and an engine hoist i safely got it out of the truck. Some how I managed to roll the engine on its side as I tried to turn it around to face the stairs to the basement. I never in my life have ever had to tell someone I had to get an engine out of a tree before in my life. but yes, it rolled under a douglas fur tree...
so I got it upright and out from under the tree and decided it was time for more muscle. after grabbing my neighbor and his boy we managed to slide it down two 2x12 beams i happen to have for a house project. so now it is safely in my basement waiting to be torn down and taken to the machine shop for a once over. I decided I do not want to chance anything after my last experiance with my boat. I will say this out of the entire ordeal last night I had two casualties on the motor, the oil fill neck in the valve cover and the oil pressure sending unit...
all in all I can live with that. anyone having ever gotten a used motor knows you are going to have one or two small things break. So I feel fortunate that is all that happened.
11-15-2013, 06:51 AM
Registered
Join Date: Oct 2012
Location: madrid, ia
Posts: 352
Likes: 0
Received 0 Likes on 0 Posts
---
So I got a custom grind set up for a cam... hell yeah... "After looking over your combination, I would suggest that I custom grind a cam for you. Most of my book cams are set up more for vehicle use with focus on upper end power, which you will not be using or needing. I would suggest grinding you a 220/226 duration @ .050, .564/.570 lift using stock 1.7 rockers, on a 111 LSA. This should keep the power under 6K RPM, and give you a stout, flat torque curve as well. "
11-23-2013, 12:22 PM
Registered
Join Date: Oct 2012
Location: madrid, ia
Posts: 352
Likes: 0
Received 0 Likes on 0 Posts
---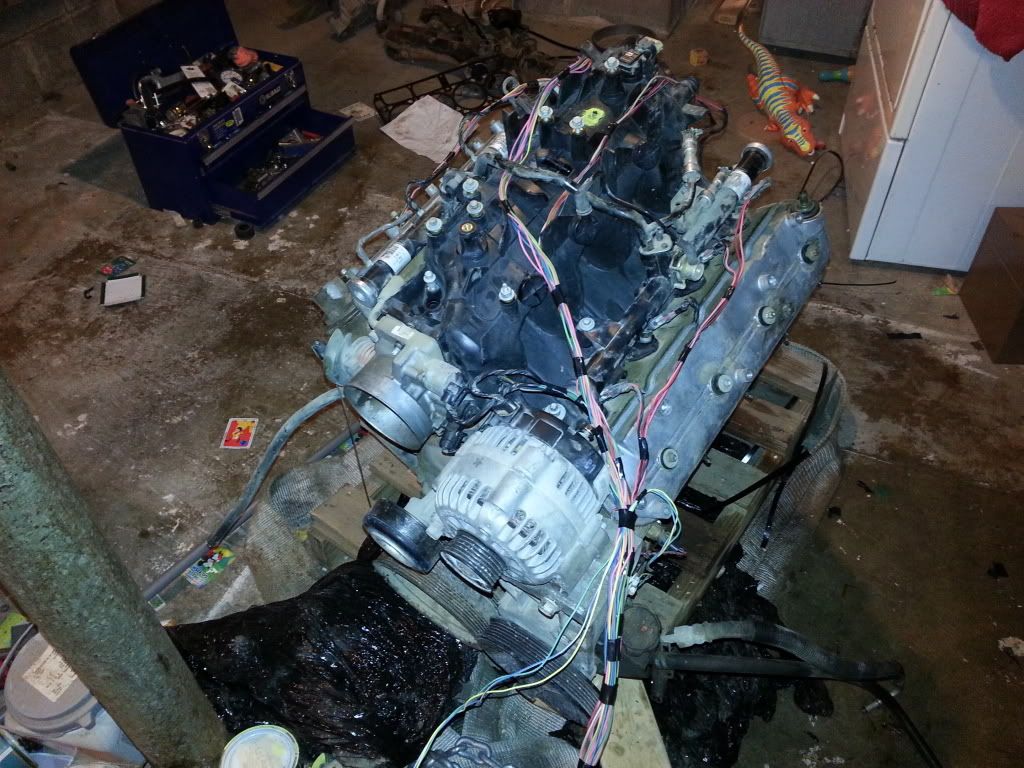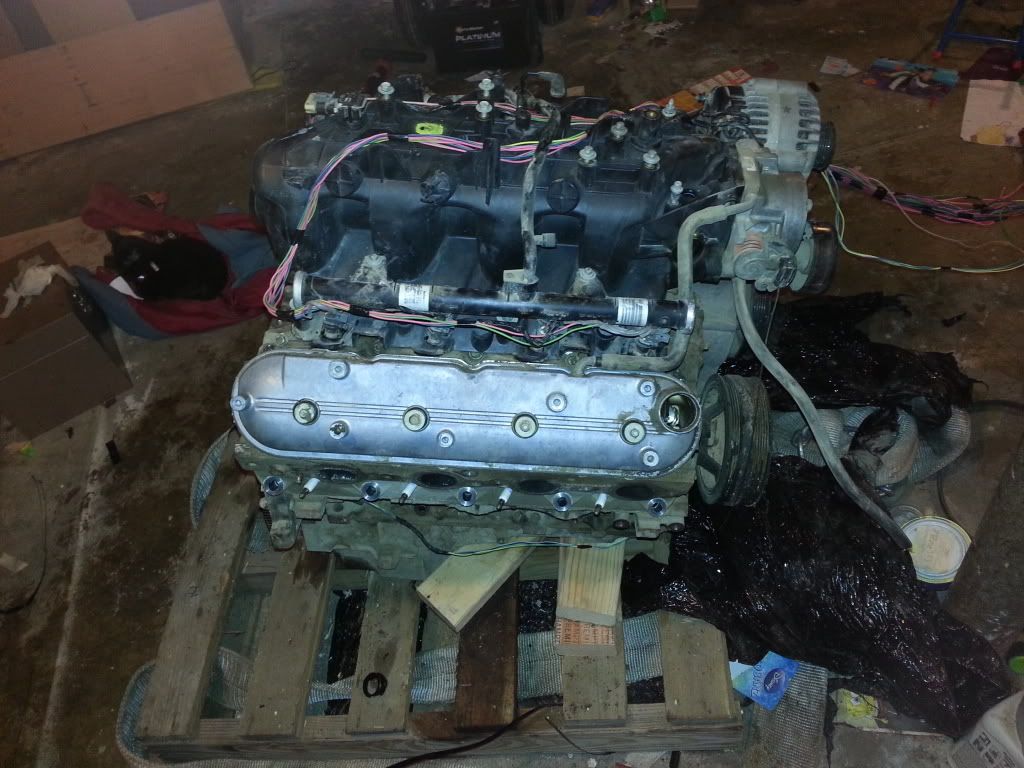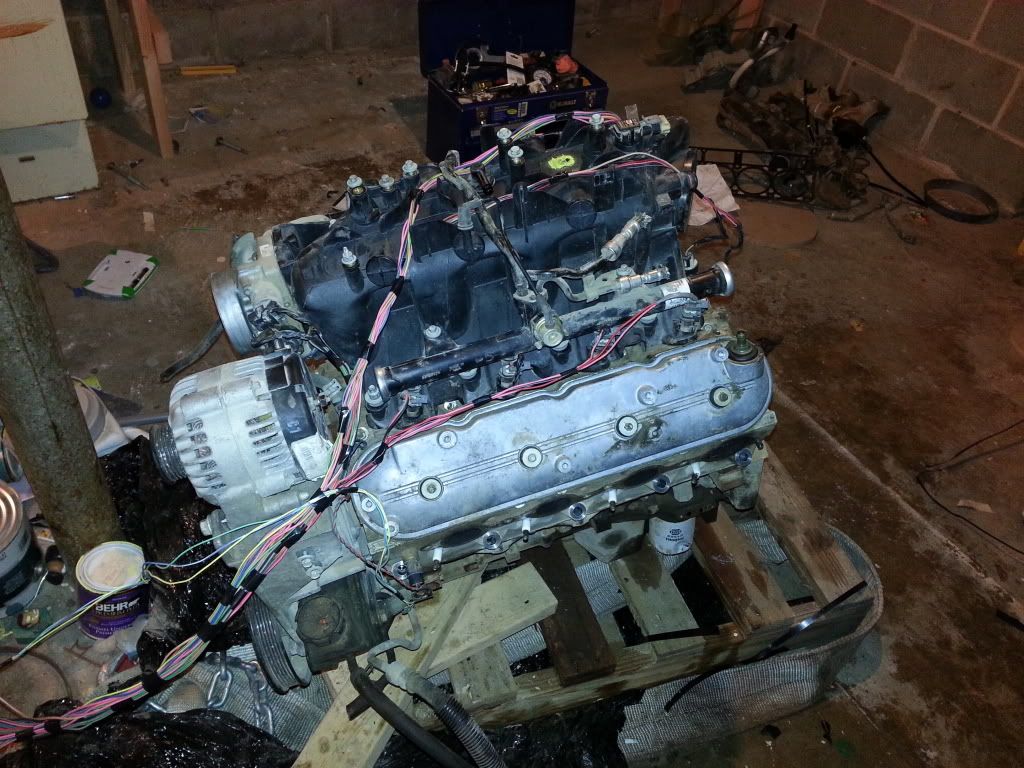 Laying out my harness. I wanted to hide it behind the engine... but after some thought I decided I wanted the ecu on the bulkhead in front of the engine. Figured its easier to get to should I need to fix wiring or something. I have nylon braiding that will cover the harness. Talked to bob m at marine kinetics and he will be grinding me a cam for it. Spoke to justin at black bear for my ecu tune. This should be quite the animal in a small boat like my scarab. So freaking excited. Now I need to drag this out of my basement and off to the machine shop.
11-24-2013, 09:07 PM
Registered
Join Date: Oct 2012
Location: madrid, ia
Posts: 352
Likes: 0
Received 0 Likes on 0 Posts
---
Yeah little by little. I had the engine tore down to basically a short block but threw the top end back on it just to lay out my harness. My next order of business is to muscle the damn thing back out of the basement and up to the machine shop. well I really need to decided where I'm mounting the coils on it before I take it up there. i want to be able to plug this all in when i get it home. I need to get back to work on my interior soon. I lost motivation when it got cold out...lol I cant really do much glass work in the basement as the wife will kill me. she was pissed over me spraying pb blaster to loosen some bolts...lol so glassing is out of the question...lol but I can work on my seats