tandem vs triple axel trailer
10-20-2014, 09:33 PM
Registered
Join Date: May 2012
Posts: 320
---
Once you decide on the number of AXLE'S, you might want to look at a goose neck. It will give you a better turn and weight is better distributed across the truck
10-20-2014, 09:41 PM
Registered
Join Date: Jan 2003
Location: Grand Rapids, MI
My Boat: 30 Scarab Panther, 37 Active Thunder, 34 Wellcraft Gran Sport
Posts: 3,843
---
I just went through this. I converted my triple 10,500 spring load stabilizing to a tandem 12, 000 torsion and couldn't be happier. I don't seem to notice a difference in swaying, but it seems to tow rather softly behind the truck. Also, backing the boat in the corner of the shop for winter hibernation was a lot easier on the axles.
http://www.offshoreonly.com/forums/t...ler-axles.html
---
Last edited by Rookie; 10-20-2014 at

09:43 PM

.
10-22-2014, 08:47 AM
VIP Member
VIP Member
Join Date: Jan 2007
Location: Sweet Home, North Alabama and Orange Beach
My Boat: 2002 292 FASTECH 350 MPI'S
Posts: 796
---
I went from 3 to a tandem. For me a tandem is the best option, tight turn into storage and E rated tires and wheels. The road beds here in alabama are not smooth and get very very hot. I was having 2 blow outs per trip to the coast (900 mile round trip) on the 14" st radials. And finding a correct sized 14"er when all your spares blow is very hard when you are in no mans land. I have put about 3500 miles on my new Loadmaster now with zero tire issues. If I ever upgrade I will try and stay tandem but no mater the case the trailer will have E rated tires.
10-22-2014, 09:12 AM
---
I have a triple under my 28 AT. Love it...very solid and tracks straight all the time. I lost a bearing on the front axle this summer...didn't even have to strap the axle up to make it to my mechanics. If it was a tandem, it would have been a bit hairy.
10-29-2014, 10:00 PM
---
Pulled with tandem, triple, gooseneck, 5th wheel, bumper pull.
Bottom line
It's in your setup.
The triple axle is not forgiving with bumper height.
Has to be level so front or rear axle does not carry more than its share of load.
Tandem is more forgiving with balanced between front and rear axle with leaf springs.
Tortion axles its still Very important.
Towing on 14" wheels if even considering a triple is bad karma waiting to pay you back.
15" wheels rotates at a lower revolution per mile at all sizes. Load range is higher also.

Tire speed ratings is more critical than load ratings to me.
On my 48' kingpin triple axle trailer....
My 17.5 tires are J rated at 4805lbs but only 62 MPH
That's right!!!
62 miles per hour.
Axles are 10,000 Dexter tortion
10-29-2014, 10:04 PM
---
Turning tight radius is tough on equipment.
Backing tight radius sux.
If you long haul it's nice to have tandem dual wheel trailers. Look at Semi truck trailers.
There is a reason that's how they roll.
But the heavier stuff starts to add axles as needed.
10-29-2014, 10:09 PM
---
IMHO it is a personal choice that you have to weigh the pros and cons.
Trip single wheel pulls easier and the boat does not pitch heel to toe as much over interstate bridges and rough spots. But sux in tight corners.
Tandem duals is a compromise with weight and axles.
Tandem is more maneuverable, but has weight limitations.
If you pull tandem or more with 14" wheels, "bless you my son" as I drive past you on the side of the road.

Sorry. But like everything else.
This is my opinion.
10-29-2014, 10:09 PM
Registered
Join Date: Mar 2008
Location: Traverse City MI
My Boat: Throttleman 36 Cig Gladiator "Unleashed"... Fast 33' Outlaw(sold)... Slow 40' Express Cruiser... 18' Kustom Cat... Pair of Kawasaki Ultra 150's... Superjet
Posts: 3,241
---
Triple over a standard Tandem any day

UPGRADED Tandem, Super Single, Spread axle, etc. There are ways to make a tandem axle trailer pull nice and safe but it needs to be engineered and upgraded not just a run of the mill Tandem axle trailer. Basically you need to build an overkill Tandem, you wont save any weight or money, but she will pull nice.
10-31-2014, 11:36 AM
Registered
Join Date: Jul 2001
Location: oshawa ontario
My Boat: 31 Scarab Thunder
Posts: 4,726
---
It has to work from a weight stand point but if you have some tight turns getting into your driveway or the launch ramps you frequent like I do a tandem will out turn a triple all day long! I have two 15" 5500lb 6 bolt axles under my twin 29 F. Pulls, turns awesome. Ive hit over 100mph several times heading down big hills on the 401 and its like a rock back there behind my 8.1 2500 HD and thats no BS.
Set up is huge though. For example I took my race car to the track last Sunday (tandem/open) 100 mi each way first time I ever towed it on the highway. On the way the trailer would sway a little wee bit over 70mph and would over react/ kind of fishtail sort of on a lane change. It was nervous back there and the whole package is only half the weight of my boat and trailer.
I knew I needed more tongue weight so on the way back I tied the car down another 8" forward solid as a rock hit cruise at 80 no prob. I marked the trailer so that is where the car will sit from now on.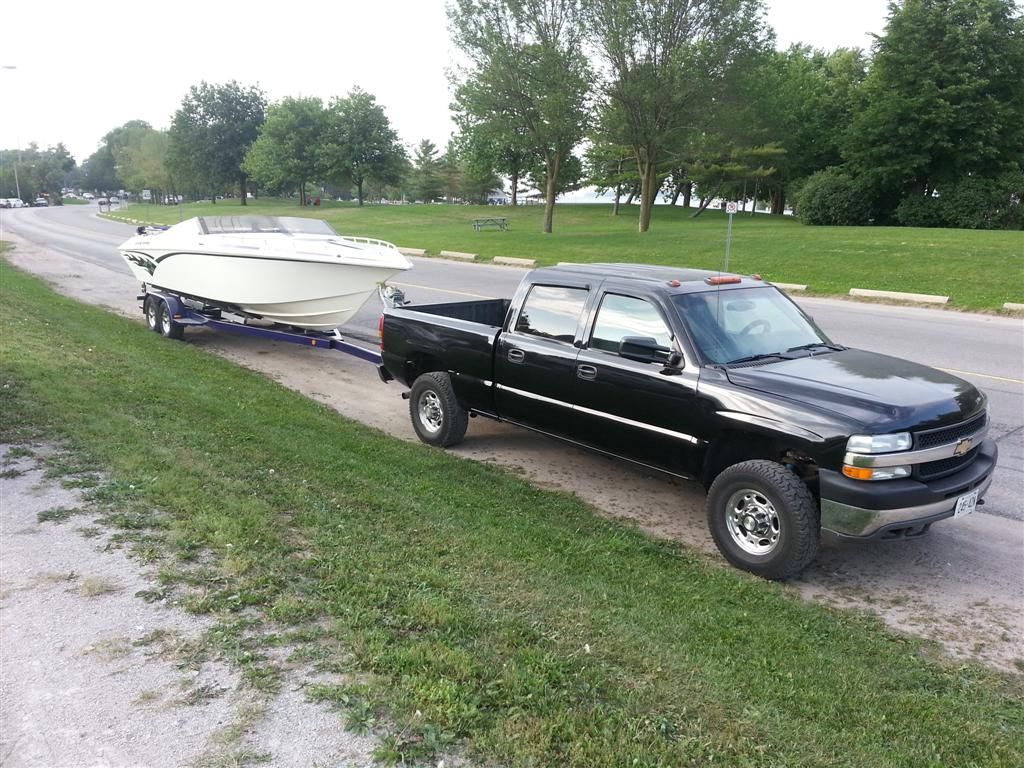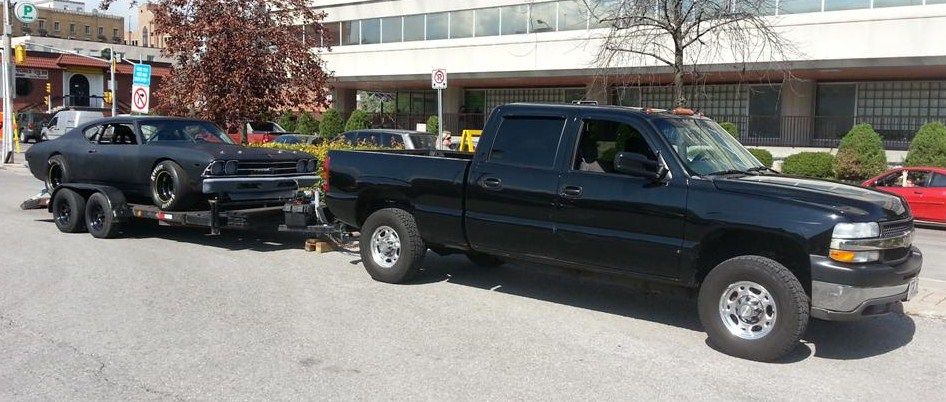 ---
Last edited by pullmytrigger; 10-31-2014 at

12:04 PM

.
Posting Rules
You may not post new threads
You may not post replies
You may not post attachments
You may not edit your posts
---
HTML code is Off
---