Cafe Racer Refurb (Hull #69)
04-19-2020, 09:17 AM
Cafe Racer Refurb (Hull #69)
---
Starting this thread to keep track of my progress on this rebuild. Purchased this girl from SeafordGuy in December 2019. Great guy to do business with BTW, he is still helping out!
we started with the Starboard hatch which needed some love. Brought it to a local marine fiberglass guy. They re-glasses the hatch. Cost: $1,500.00
04-19-2020, 09:33 AM
Cabin refit
---
Stripped out the cabin upholstery in January, after a customer referred me to an upholsterer. We agreed on a price with me getting any embroidery done and delivering it to him. Had a good result, but the only hiccup was the upholstery guy works on movie sets and had to take a job on an Avengers series in Georgia which came up 2 weeks or so after he started. So my entire cabin went to Georgia for a few months. We just installed the cabin last week. Here are some before and afters:
Just before I bought it
I donít have the RGB controller yet, Iím hoping the extra colored beams will go away once the controller is installed.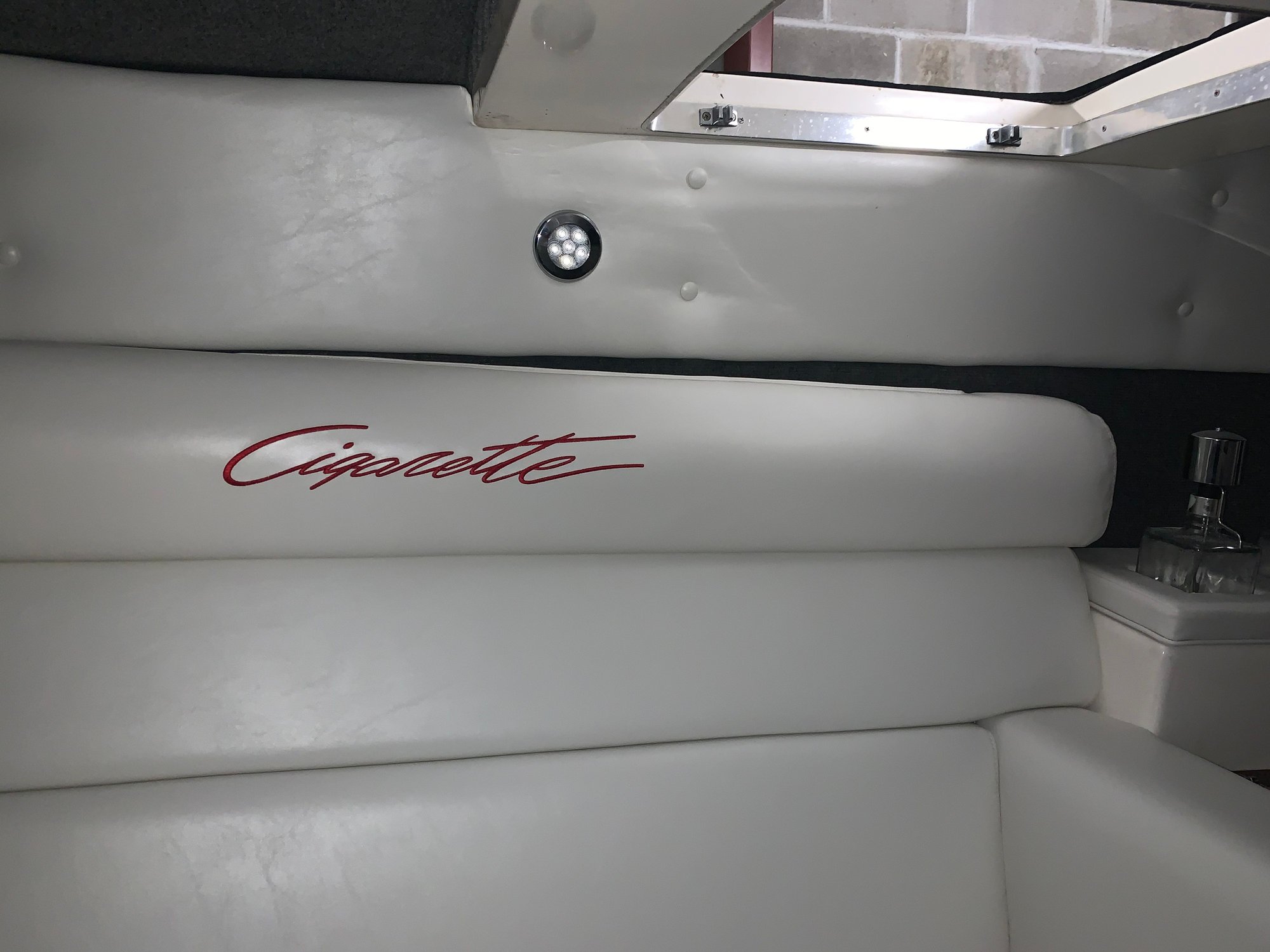 Paid $7,000 total for materials and labor for the upholstery, under $200 for the digitizing of logos and embroidery, the lights are from TH Marine, and big thanks to Dustin Carter for the recommendation!)
The following users liked this post:
04-19-2020, 03:34 PM
Gold Member
Gold Member
---
Fantastic - so pleased to see this. It's funny I bet I've gotten 15 calls/texts on this boat from old ads in the last two weeks.

Side note, I never realized it was #69 - I'd have used that to my advantage with my wife if id have known......
04-20-2020, 07:46 AM
Registered
Join Date: Apr 2007
Location: Sunrise Beach Mo
Posts: 264
Likes: 0
04-20-2020, 04:14 PM
Platinum Member
Platinum Member
---
looks nice! i wish they had the u-shaped bench seat in those o probably would have bought one! i need to sleep 4-5 in there and the face to face seat on the left was not good for me... sure is for 2 people being able to sleep and have a seat without having to set the bed up at night and undo it in the morning to have a seating area but well... one day!
04-20-2020, 04:53 PM
Registered
Join Date: Jun 2011
Location: Palos, Illinois
Posts: 53
Likes: 0
---
Looks great, I second your comment on Seaford Guy being a great guy. I looked at your boat right before you purchased it, I would have bought it as well but the ride was to far in the winter to bring it home. Good luck with your project, I did purchase a Cafe as well and will hopefully be starting some minor updates on mine as well.