Fountain 47, 2372cid single engine diesel
02-08-2020, 12:29 AM
---
999JAY, nice diesel cat! Seateks are good and light engines. Years ago I almost buy 50' Abbate Bruno with seateks and trimax, but it was too bad shape overall.

Supercharged Transmash is in T-72 tank and turbocharged in T-90 and it's newest in use tank in russia. Finnish defence forces has lot of T-55 and T-72 in use, but they are few years ago replaced for european manufactured tanks. They sell parts and engines by auction, I will try to buy few spare engines from next auction.

Transmash doesn't use rotarypump, original pump in first version in 1930 was bosch A pump, later models they use russian made pump because they were no more depending nazis made parts. Later pump are largely copies from A pump.

02-09-2020, 02:27 PM
---
02-09-2020, 02:35 PM
Registered
Join Date: May 2003
Location: UK, Florida
Posts: 411
Likes: 0
---
Don't want to hijack this already interesting thread but just to answer your question.
For initial testing, I just went with tailpipes straight from the turbo and out the original Nortech location but later there going to exit in the tunnel marked in red.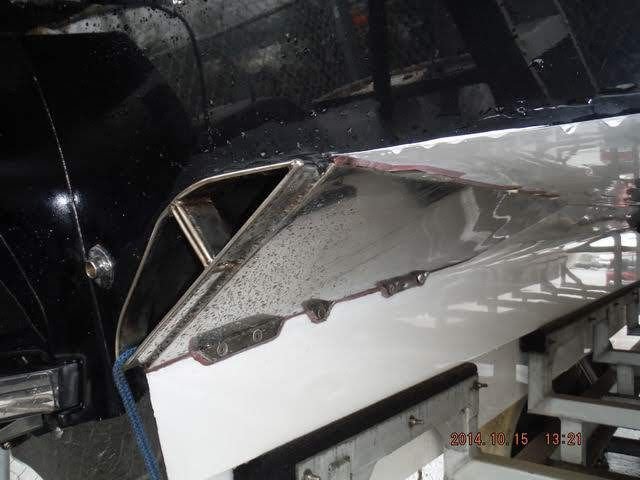 ---
Last edited by 999JAY; 02-09-2020 at

03:01 PM

.
02-09-2020, 02:55 PM
Registered
Join Date: May 2003
Location: UK, Florida
Posts: 411
Likes: 0
---
I am running OD boxes as well 0.86-! to get good prop speed around 3800 rpm
Your going to need good water flow to cool the Transmash I am 2" ID all the way to the pump with pressure reliefs built into the top of the strainers which dumps out the transom at 14 psi
02-28-2020, 02:48 AM
---
Piston cooling system, oil pan and dry sump pump are now assembled. Next step is make engine mounting frame from aluminium, sae bell housing line up frame to crankshaft. Frame must not bend with 8000nm torque.....
Last pic is crank rear seal, triple piston ring package, no leaking rubber lips.
03-03-2020, 02:40 PM
---
Engine mounting frame is almost ready. TIG welding with 320A current make LOT of heat, burning my welding gloves...
Next job is decide turbos location, driveline is front to back in boat (transmission towards bow). Billet steel flanges are adapters from exhaust manifold to 3.5" tube and fron 3.5" to HX80 turbos, so it´s quite easy to get turbos fit. I think it's best put turbos near transom, there is not so much room but exhaust pipes will be short. Another option is above transmission, but exhaust pipes will be longer and so far from each other that movement and service in engine room get difficult.
Turbine wheels are 96mm so 1ft straight 4" water jacked dry pipes not make much backpressure. Engine use 2.2m3/s (78ft3/s) intake air at full power, so exhaust gas volume will be huge!
03-06-2020, 03:05 PM
---
Turbochargers are now in place. They are so big that it's difficult to find enough space. valve covers to engine hatch is only 5", so that's only location to get exhaust below swimming platform. Could make nice turbo sound through 1ft tails. in width, pipes fit under swimplatform too.
Connecting pipes are TIG welded inside and mig welded outside to billet steel flanges to avoid cracking. I propably make some extra bracket to support weight of turbos.
Injection pump fit nice to it place. Only need to machine special mounting bracket from 20mm thick aluminium plate. It will draw 5kw power at full delivery, so it should be mounted properly.
installing intercooler is difficult. It must be very big.
-Huge aluminium water to air cooler is ok in fresh water but if I make some salt water trips... not good.
-Copper cooler is absolute too heavy and expensive.
-Weight to effectines ratio may be best if I put air to air cooler lateral between exhaust pipes, under swimplatform, outside of boat, and pump water spray above it. Cooler is above water all time so it won't corrode so much. I have 40"x16"x5.5" core allready, so I think try that, it's different than normal solutions, but maybe have some benefits, nothing to lose...
04-01-2020, 08:03 AM
---
I've only been lurking in this thread but salivate everytime I see an update. I was going to ask if you were going to support the turbos with an additional bracket, then I saw you stated that you are. Love the fabrication, the engine mount bracket is a work of art. Can't wait to see it sitting in the boat.