Back from the Dead; '81 Scarab 38 Resto
04-30-2016, 12:41 AM
Gold Member
Gold Member
Join Date: Jun 2014
Location: Thailand
Posts: 3,128
---
For all those who don't have the skills to transform a wreck back into a beauty, this thread should make a great read.
That's why I'm subscribed!

Loved your work on the 30, I'm sure this one will be just as good, thanks in advance for posting the progress.

RR
04-30-2016, 03:42 PM
Registered
Join Date: Sep 2009
Location: leamington ON LAKE ERIE
Posts: 790
Likes: 0
Received 0 Likes on 0 Posts
---
Originally Posted by
Team Archer
That looks like the old Merc. external steering bracket mount the big problem we them was the were made of alum. If you want to go back to the number II speedmasters I have a pair one needs some work, the special edition badge was on all of the KV boats from what I remember.
I also have one of the speedy #2 drives that was on this boat befor
05-01-2016, 09:07 AM
Registered
Join Date: Aug 2007
Location: Sandown, NH - Sebago Lake Region, ME
Posts: 2,960
Likes: 0
---
Here we go again!
got a give you credit man, after rebuilding my scarab I am pretty sure I wouldn't do it again and here you go on another one!! Love it!
Best of luck, this should be fun to watch!!
05-01-2016, 09:37 PM
VIP Member
VIP Member
---
Rak Rua, please, I appreciate the kind words but you're gonna jinx me talking like that.

The speedmaster 2's are interesting but I'm gonna stick with the Arnesons.

Team Archer, do you know what kind of speeds these boats made with the original setups?

502, one part of me said "you can't do this boy", the other said "oh yes you can". Kinda reminded me of a Toby Keith song.

We're going to the gulf with the scarab 30 this Wednesday thru Sunday. Hope to get something going on this boat when we get back.
05-01-2016, 09:47 PM
Platinum Member
Platinum Member
---
Heath, when I bought my boat the PO said that it would run 70 mph at 15 psi with the SSM IIs. The SSM II props were 21" 3 blade cleavers with 1.33:1 ratio in the drives. I have since switched to TRS drives but got 70 mph at 15 psi @ 4900 with 28" bravo 1s. With Arnesons I am guessing if your making 500/ side you should easily be in the mid 70's at least
05-07-2016, 10:08 AM
VIP Member
VIP Member
---
Phughes69, do you still have the twin turbo setup in yours? I couldn't bum some photos of your cockpit floor could I? I'm gonna need this for down the road as I currently do not have a cockpit floor. you may regret letting me know you also have an early kv.
05-08-2016, 11:17 PM
Platinum Member
Platinum Member
---
Heath I looked at my pictures and unfortunately I do not at this time. I can crawl into the boat and snap a few if you need something specific. I do still have the twin turbos on my engine. I have seen only one other 377 Scarab that had turbos on it. Are you thinking of doing turbos? I dont think it would be cheaper than a blower, but it would make more power. I'm changing my system over to EFI this time around. All of the twin turbo motors from this time were a draw thru system using Rayjay turbos. The can make up to 15 psi but I think at the point you may be overspeeding the impeller (at least with the E trim Rayjays).
05-11-2016, 09:03 AM
VIP Member
VIP Member
---
phughes69, I don't think Ill be going with a turbo setup. Honestly, that's so far down the road I haven't given it much thought. I just haven't seen the "factory turbo setup" and thought it was pretty interesting. I would like to get some cockpit floor photos at some point if you wouldn't mind.
Well guys, it begins. Got in the boat last night and removed a few tractor buckets of sawdust and mulch. A few earthworms were upset with me.
I'm gonna try to document this with a lot of photos. Like I said before, we'll move slower on this than the last boat. So don't be surprised if it's a week or two between updates...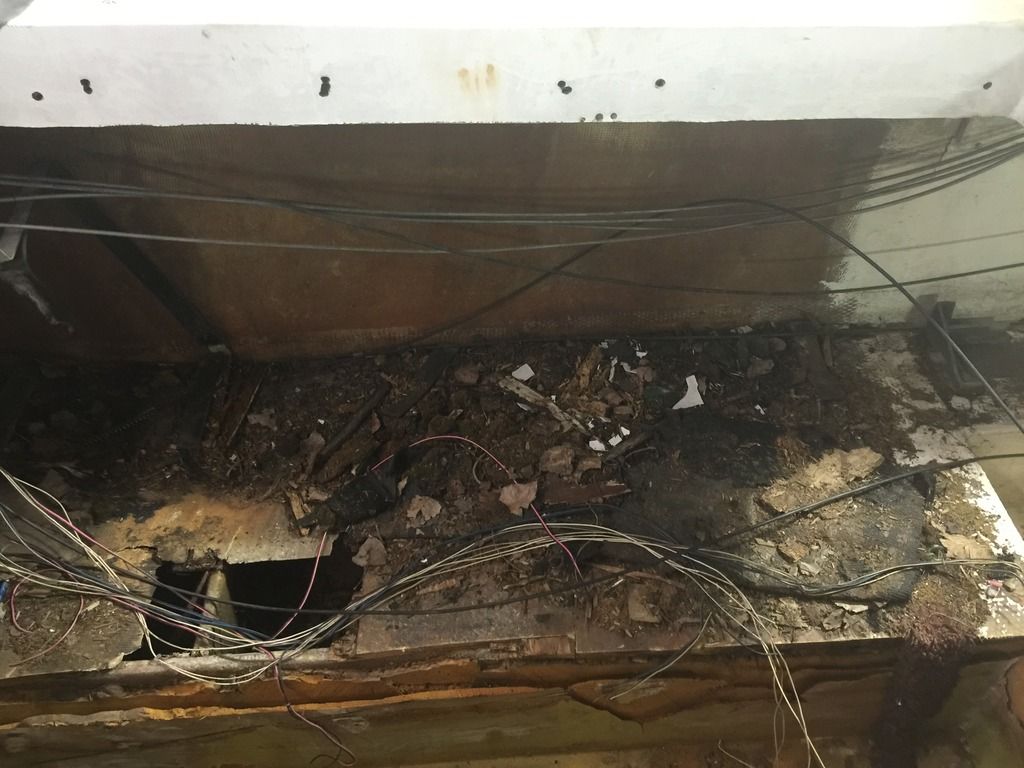 The cabin doors may sand and cleanup. Teak is very resilient. The upper piece has been replaced by a piece of painted aluminum that can almost pass as a factory piece.
The gauges are all original looking. This is what happens when the boat lives outside. We will likely be replacing all of the gauges and much of the wiring.
I haven't found any wood that isn't rotten yet. All stringers so far, all floor pieces. Everything is shot, which will make it much easier to replace.
Do you guys know if all these boats came with carpet? This appears to have come from the factory with thick red shag carpet in the cockpit, then had some lower pile black carpet added later. Under the carpet, The cockpit floor itself is unfinished wood with glass matting on top. It looks original. phuighes69, is this how yours is? I woulda thoght they had a gel coat in the cockpit like my 79 30 footer does.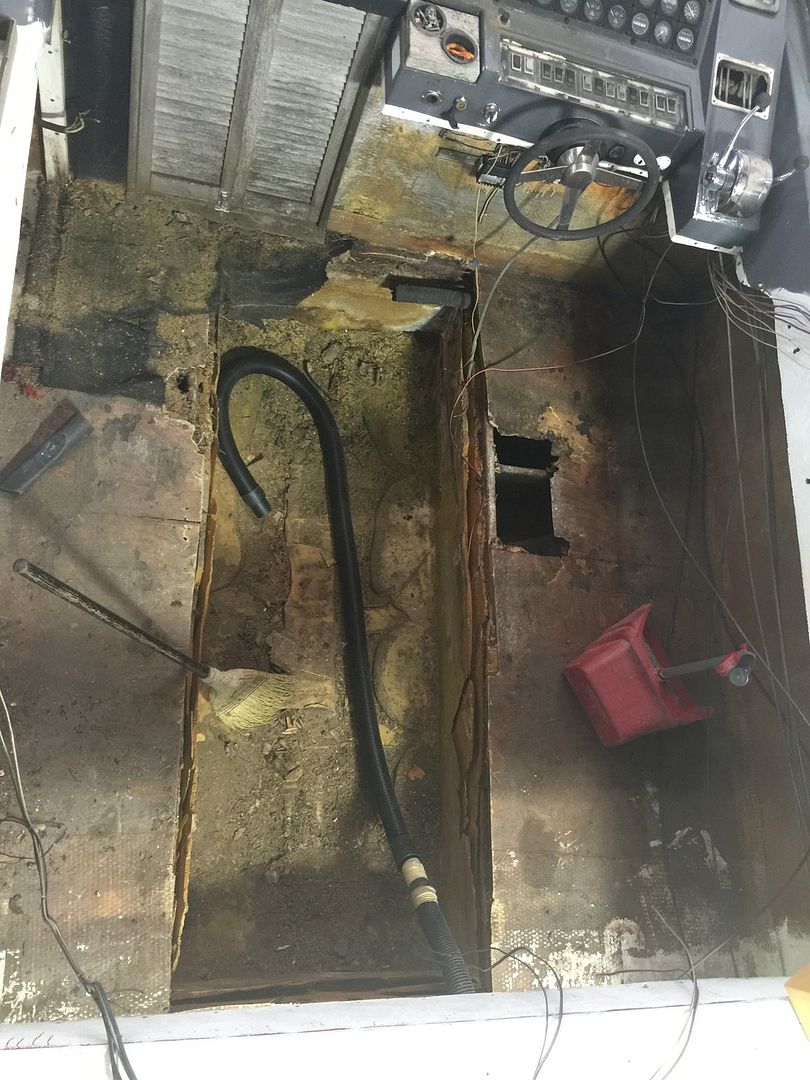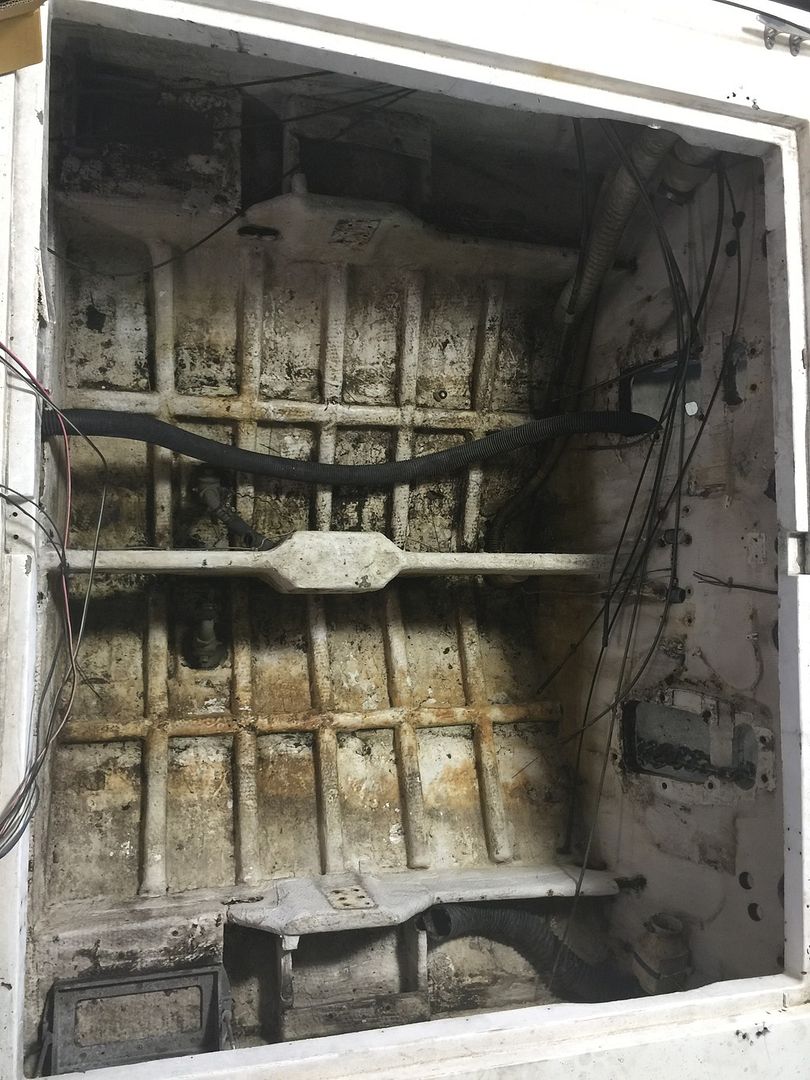 ---
Last edited by hblair; 05-11-2016 at

09:06 AM

.
05-11-2016, 09:36 AM
Registered
Join Date: Aug 2004
Location: naples,florida
Posts: 3,768
---
Wow that thing is a wreck. You going to pull the deck off like you did with the 30?
05-11-2016, 09:48 AM
VIP Member
VIP Member
---
Yes, and flip it upside down to replace the rotten wood on it too. I'll be purchasing the 4x8 sheets in bulk.