Back from the Dead; '81 Scarab 38 Resto
05-11-2016, 10:13 AM
Registered
Join Date: Jan 2011
Location: Ocala, Fl
Posts: 3,066
Likes: 0
---
Damn Son !!! That's some SERIOUS NASTINESS LOL !!!

I was thinking about some of the projects I have done with cars and came upon this idea: What about fabricating a rotisserie of sorts...so you could spin the boat to any position you wanted ? Sure comes in handy with some of the Camaros, Chevelles and '55s I've done.

Stay after it !!
05-11-2016, 12:02 PM
Platinum Member
Platinum Member
---
Yes my floor and all the bulkhead walls up in the cabin are the same, fiberglass matting over the wood, No gelcoat. Under my saddle tanks you can see some yellow shag carpeting, but my main carpet in the cockpit has been replaced with a short nap red carpeting. There was a flatdeck by me a few years ago that has a teak looking floor in the cockpit that I thought looked pretty nice. There was a guy on here from Sweden (cant remember his name right now) that did a transom, engine floor and stringers in his 377 Flatdeck. He cut out the grid system under the engines and made it flat. I think he built up the thickness of it. I liked it because then it would not trap all the bilge nastiness. The later model KV's had angled grid work under the engines so the water would funnel towards the back of the bilge.
05-13-2016, 09:12 PM
VIP Member
VIP Member
---
We got the rubrails off and surveyed what it's gonna take to get the deck off. Looks like it's gonna be pretty simple. Looks like there's some bolts to be taken loose from some bulkheads inside and not much more than that. I'll have to make a gantry hoist thingamabob to pick it up. We should be able to get that done and get the deck off next week...
The interior is pretty roached. Although much of the non teak wood is ruined, most of the teak and all the plastic doors and whatnot are in good shape. I like the layout of the interior and think we'll prolly keep it like it is (with everything redone)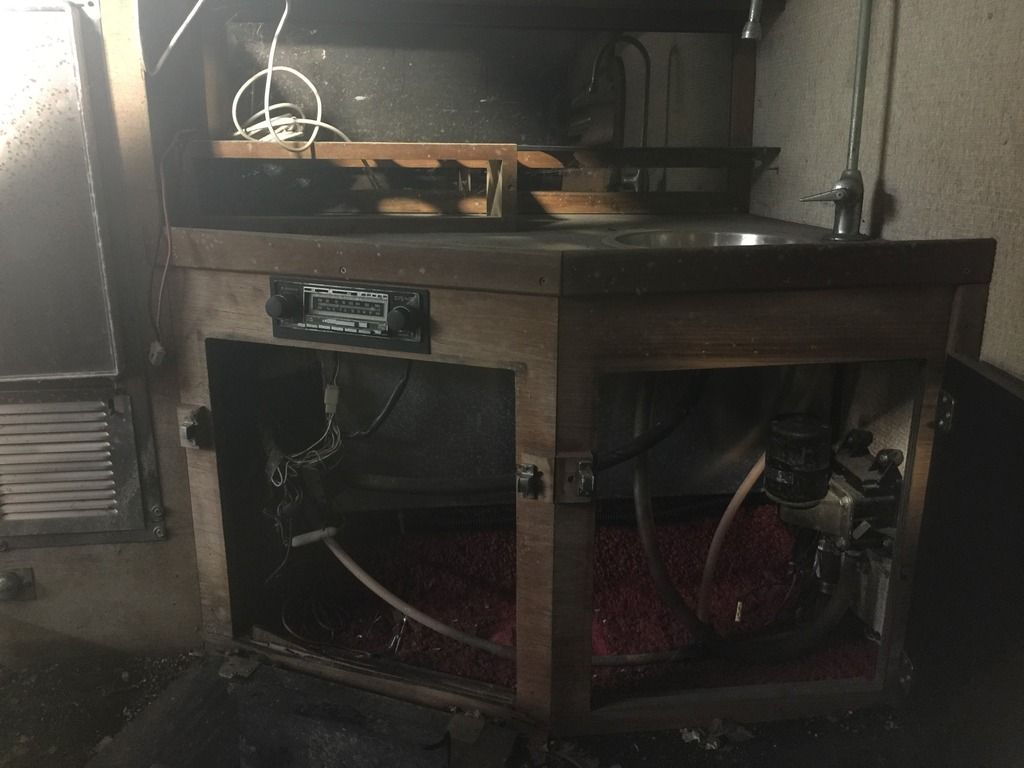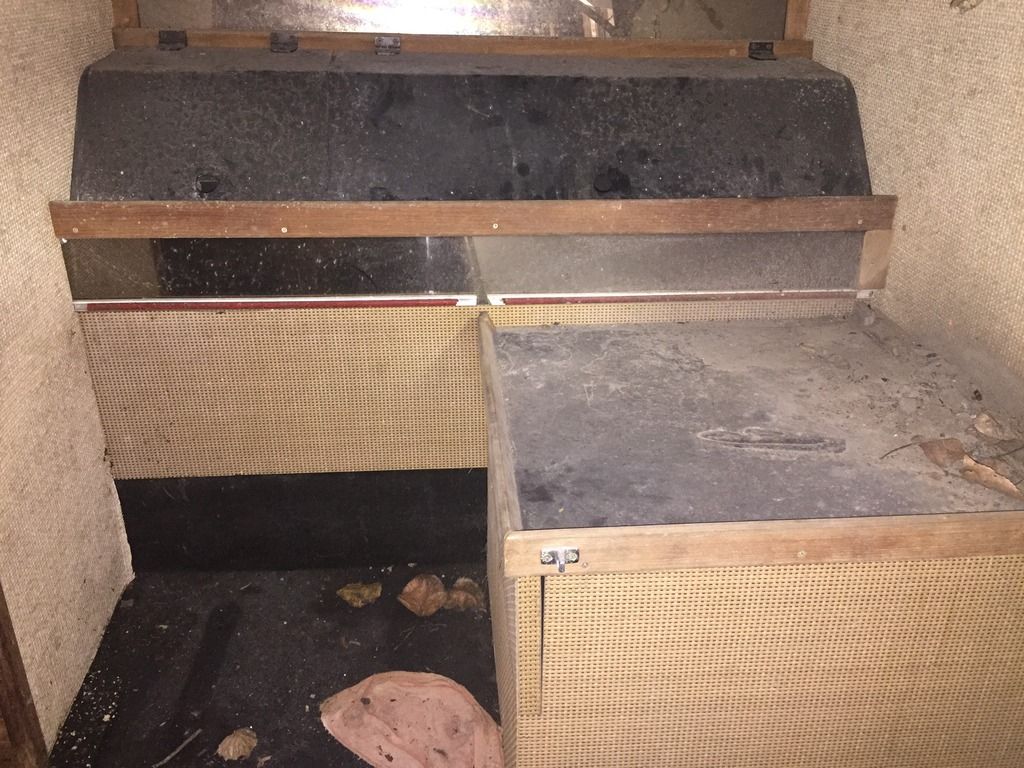 Found Ol glory inside some rot. It's the only thing that needs no work. Pristine condition unlike the sorry state of the country it represents. But that's another story. I can't fix our country but I can fix this boat!
05-13-2016, 09:41 PM
Gold Member
Gold Member
Join Date: Jun 2014
Location: Thailand
Posts: 3,128
---
You know that's gotta be original, it's says "MADE IN U.S.A."
Try buying one now that's not made in China or Vietnam!
05-13-2016, 10:31 PM
Registered
Join Date: Aug 2004
Location: naples,florida
Posts: 3,768
---
That cross bracing on the floor of the engine room is a pain.i would think another layer or 2 of new 1708 and than some coring material with another 2 layers should more than suffice to replace it.

Probably give Glass Dave a shout and see what he thinks, he is a Scarab Freak too.

This is going to be a neat resto, those old KVs are so cool . Too bad they were not real well built.

Be Super Cool to have one rebuilt and rigged properly.

I visited the Wellcraft plant up in Sarasota in 86 while I was rebuilding a sunk Kaama 302 Formula , owner of the sinker was having thoughts of buying a new 38 Scarab rather than have me rebuild his year old boat.

After crawling around them and really looking at a few closely that were in various stages of construction , he was not real impressed with the quality, and he really didn't know boats like I did.

I love the 30 Panthers, someday like to get one and get rid of the cabin liner and grind the whole inside of the hull down and vacuumed bag in a coring material.

Some Arnesons and LS motors staggered in it would make a cool Hotrod.
---
Last edited by tommymonza; 05-13-2016 at

11:20 PM

.
05-13-2016, 11:43 PM
VIP Member
VIP Member
06-19-2016, 02:31 PM
VIP Member
VIP Member
---
I got the boat in the back of the shop here, slid into a rotary lift stall. It's been slow go, Shon has taken a break, so I'll be flying solo here hopefully just for a while. There is a lot more to peeling these boats open than the 30' was. You have 4 bulkheads to deal with here.(counting the one at the front of the cockpit. I finally got all the bolts removed from them, and am using the lift, the front end loader on the tractor, engine hoist, jacks, prybars, and whatever else I can get my hands on. I still have some resistance about halfway forward on the deck. It's either super heavy or still connected somewhere. I'm hoping for still connected, but I'm thinking it's just heavy. If that is the case I may have to make a square frame hoist type deal and lift the sides of the deck as the cleats up front and bowrail just aint strong enough. I should know something tomorrow. The heat index a few days ago when I was doing this was 102. Even hotter inside the boat.
By the way, thanks to glassdave and team archer (Dan) for the info ya'll have given me. Good to know I have a support group with the same addiction I have.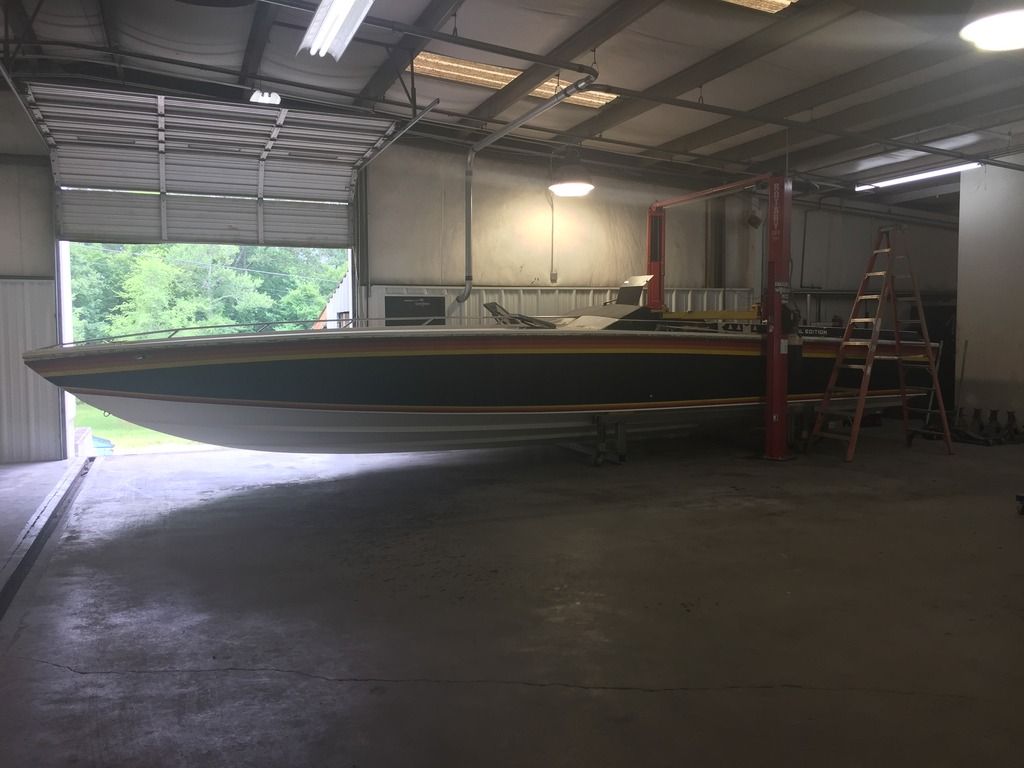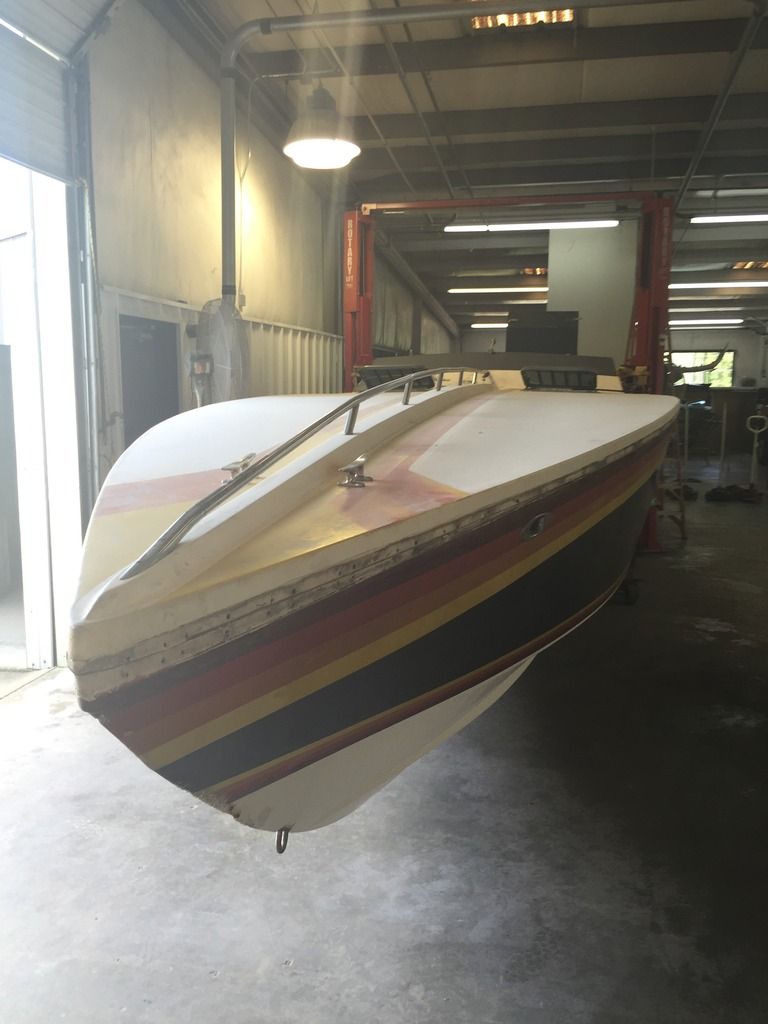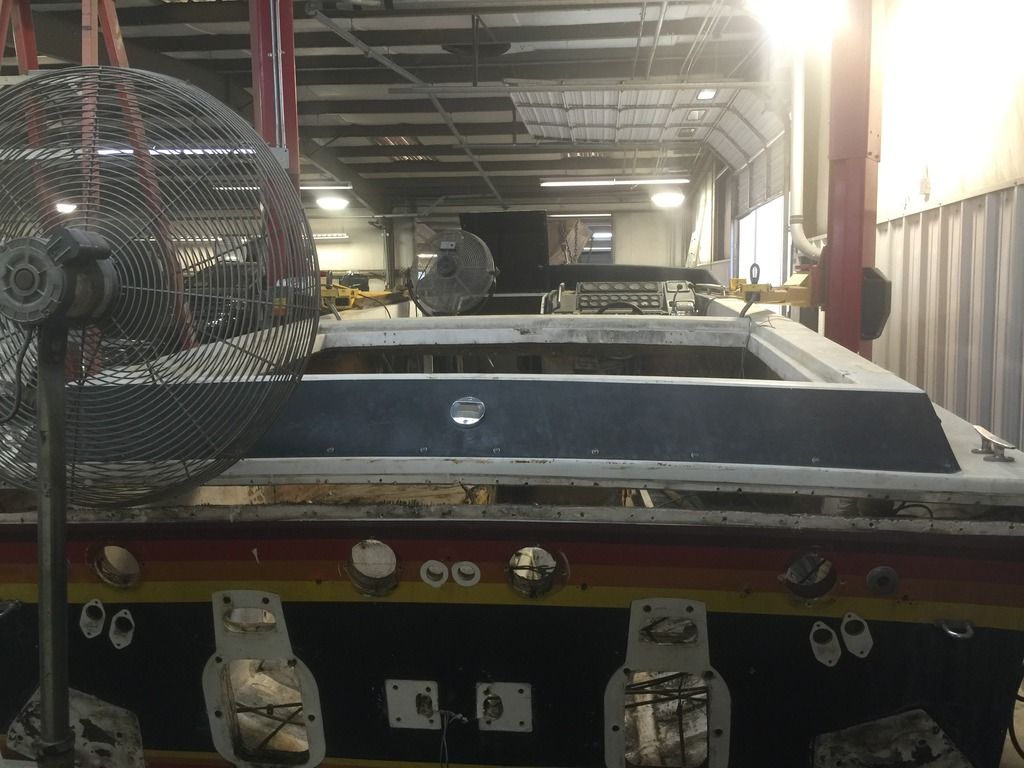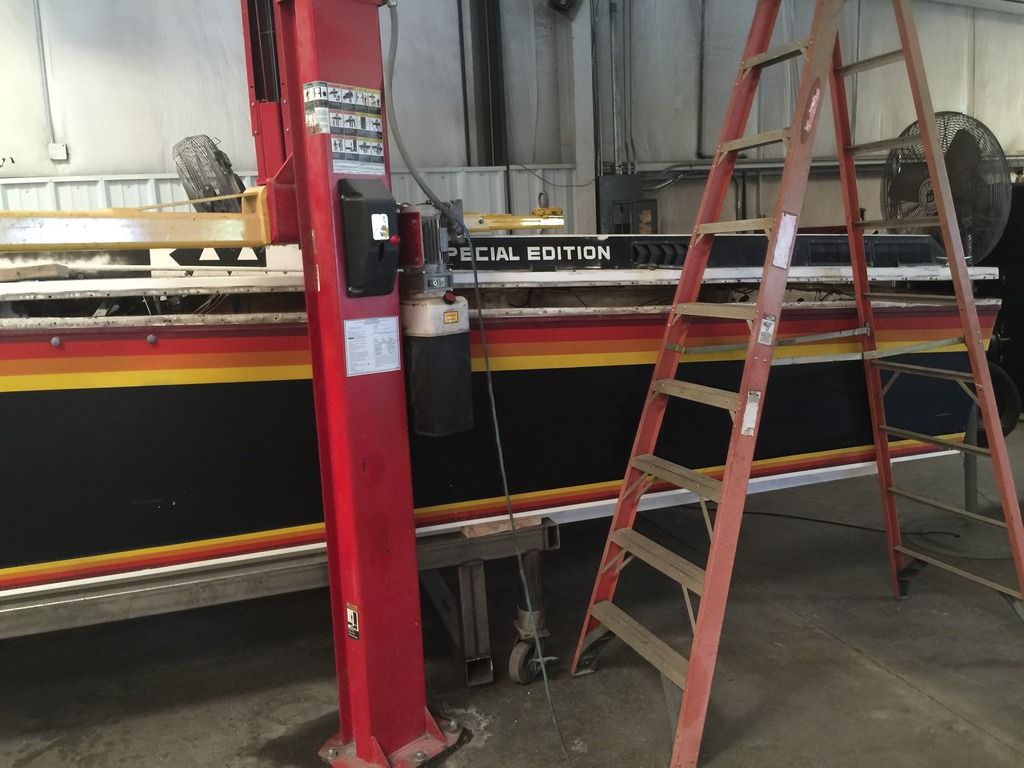 06-19-2016, 03:26 PM
Platinum Member
Platinum Member
---
I bet that the front deck is super heavy. The deck is cored foam and it looks like it is very dense. If any water got into it that would make it even worse.
06-20-2016, 06:50 PM
VIP Member
VIP Member
---
Turns out their was a stray bolt holding the deck down. It wasnt so heavy after all. Got the deck off and outside under the shed today. The hull is in the back of the shop in the same place the 300 was worked on. This boat just does fit back there. 1" in the front, about 15" in the back. Tight fit.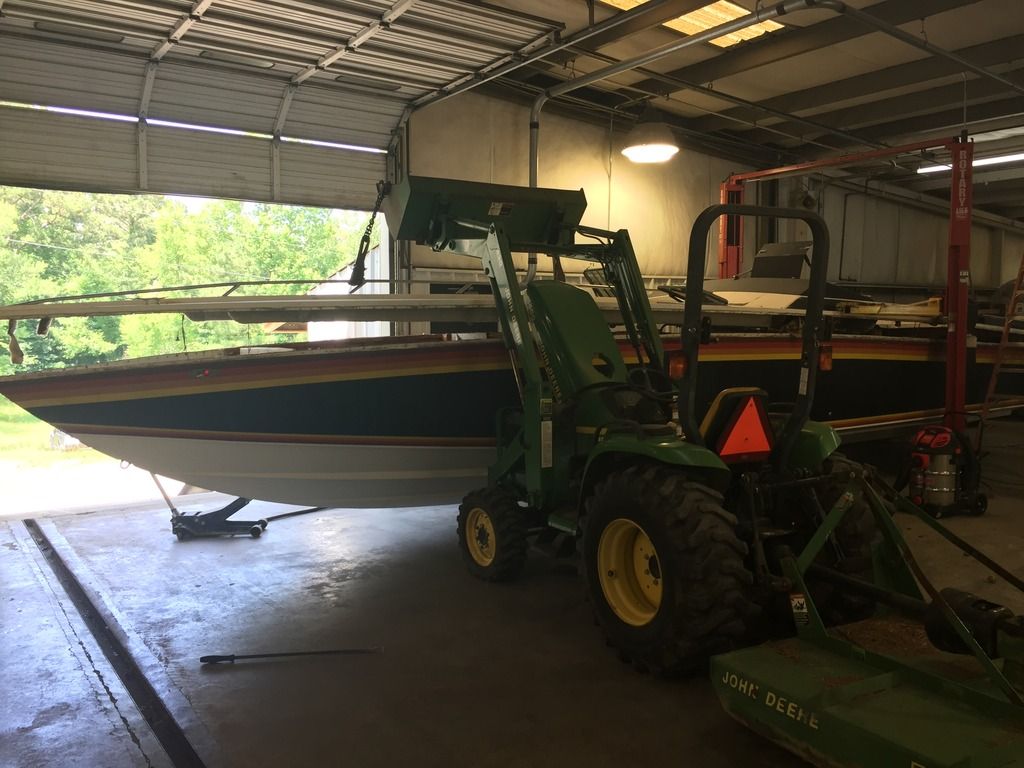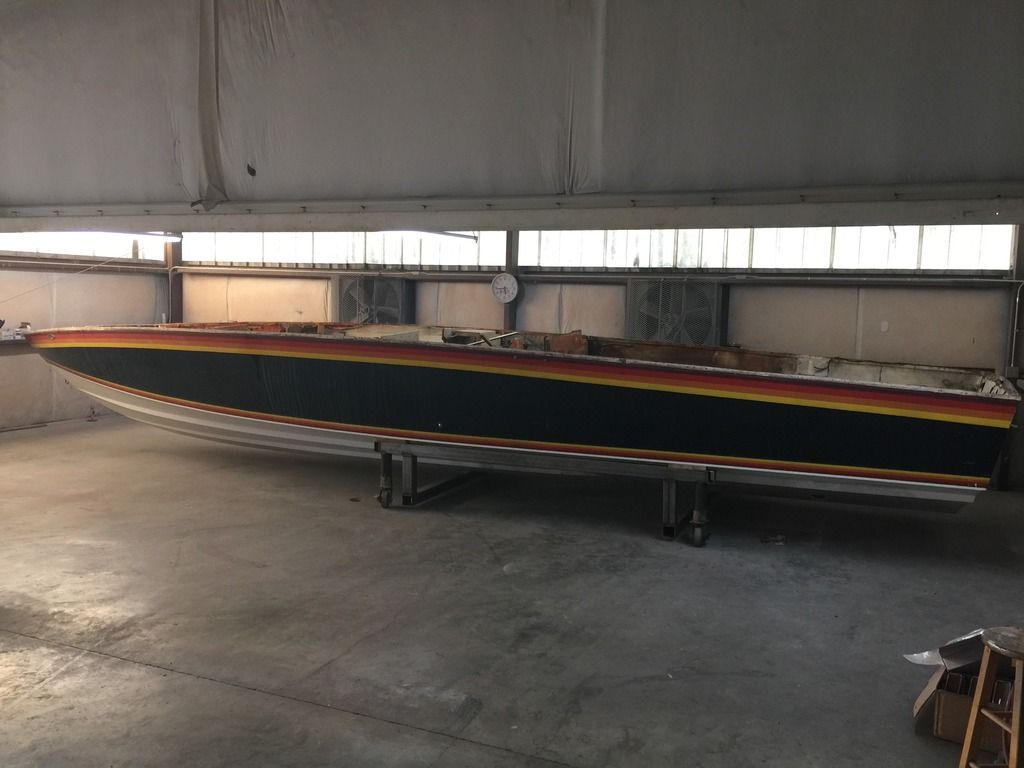 ---
Last edited by hblair; 06-20-2016 at

06:53 PM

.